I am an avid Twitter user. It keeps me engaged with different perspectives, and encourages networking with professionals and scholars in my field of history. A few weeks ago, I saw a hashtag #streamedtofail started by Toronto lawyer and community activist Anthony N. Morgan, which addressed the academic streaming of Black students within the Toronto District School Board (TDSB).
According to the ground-breaking study from renowned scholar Dr. Carl James at the Faculty of Education at York University, black students were twice as likely as other students to be placed in applied courses, rather than academic ones. This practice, directed by school administrators, guidance counsellors and teachers, targeted certain racial groups based on a perceived academic ability. Furthermore, applied courses streamed students to trades and/or college which limited future academic options. The report and the stories I read on Twitter struck me to the core -- I was one of those students who was #streamedtofail.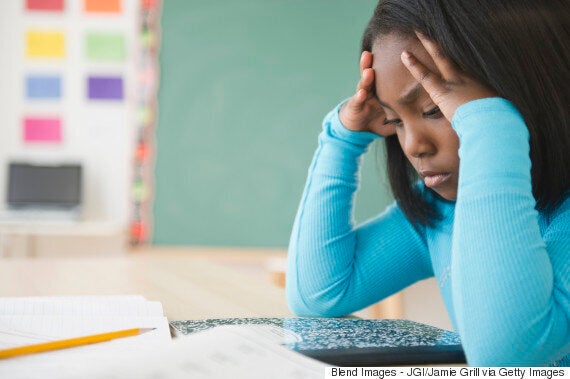 Born and raised in Toronto, I attended TDSB schools from kindergarten to the now defunct grade thirteen (OAC). From the onset of my academic career, I was marked as a gifted student -- reading at an advanced level and receiving high grades. However, I was often bored and found myself in trouble -- mostly for acting out in class. What did you expect a child to do after completing assignments in ten minutes with an hour to spare? I was hustled off to the library to read on my own or into the computer lab. Some teachers cultivated my urge for learning by encouraging participation in extracurricular projects that channeled my attention into something productive.
Middle school improved my outlook on education because I had access to more resources and plenty of teachers to mentor me. One special teacher inspired my love for history with the creation of a Black History club, which included excursions to Underground Railroad historical sites, lessons about Stanley Grizzle and Mary Ann Shadd, and even tickets to the Black Business and Professional Association (BBPA) Harry Jerome Awards. Encouraged to push myself as a student, I did not worry about limits or barriers to my success. Unfortunately, the protections and love provided by my middle school would disappear in high school.
My high school in Scarborough was predominately black and southeast Asian. However, the administration and faculty did not reflect its students. I believe I saw four teachers of colour out of about 50 faculty at this school from grade nine to 13. The implications of this would gravely influence and affect the trajectories of many students -- including my own academic path. Representation matters! In addition, the system is such that in grade nine students made major academic decisions that affected the rest of their time in high school. While grade nine courses did not have specific streams, student grades and the suggestions of guidance counsellors, or lack thereof, would determine which stream you were placed in for years to follow.
After being an exceptional student in my elementary schools, I had a difficult time adapting to high school. Aside from the challenges of adolescence, I remember fighting with my teachers every semester over the grades I received. Each time I went over their head to a department chair or vice-principal, I became known as a troublemaker and difficult student. Some teachers told us that without calculus and biology we had no chance at university. Similarly, many teachers spoke of college as a place for inferior students -- a fate reserved for those who did not do as they were told. Consequently, when I was streamed into applied math, I felt as though I was streamed for failure.
Even though both of my parents attended college in Toronto, teachers taught us that college was a step down from university.
The worst experience I recall from high school would be the grade 12 academic advising. In preparation for graduation and post-secondary applications, grade 12 students met with their assigned guidance counsellor in September. I remember being very excited because I had managed to earn an 85 per cent average after three difficult years. I considered history and English majors at Ontario universities that only required a high grade in OAC English and a minimum 80 per cent average.
As I sat down with my guidance counsellor, he told me that trade school would be suitable for my perceived skills. He did not even look at my transcript. I asked him which trade, since I did not take any technology courses. He then looked at my file and proceeded to stumble over his words to find something to say. I asked him about the possibility of taking the SATs, and he laughed as though I had just told a joke. I left his office without gaining anything helpful or encouraging about my future. I commiserated with other students who were treated the same; their futures easily dismissed and disrespected. Apparently, most of the students pushed away from university by these counsellors were people of colour.
This meeting had a major effect on me. I did not feel as though my efforts in school mattered. This interaction demonstrated that even if I received high grades, I would still be deemed a failure. Even though both of my parents attended college in Toronto, teachers taught us that college was a step down from university. I eventually stopped attending classes and left school with a final 49.6 per cent GPA. With no direction or confidence in my future, I took a year off after high school to work and travel. I wanted to know if I could miss the everyday rigours of class, and if I truly wanted to be in college or university. Finally, I found my answer, and enrolled into college the following September.
The road was long and difficult, but I regained my love for education and found my confidence again. Seneca offered a joint program with York University in the Humanities, and I thrived in this smaller academic environment. I had smaller class sizes and built close relationships with the instructors. I was challenged intellectually, and supported as a person and a student. I graduated with honours and received an entrance scholarship to York. After many years, I eventually graduated with a Specialized Honours degree in history. With encouragement and support, I then applied and enrolled in a MA program in history, and graduated a year later. Now I am a doctoral student in the Department of History at Rutgers University. Even though I was #streamedtofail, I proved to myself that I was #builtforsuccess.
Follow HuffPost Canada Blogs on Facebook