Lego was named the most powerful brand in the world last month, knocking Disney off its pedestal and even outranking Google. But as Spider-Man would say, with great power comes great responsibility. And after years of being criticized for sexist marketing, the toy brickmaker has been building empowering sets like the "Hidden Figures"-inspired Women of NASA.
To be fair, this is actually just Lego getting back to its roots. In the 1970s, the company used to include this note with its boxes of bricks:
To Parents.

The urge to create is equally strong in all children. Boys and girls.

It's the imagination that counts. Not skill. You build whatever comes into your head, the way you want it. A bed or a truck. A dolls house or a spaceship.

A lot of boys like dolls houses. They're more human than spaceships. A lot of girls prefer spaceships. They're more exciting than dolls houses.

The most important thing is to put the right material in their hands and let them create whatever appeals to them.
Daniel Fry found the note in 2014 while playing with his niece and nephew at their great-grandmother's house so he took a photo, posted it on imgur, and it went viral.
"I was surprised at what a modern message it was and how simply and eloquently it communicated a very powerful idea," he told The Huffington Post at the time. "I thought people would be interested to see that such a well-known brand like Lego was so progressive 40 years ago."
Earlier that year more evidence of Lego's progressive nature emerged when a gender-neutral 1981 ad also went viral.
It was admittedly controversial at the time because many believed that only boys liked to build. But the ad's creator Judy Lotas, a mother of two daughters, told The Huffington Post her reasoning was simple: "Boys and girls are different, but not to the exclusion of wanting to create and build. That's not a gender issue."
Rachel Giordano, the little girl from the ad and now a grown-up doctor, resurfaced at the time to discuss the fact that Lego had not only stopped being gender-neutral but had become sexist with their "Friends" line, begun in 2012, going after the girl market with sets full of pink bricks, makeup tables and flowers. The line included a pop star's house, a cupcake cafe, a supermarket and a hair salon.
In 1981, Legos were simple and gender-neutral, and the creativity of the child produced the message. In 2014, it's the reverse: the toy delivers a message to the child, and this message is weirdly about gender."

— Rachel Giordano, grown-up girl from 1981 Lego ad
"In 1981 LEGOs were 'Universal Building Sets' and that's exactly what they were... for boys and girls. Toys are supposed to foster creativity. But nowadays, it seems that a lot more toys already have messages built into them before a child even opens the pink or blue package," she told the website Women You Should Know.
"In 1981, LEGOs were simple and gender-neutral, and the creativity of the child produced the message. In 2014, it's the reverse: the toy delivers a message to the child, and this message is weirdly about gender."
In their defence, Lego spokesperson Michael McNally, told the Atlantic last year that gender-neutral is "not what we're striving for. We don't see anything wrong with the natural ways that children are choosing to play. We try being gender inclusive."
And they have been delivering on that end, thanks to yet another viral Lego story. This one involved a little seven-year-old girl named Charlotte.
Dear Lego company,

My name is Charlotte. I am 7 years old and I love legos but I don't like that there are more lego boy people and barely any lego girls. today I went to a store and saw legos in two sections the girls pink and the boys blue. All the girls did was sit at home, go to the beach, and shop, and they had no jobs but the boys went on adventures, worked, saved people, and had jobs, even swam with sharks. I want you to make more lego girl people and let them go on adventures and have fun ok!?!

Thank you.

from Charlotte
We should all be thankful to Charlotte because she no doubt helped convince Lego to further improve their gender representation, a process that began in 2013 when Lego released its very first female scientist minifig.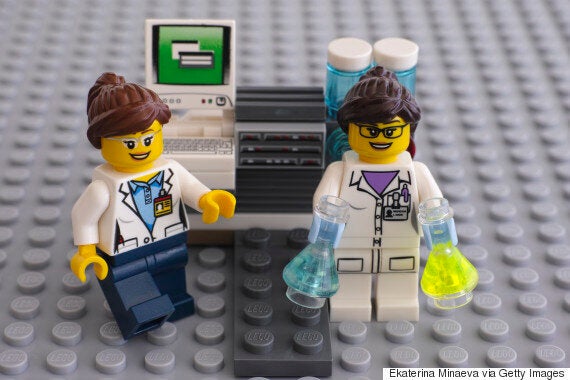 Just for context, Lego began releasing themed minifigs back in 1978 and the first female character to appear at all was a single female pirate in 1989. Scientific American reported in 2013 that a woman didn't make it into the space set until 1993 and that even when including stereotypical ones like Diner Waitress and Pretzel Girl, the ratio of male to female minfigs was 4 to 1.
Lego has continued to make small steps towards addressing the gender imbalance. First it issued a fan-designed, limited edition all-female Research Institute set which included paleontologist, astronomer and chemist minifigures.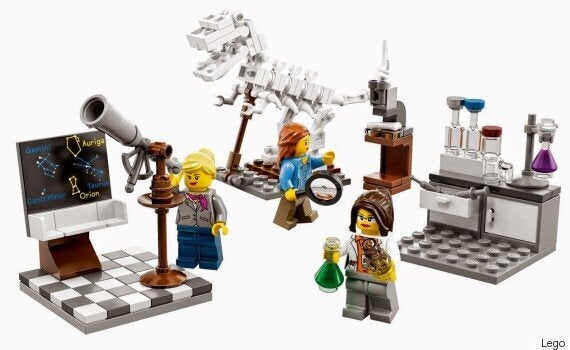 It has since added aerospace engineers, shuttle astronauts, race car drivers, pit crew members, dune buggy operators and deep sea submariners.
And now, thanks to another fan-designed set, Lego will be releasing Women of NASA created by science journalist and Lego enthusiast Maia Weinstock. The set will include:
Katherine Johnson: the mathematician, played by Taraji P. Henson in "Hidden Figures," who calculated trajectories and launch windows for early NASA missions.

Margaret Hamilton: the computer scientist who developed the flight software for the Apollo moon missions.

Sally Ride: the first female American astronaut in space.

Mae Jemison: the first African-American female astronaut in space.

Nancy Grace Roman: the astronomer who helped develop the Hubble telescope, among others.
Lego is still making more male than female minifigs, and last year's Series 16 still included ballerina and babysitter alongside animal control officer and kickboxer. But progress is progress, and Weinstock believes that these toys have inspirational impact.
She hopes her own minifig set will improve gender representation in the STEM fields of science, technology, engineering and math.
"I hope it sets a new example for both girls and boys," she told the BBC. "Girls, in that they can and should be engineers, scientists, and mathematicians, and boys, in that they internalize at an early age that these careers are for everyone, not only men."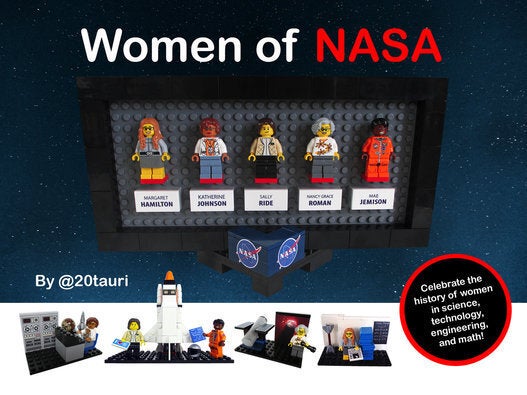 LEGO, WOMEN OF NASA
Popular in the Community