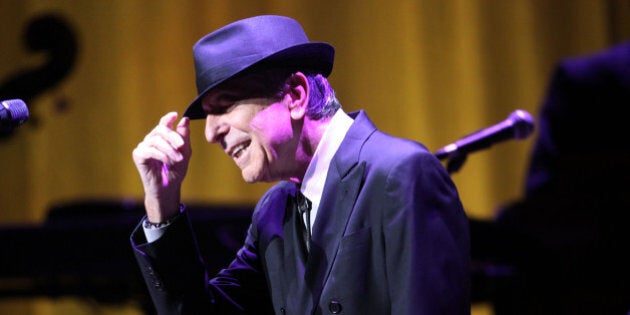 Canadians are hardly slouches in the international music world. Much like Sweden and Jamaica, we punch well above our weight. But mostly one hears about the successes of younger artists like Drake, Bieber, Deadmau5 and Arcade Fire.
Well, there's a new Canadian superstar in town -- or rather a very old one.
Leonard Cohen just turned 80 last month and a couple days later released his new album, "Popular Problems," which arrived nearly 50 years after his first. But it was clearly an apt name since his popularity has only been increasing over the release of 13 studio albums across the past half-century.
To wit, Cohen's new album "Popular Problems" hit number one in Canada (a feat he also managed with his 2012 album "Old Ideas") as well as topping the charts in Austria, Switzerland, Belgium, Holland, Portugal, and Israel. (It also peaked at number one on the iTunes charts in 29 countries across the globe and went top five in an additional 15 countries.)
In the UK, Cohen came in at number three on the charts behind new records from indie rockers Alt-J and electronic icon Aphex Twin.
Over in the U.S., Cohen landed at number 15, a drop from his last album which came in at three. But the top of that chart was still all about old ideas as 88-year-old Tony Bennett became the oldest artist to ever hit number one on the Billboard charts for his collaboration with Lady Gaga, a record previously held by...Tony Bennett when he released his last album at the tender age of 85.
Bennett also knocked last week's chart topper Barbra Streisand, who is merely 72 years old, down to the third spot.