While Leonard Nimoy was best known for his portrayal of Spock on "Star Trek," not many people knew he was also a gifted photographer.
"The average American woman, according to articles I've read, weighs 25 per cent more than the models who are showing the clothes they are being sold," he told the New York Times. "So, most women will not be able to look like those models. But they're being presented with clothes, cosmetics, surgery, diet pills, diet programs, therapy, with the idea that they can aspire to look like those people. It's a big, big industry. Billions of dollars. And the cruelest part of it is that these women are being told, 'You don't look right.'"
According to CBS, Leonard was inspired after a full-figured woman asked him to take her and her friends' pictures. He enlisted members of the plus-size burlesque group, The Fat-Bottom Revue, to pose for the photos.
Natalie Angier, the author who wrote the introduction to The Full Body Project, told Mashable that Nimoy was very troubled upon hearing that most women felt some degree of body shame.
"It really disturbed [Nimoy] that women who considered themselves overweight had this terrible feeling about themselves," she explained. "He wanted to show the world that there's beauty to be found in different body types."
In turn, Nimoy photographed the women dancing, laughing, and staring proudly into the camera to show their strong self-esteem.
"In these pictures these women are proudly wearing their own skin," he wrote in the book. "They respect themselves and I hope that my images convey that to others."
And that they do. You will be greatly missed, Leonard Nimoy.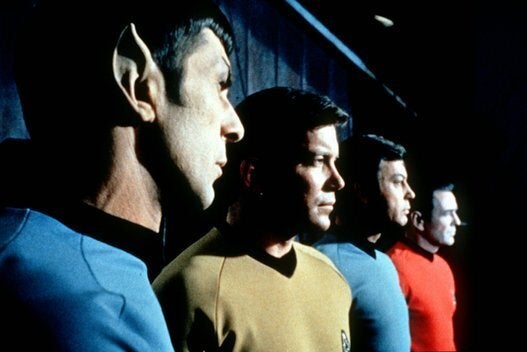 Leonard Nimoy life in pictures