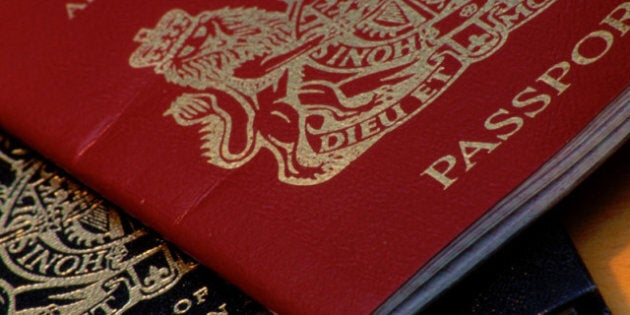 The Government of Canada says it doesn't deport people to torture, but it did -- just ask Adel Benhmuda.
Adel Benhmuda is Libyan. The Government of Canada said he wasn't a refugee; the UN High Commissioner for Refugees (UNHCR) said he was.
In 2000, after a decade of police harassment, interrogations and beatings, Benhmuda smuggled himself and his family out of Libya and attempted to gain refugee status in Canada. While the decision was being made, he and his family lived in Mississauga, Ontario. He worked two jobs, paid taxes and sent his children to public schools, where his wife volunteered. While in Canada he and his wife Aisha gave birth to two more children, Adam and Omar, Canadian citizens.
In August 2008, he lost his refugee claim and the Immigration and Refugee Board concluded he was not at risk of torture or persecution if deported back to Libya. The family, including its two Canadian citizens, was deported. Curiously, the Canadian Border Services Agency did not allow them to hold their own passports, instead entrusting them to the airline, which upon landing in Libya gave them to the authorities. Benhmuda was immediately detained and tortured.
Benhmuda had been of interest to Libyan authorities because his brother was a member of an anti-Gaddafi radical-Islamic group -- one the Canadian refugee board cleared him of having any association with and whose members have since been represented in the Transitional National Council.
After smuggling himself and his family out of Libya a second time, he landed in Malta in May 2010. The family was taken to a Maltese refugee camp and assigned to live in a 40-foot cargo container with no washroom or water; they spent nine months in the camp before being able to rent a small apartment.
In August 2010 the Maltese Refugee Commission granted them refugee status. That September their lawyer Andrew Brouwer filed a request that they be allowed to return to Canada on humanitarian and compassionate grounds. In February 2011 the UNHCR filed a 17-page request with the Canadian government that it re-settle the Benhmudas, citing numerous hardships and hazards (including health) that the family faced in Malta, their strong connection to Canada, as well as a promise of a job by one of Benhmuda's former employers in Mississauga.
The UNHCR request was handled through the Canadian embassy in Rome, where immigration counsellor Laurent Beaulieu wrote in an email, "I do not see what is Canada's obligation in this case, they were heard and the applicant received the attention they deserved."
In July, Immigration Minister Jason Kenney promised the matter "will be given every humanitarian consideration, and indeed dealt with on an accelerated basis." On Sept. 28 the family was interviewed by a Canadian visa officer in Malta and told to expect a decision within a few weeks. Their lawyer told me they've been told to expect a decision "shortly".
Where is Adel Benhmuda? Why is he not yet in Canada? Why was he deported in the first place? Why were two Canadian citizens made to live in a 40-foot cargo container? And does a Canadian immigration counselor really find it "odd" that the UNHCR would try to prioritize the Benhmuda's resettlement in Canada? Is Canada's connection to the Benhmuda family really that tenuous?
The saga of Adel Benhmuda should have never happened. Canadian immigration authorities should have believed his story, which turned out to be true. They should not have dismissed past instances of harassment and beatings by Libyan police and a summons to appear at a Libyan police station. But they didn't believe him, at all. They should have been more cautious about deporting someone to a country that practiced state-sponsored torture. But they didn't, and sent him back.
The consequences have been tragic.
An innocent man has been tortured, a family has been broken, and two Canadian citizens have been treated in a manner that disregards their citizenship in a way you or I would never tolerate.
Yet, Laurent Beaulieu does not see what Canada's obligation is with regards to the Benhmuda family. Better to wipe our hands clean and forget about it. Better to break lives than to build them.
The 1951 Refugee Convention, which Canada has ratified, came about because of a recognition that some people's lives were so awful, so full of persecution that they had to be given a means to escape. Adel Benhmuda tried to endure his life in Libya, but it reached a breaking point. So he came to Canada to build a new, quiet and peaceful existence for him and his family. For eight years he did.
In deporting the Benhmuda's Canada's refugee system made a mistake. Fortunately, it's being given a second chance; let's hope this time it gets it right. Let the Benhmuda's come home.