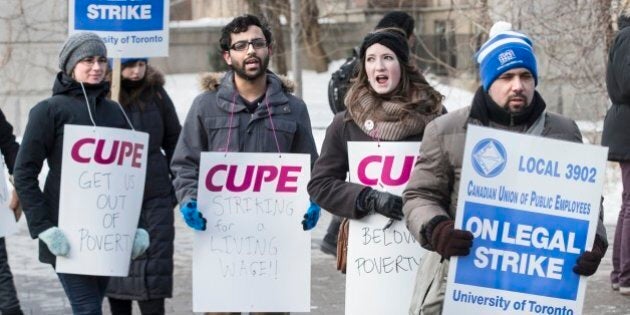 Late last week, the University of Toronto and CUPE 3902 Unit 1 reached a tentative agreement to raise teaching assistants' wages to one of the highest levels in Canada along with substantial improvements to benefits.
The University's and CUPE's bargaining teams both unanimously endorsed the agreement as being in the best interests of the University and our teaching assistants. I was on site early last Friday morning to shake hands with the CUPE bargaining team and hear their endorsement for the deal forged on behalf of their members.
Unfortunately, at a meeting of only 800 out of 6,000 total CUPE members, those present decided to take all the members out on strike. We are surprised by this decision and think that the tentative agreement should be voted on by all 6,000 members of CUPE 3902 Unit 1.
Why should the agreement be voted on by all members? This is a generous agreement that lifts teaching assistants' wages to $43.97 per hour, one of the highest rates for teaching assistants in Canada. Other additions include improved health care -- one of the most comprehensive health plans for teaching assistants in Canada, and more financial assistance -- increased to $2.2 million annually to assist with childcare and education-related expenses.
In addition to the employment income provided in teaching assistantships, University of Toronto also offers some of the highest levels of graduate support in the country.
University of Toronto makes an investment in graduate student support to help Masters and PhD students offset the costs of their education and earn income during their studies. Every PhD student at the University of Toronto receives a guaranteed level of financial support, unlike many of our peer institutions that do not provide a universal guarantee.
U of T offers graduate students a mix of support, which may include fellowships, scholarships, awards, and research assistantships. As with other universities, the amount, composition, and duration of a graduate student's funding package varies by department and program.
Outside forces, such as research granting council funding and support from faculty research grants, means that departments have different capacities to provide financial assistance to graduate students. Therefore, the University works to transfer resources among departments to provide more equitable funding and support for our students.
Here at U of T, we believe our students are some of the very best and brightest in their disciplines. They bring quality, diversity and commitment to their chosen fields. By supporting our graduate students, we ensure that they can focus on their full academic potential.
The issue at hand is the terms and conditions of part-time employment for teaching assistants and the generous tentative agreement we reached with CUPE. We believe that all CUPE 3902 Unit 1 members must be given the opportunity to vote on the tentative agreement.