Police in Lethbridge are looking for a man and woman who they say stole five puppies from a home and then dragged the dogs' owner with their get-away car.
On Sunday afternoon, a woman was showing her three-week-old French bulldog puppies to a man and woman who had expressed interest in a Kijiji ad listing the dogs for sale.
She told police she left the pair in the room with the dogs for a short while, and when she returned the puppies were gone.
She saw the couple leave in a car, and she began to follow them in her own vehicle.
She followed them to the intersection of McMaster Blvd. and Whoop-Up Dr., where she got out of her car and tried to open the door of the suspect vehicle.
The driver, however, took off, dragging the woman about 30 feet before hitting her with the car.
The woman was treated in hospital for non-life-threatening injuries.
The man is described as Middle Eastern, mid 20s, approximately 5'7", with a thin build and short hair, wearing glasses, a blazer with white writing, a white t-shirt and baseball hat.
The woman is white, mid 20s, 5'4", 200 pounds, with blonde hair, wearing heavy makeup, spandex pants, a tank top, green jacket and a baseball hat.
The vehicle is described as a newer model silver Jeep, possibly a 2015 or 2016 model with a broken driver's side mirror.
The puppies are two blue mantle, one blue pied, one blue brindle and one blue fawn.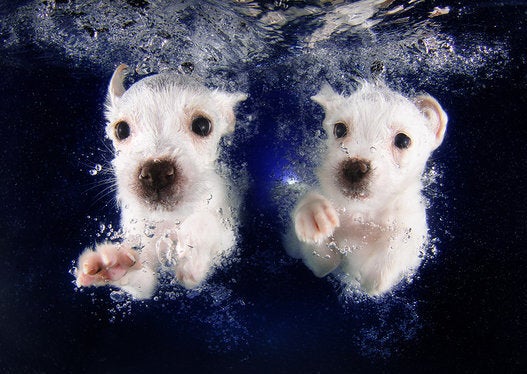 UNDERWATER PUPPIES by Seth Casteel