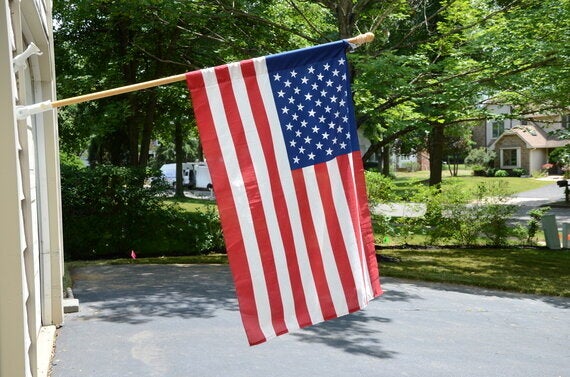 Image of Flying the American Flag on Flag Day by slgckgc on flickr through Creative Commons
I'm just going to come right out and say it: I think Americans have a lot to be concerned about unless, among other things, they don't care about their freedom to choose and their basic human rights.
Have you been paying attention to Donald Trump's nominees? Do you know what they believe in and stand for? I have been keeping up with his picks and their platforms. And let me tell you, unless I was an affluent, white, heterosexual, conservative Christian man, I'd be more than a little nervous.
Even though allegations that he supports the highly-controversial and widely discredited gay "conversation therapy" practice have not been proven, he is on record as saying: "Congress should support the reauthorization of the Ryan White Care Act only after completion of an audit to ensure that federal dollars were no longer being given to organizations that celebrate and encourage the types of behaviors that facilitate the spreading of the HIV virus. Resources should be directed toward those institutions which provide assistance to those seeking to change their sexual behavior."
While governor of Indiana he signed into law a measure that could allow businesses to turn away gay and lesbian customers in the name of "religious freedom."
Still not convinced he is one scary dude? Well take a gander at this Huffington Post article. Just look at his record on abortion, Planned Parenthood, immigration, education, the environment and guns. If that doesn't give you the heebie-jeebies I don't know what will.
But wait, Pence is just the tip of the iceberg.
"Thirty years ago Jeff Sessions, Trump's pick for Attorney General, was seen as being too racist for senate approval as a federal judge."
Consider the ultra right-wing conservative, Steve Bannon, Donald Trump's former campaign chair and recently-appointed chief strategist. There are those -- senior Democrats, some Republican strategists and civil rights groups among them -- who fear, not without reason, that Bannon with bring anti-semitic, nationalist and racist views to the West Wing.
Thirty years ago Jeff Sessions, Trump's pick for Attorney General, was seen as being too racist for senate approval as a federal judge.
As chair of the pro-school-choice advocacy group American Federation for Children, Betsy DeVos, Trump's pick for Education Secretary, led the charge to privatize public education.
The billionaire can also be thanked for the spread of charter schools in Michigan -- most of which are responsible for reading and math test scores that are lower than than the state average.
There are an increasing number of physicians who are worried about Trump's appointment of Tom Price -- an early and vocal critic of Obamacare -- as Secretary of Health and Human Services. They fear his proposed policies could harm the vulnerable, including poor children who count on CHIP (the Children's Health Insurance Program).
"The threats these people represent are real."
Steve Mnuchin, a multimillionaire and ex Goldman Sachs banker who profited from the 2008 financial crisis, has been tapped, by Trump, for the Secretary of the Treasury gig. His nickname is "foreclosure king" because he bought up distressed mortgages and then evicted thousands of homeowners.
Yep, I'm sure we can count on him to take care of all those unemployed white men and struggling minorities who voted for Trump.
Then there's Scott Pruitt. "Who's he?" you ask. Well, currently he's Oklahoma's attorney general, where he's spent much of his time suing the EPA (Environmental Protection Agency). An interesting choice for Administrator of Environmental Protection Agency, don't you think? Yet, he's President-elect Trump's nominee.
You're getting the picture, right? And it ain't pretty. There's plenty more, but I'm going to exceed my word limit if I keep this up.
That being said, I am a woman and I cannot wrap this up without referencing a comment made by Paul Ryan when Jake Tapper interviewed him recently.
The question was about birth control and whether or not the Obamacare replacement would fully cover its cost. You know the answer, don't you? Right. Paul Ryan made no promises.
This is no joke, folks. I'm not making this stuff up. The threats these people represent are real. To quote the headline of a Rolling Stone article that was published last week, "Trump's Presidency Is Shaping Up to Be an American Tragedy."
If you enjoyed this story click on "become a fan" at the top of the article, right next to my name. You'll be notified every time I post.
Follow HuffPost Canada Blogs on Facebook