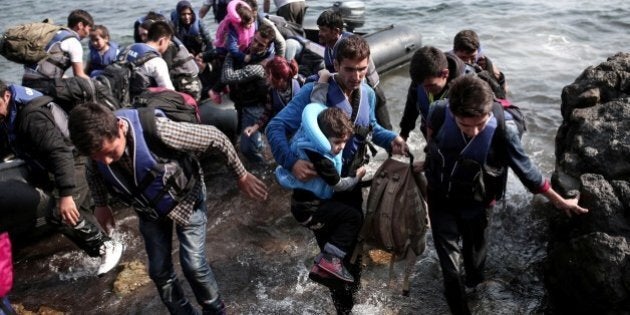 When I checked on my three-year-old son last night I saw that he was sleeping in exactly the same position as little Alan Kurdi, the Syrian boy who's lifeless body washed up on the Turkish beach.
The thought froze me in my steps.
I know similar reactions were happening across the country as the human face of this crisis reached an entirely new level with that profoundly tragic and horrifying image.
Sadness, anger, guilt, frustration and most prominently a sense of helplessness -- what can we do here and now?
This morning, CBC's The Current reported that Canadians are desperate to sponsor refugees as governments dither.
The first point of action is of course, Election Day on October 19th -- the chance to channel political will into a change in policy.
But there's a local opportunity here as well.
Social media was lit up by an almost universal energy for action that supports the major critique of politics -- the one we've heard in Samara's Tragedy in the Commons and Bob Rae's new bookWhat Happened to Politics, and Kevin Page's recent comments about lack of trust being the central issue.
It's something the majority of Canadians intuitively feel: politics and politicians no longer seem like a channel for change or action, and so we tune them out.
People and even partisans are disconnected from purpose beyond the election cycle.
But in an election framed on change, maybe there's an opportunity here to reconnect politics and purpose.
Why don't leaders and parties task their associations (post-election to be practical) with taking on the sponsorship and settlement process of bringing over Syrian families?
This could be the chance to make local federal riding associations relevant beyond the campaign -- and to provide a way for citizens to engage in global and social issues, much like faith institutions do.
It could be an initiative that would cross partisan lines, channel collective frustration in the face of this crisis and make politics meaningful in a very real way.
Riding associations are the local chapter of each federal party. This is the group that nominates and then supports candidates during the election period.
So right now, they are at their most active and engaged.
But post-October 19th whether their local candidates win or lose, the reality is that their relevance fades.
Technically the role of the riding association is to fundraise between elections and find ways to keep members engaged.
I've been a member of several riding associations, across party lines and in several cities -- and despite best intentions, this "engagement" usually means a couple barbecues in the summer and maybe a skating party or park clean up.
Last night, after I left my son, I started looking online for ways I could personally help -- and I came across the Lifeline Syria initiative, which has been created by Ryerson University. It involves 11 sponsorship teams who have each pledged to support and settle a refugee family for up to one year.
Lifeline Syria has also called on other post-secondary institutions to join the effort.
This got me thinking: why not have riding associations across the country duplicate this approach?
I checked with lawyer Jack Siegel a Partner at Blaney McMurtry LLP and an expert on the Canada Elections Act -- he confirmed that there is no legal barrier to doing something like this -- but since political funds and charitable funds should not be mixed, suggested that the associations should keep fundraising separate from their regular efforts.
For parties, encouraging their riding associations to reconnect genuine social impact to politics would be a significant win in terms of restoring public belief in the usefulness of local partisan politics.
Right now, anger, frustration and a desire for real change is high -- people are looking for something they can do and riding associations should seize that energy and channel it.
"This would be a great time for local riding associations of all parties to get together and sponsor refugees -- this has to become a grassroots movement." Says former Liberal Leader and Premier of Ontario Bob Rae.
In his most recent Macleans piece, Scott Gilmore points out that right now, at this moment, with that tragic image seared in our minds, Canadians are looking for our leaders to do something bold.
He calls for pushing political candidates and their parties to up their thinking -- specifically radically increasing the refugees that Canada accepts.
But lets also look to make local politics and existing mechanism like riding associations places where actual change and impact can happen, after all if post secondary institution can do it, why can't politically engaged community members?
In the coming weeks, when each of your local candidates comes to your door, ask them where their party stands on this issue but also ask them what their association is doing to make a practical difference in the community and in the world.
Reva Seth is the author of two non-fiction books.
Editor's Note: The boys' aunt told The Canadian Press the boys' names are Alan, and not Aylan, and Galib, not Galip, as originally released by the Turkish government.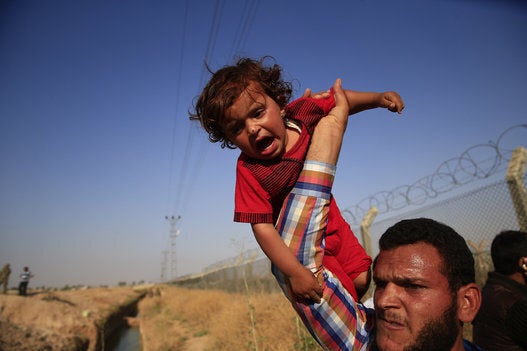 Syrians Flee Into Turkey, June 2015