A teacher at Queen's University in Kingston has posted photos of a bizarre and threatening letter addressed to lesbians in the Ontario city.
Addressed to "Lesbian bitches," the letter demands that the recipients leave the city as soon as possible or face all manner of harassment (read the full letter here).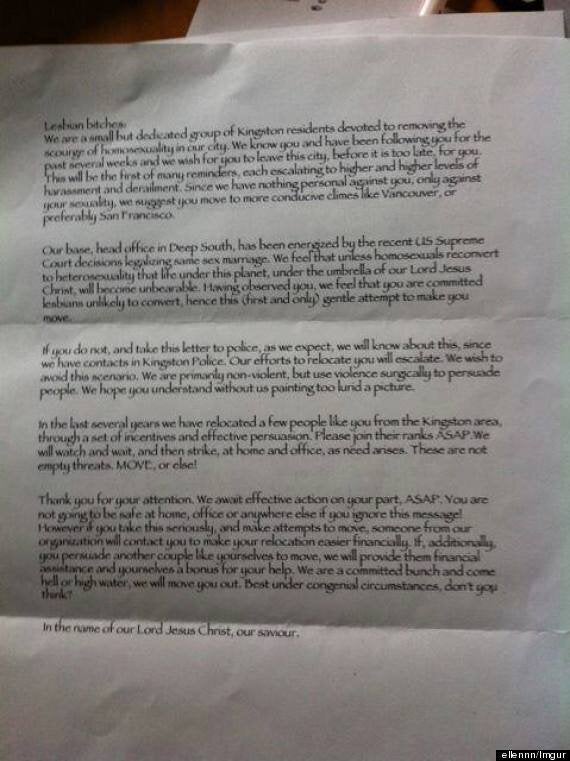 It also suggests the group, with it's head office in the "Deep South," has been successful in forcing relocations in the past.
"In the last several years we have relocated a few people like you from the Kingston area, through a set of incentives and effective persuasion. Please join their ranks ASAP," the letter reads. "We will watch and wait, and then strike, at home and office, as need arises. These are not empty threats. MOVE, or else!"
The anonymous writer goes on to suggest that if the recipients leave Kingston they will receive financial assistance from the group. Additionally, they are promised a bonus if they can "persuade another couple like yourselves to move."
All this, as the letter ends, "In the name of our Lord Jesus Christ, our saviour."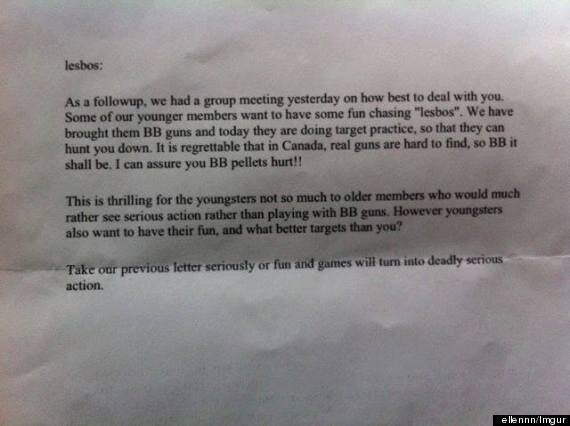 That letter says younger members of the group are set to shoot BB guns at lesbians in the area because "real guns are hard to find" in Canada.
"This is thrilling for the youngsters," the letter reads.
The person who posted the photo writes that Kingston's HIV/AIDS services centre was recently targeted in a BB attack.
"They are disgusting and vile," she said. "When I was reading them I felt like I was being transported back in time."
Kingston police said they are aware of the letters and are investigating, the Whig-Standard reports. A media release from the force is expected Monday.