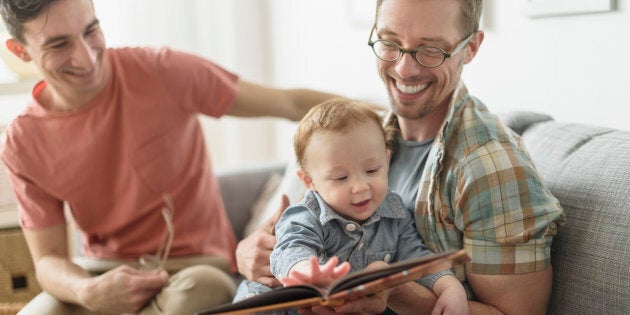 For children, books are doorways into new worlds. Their pages can transport readers into adventure, love, mystery, celebration, and so much more. They can also bring parents and children together through shared experiences and belonging — especially if they can see themselves in the story.
Recognizing one's identity or family represented in media "can foster a great sense of affirmation of their identity. Feeling affirmed with one's own sense of self can boost positive feelings of self-worth," Dr. Jennifer O'Brien wrote in Psychology Today. Books can be beautiful mirrors, able to show readers their own value.
WATCH: Books to teach your children about LGBTQ pride. Story continues below video.
HuffPost Canada spoke to five LGBTQ2S+ parents about books featuring gender and/or sexual diversity that have meant the world to them and their families.
1. "Heather Has Two Mommies" by Leslea Newman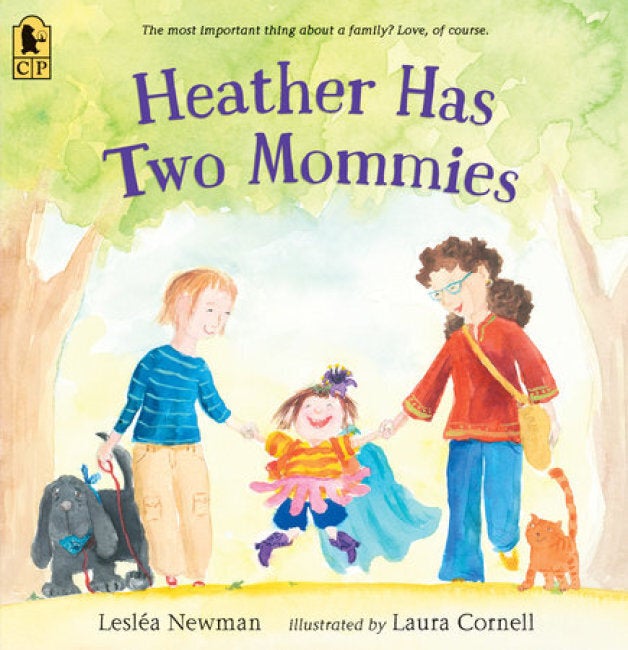 Recommended by: The Beerends-Meisner Family (Calgary)
This classic book features a young girl who watches her classmates draw their families — hers looks different, but is the same in the most important ways.
"My wife is a woman of colour," author and professor of creative writing Natalie Meisner told HuffPost Canada, "so we are a biracial family. Our two sons were born two months apart, and have an extraordinary number of questions levelled at them ... what this story helps them with is knowing the most important thing in a family is that they love each other."
Children's books, she said, "give them the tools they need to tell their story in the world." This inspired Meisner to write her own, My Mommy, My Mama, My Brother & Me (to come from Nimbus Publishing in April 2019).
Meisner said Heather Has Two Mommies "was historical, groundbreaking, and is the 11th-most challenged book in the United States. And yet it is lovely, gentle, comforting, all the things you want in a children's book."
2. "I Am Jazz" by Jessica Herthel, Jazz Jennings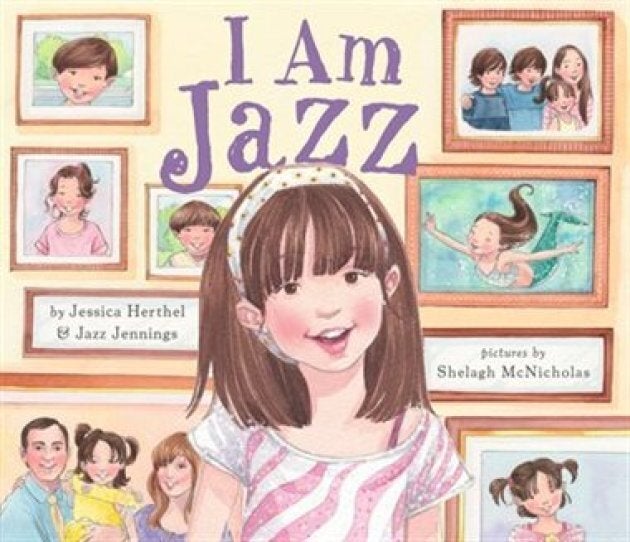 Recommended by: The Lim Family (Edmonton)
This true story features Jazz's own voice describing what it feels like to be transgender in a way that other children can understand.
Lauren Lim told HuffPost Canada that Max, her almost-six-year old, "has been gender non-conforming since just about age two," and that books have been an important part of learning how to support her. "We went to a child psychologist who [read I am Jazz] and said, 'do you know anyone like that?' Max was like, 'that's me.'"
"Transgender is a very big word," Lim said. "It's difficult ... for kids to wrap their minds around." The Lims have appreciated Jazz's simple way of describing that she has "a girl brain, but a boy body," and often add in a line of Max's own: "And I have a girl heart."
3. "M is for Mustache" by Catherine Hernandez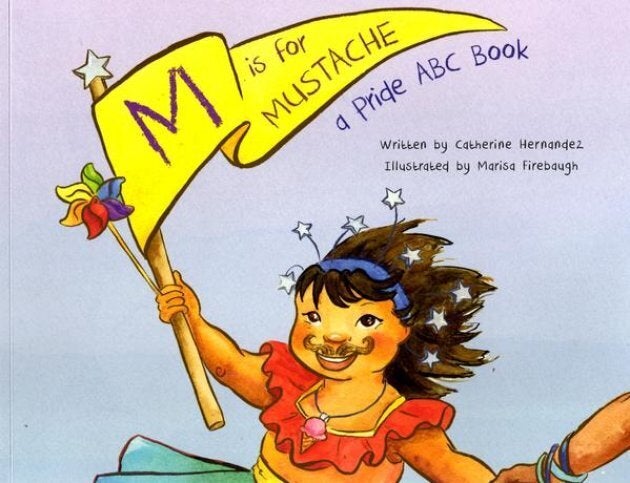 Recommended by: The Speed Family (Vancouver)
This colourful ABC book follows a big, fun family around as they get ready for the Pride Parade.
Ashley Speed's two-and-a-half-year-old daughter calls this the "rainbow book," and her favourite page is "G is for glitter," Speed told HuffPost Canada. Speed, who is queer, said that the "Pride [parade] is a big deal in my house."
She said she could have chosen anything published by Flamingo Rampant, "because they work hard to publish LGBTQ2S+ books that are not solely about oppression or having to overcome. This is just a happy book."
4. "Bell's Knock Knock Birthday" by George Parker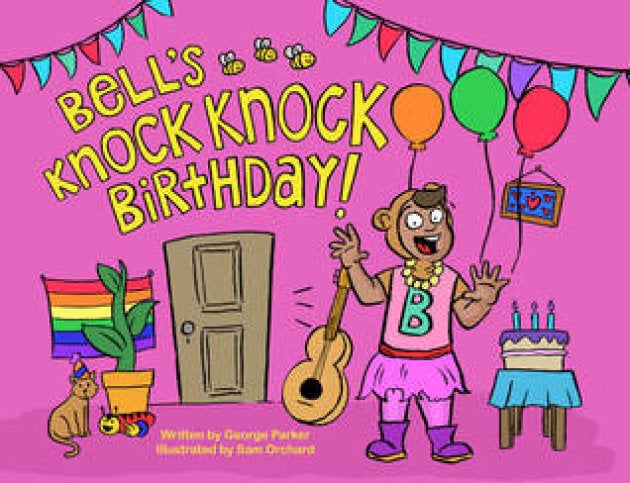 Recommended by: The Bergman-Skelton Family (Toronto)
This birthday-themed counting book will delight readers with its colourful cast of characters and repetitive phrasing.
S. Bear Bergman is an educator, writer and publisher of Flamingo Rampant Books. Bergman told HuffPost Canada that he, his husband, and their three children, ages 3, 8, and 23, all love this book because "we have a large community, like many queer spawn do. The people who are coming to Bell's house are obviously diverse, and the child is having this large, chosen-family party. It looks just like ... celebrations at our house. Lots of adults, some kids, lots of different constellations of family."
"There's something about how Bell's Knock Knock Birthday makes that visible, and validates it, that my children really appreciate. What is delightful to me is that the children are just bananas with joy — even kids who have read it a million times, like my children, will say 'Knock knock, who's at the door?' with tremendous enthusiasm."
5. "And Tango Makes Three" by Justin Richardson and Peter Parnell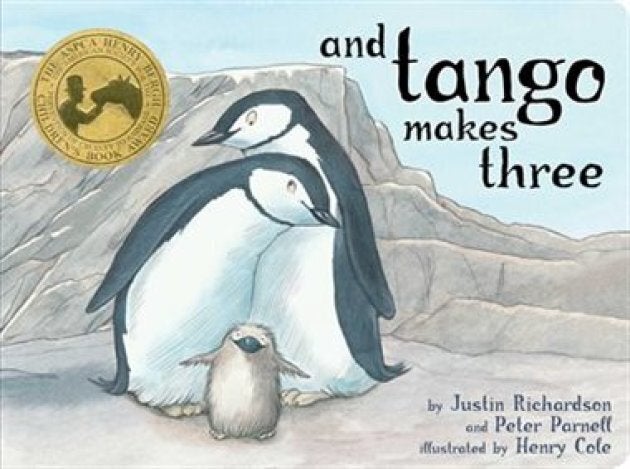 Recommended by: The Goodman Family (Vancouver)
This true story tells the tale of two male penguins who chose each other and were given an egg to hatch and call their own.
Dave Goodman and his husband Jimmy were given this book by their adoption agency when they finalized the adoption of their newborn daughter, now a year old.
"It was the first book we owned," Goodman told HuffPost Canada. "We have other books that just 'happen' to have two dads, but I like how this story acknowledges that these penguins are different, but they still have a lot of love to give... and that [having two dads] is special in a good way."
Popular in the Community