The Trudeau government's second budget is more a cautionary one than one with the revolutionary zeal of the first. In a sense, it's looking at what the Donald Trump administration is doing in the U.S. and making wiggle room as the president has been proven to be unpredictable. The budget does show us that the military is not a priority, with no increases and deferred spending on purchasing for eight years.
From the time of Trudeau's father and former prime minister Pierre Trudeau to the times of Jean Chretien, the military has never been the priority of the Liberals.
The lack of spending left some soldiers to seek assistance from their local food bank or even take second jobs. The wages have increased but the mere fact that we will have to duct tape our way forward can be hard on the soldiers and sailors and aircrew of the Canadian Armed Forces.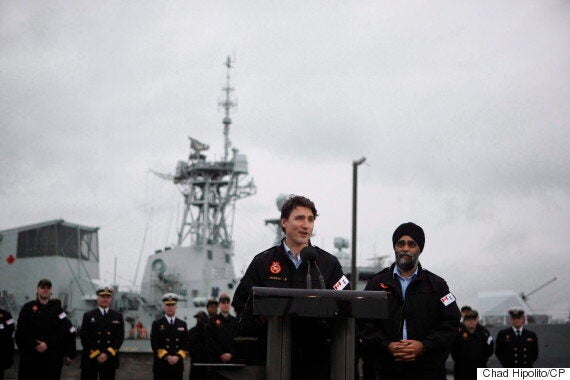 General Hillier said in 2007, "Those actions, dollar deprived, have now led to some deep wounds in the department in the Canadian Forces over this past, what I would call, a decade of darkness."
The Canadian Forces are in combat in Iraq working with the Kurdistan forces for several years now. This mission, largely manned by the Special Forces, is taking a toll on the men and women of the two units involved.
JTF2 and Canadian Special Operations Regiment are highly skilled and fairly small in size. They are helped with regular force logistical units out of Kuwait and helicopters working out of Iribl.
Small numbers are located in some locations in Africa such as Congo and southern Sudan as well as working with our partners in Mali. In Europe we have the beginnings of what is being called a permanent base in Latvia and of course the training and advising teams in the Ukraine.
What Afghanistan has taught us more than anything is that we must be flexible and that good equipment can save lives.
The air force continues to protect North America and on various missions in Europe and Iraq. The navy, also with partners, is doing its work in the Indian Ocean, Pacific and the Atlantic, as well as the far North.
I mention these locations and tours because one can easily see that this many wide and varied missions take their turn on CAF members and their equipment. Canadian acquisition for the military has been hit and miss, and so we have world-leading equipment working side by side with 1950 helicopters or ambulances that top out at 80 km/h.
What Afghanistan has taught us more than anything is that we must be flexible and that good equipment can save lives.
Had I had to use an Iltis to travel around Kandahar, I would be dead at the suicide bombers' hands that was, in fact, stopped by our armored vehicle -- a newly purchased Mercedes G-Wagen.
The navy is in need of new supply ships as we currently have to beg and borrow off our allies for help during exercises and missions around the world. The air force is in a well-publicized rut with its need for new fighter jets. The CF35 is a highly technical aircraft that has blown its budgets and it still is not 100 per cent operational. As such, the Liberal government has decided to buy Super Hornet CF18, which are upgrades to our current CF18s from the 198s.
Search and rescue aircraft have long been needed, as the current Buffalo aircraft -- although solid -- is in some cases decades older than its crew.
The missions we find ourselves in require solid equipment and we also need more manpower as we move forward. The soldiers, sailors and aircrew want to do the missions they're given -- but if they don't have the "right stuff" then the mission may fail and people will die.
Soft power can work around the world but there are times when dealing with either Vladimir Putin or ISIS that a big stick is just as effective.
The Liberal government has stripped $8.4 billion out of the equipment purchased budget with a promise to reinstall it sometime in the 2030s.
This lack of foresight is telling, and shows that the current government is not understanding the immense value that Canada can bring to the table. We are requested from countries around the world due to our combat experience and highly skilled officers and soldiers, sailors and aircrew.
We can invest in our men and women and give them the tools to do the job.
During the 2015 election, Justin Trudeau pledged to not cut defence spending and to live up to the pledge made by the former government of reaching the NATO funding goal of two per cent of GDP.
Canada currently ranks last in that funding model at just .99 per cent of GDP being spent on defense.
Canada is ranked as one of the greatest countries -- happiest to live in, incredibly livability scales for its cities, a long life expectancy and so much more.
We can invest in our men and women and give them the tools to do the job. It's been proven over on mission after mission that Canadian Armed Forces can help countries, peoples and more but we must have the right stick.
The Canadian military has been subject to defence cuts since 2013, all while we are continued to ask to do more with less and less. Eventually it won't just be the equipment that breaks down but the soldiers themselves.
Amputee Coalition of Canada
Follow HuffPost Canada Blogs on Facebook