OTTAWA — The federal budget is projected to exceed $52 billion over the next two years — if the Liberals keep all their election promises.
The Huffington Post Canada overlaid Monday's new deficit projections from the finance department with the Grits' recent spending announcements as well as their commitments from the 2015 election campaign. If Prime Minister Justin Trudeau follows through with promised investments in infrastructure, childcare benefits, and everything the Liberals' costed platform suggested, his government is projected to run deficits of $27.45 billion in 2016-2017 and $24.57 billion in 2017-2018.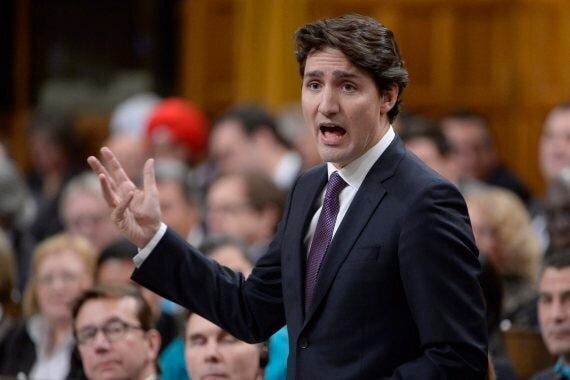 Justin Trudeau answers a question during Question Period, on Feb.18, 2016. (Photo: Adrian Wyld/CP)
Ian Lee, an assistant professor at the Carleton University's Sprott School of Business, said the Grits were not going to "blow up Canada" with their projected $52 billion deficits — but it would set the country on a difficult course to return to balanced budgets.
"From 1972, when [deficits] started under Pierre Trudeau, it took us a quarter of a century to get out — and it took the largest downsizing in Canadian history, under [former prime minister Jean] Chrétien and [then finance minister Paul] Martin … to get out of it, because once spending is spent, it becomes entrenched."
During the last election, Conservative leader Stephen Harper had a bit of fun mocking Trudeau's plans to run two deficits of up to $10 billion before bringing the country back into black for the 2019-2020 budget.
"He'll run, he says, a modest deficit, a tiny deficit, so small you can hardly see the deficit," Harper said holding his thumb and index fingers apart while the crowd laughed and ate it up. "That's what he says. But only for three years," Harper went on. "Only for three deficits, three modest little deficits."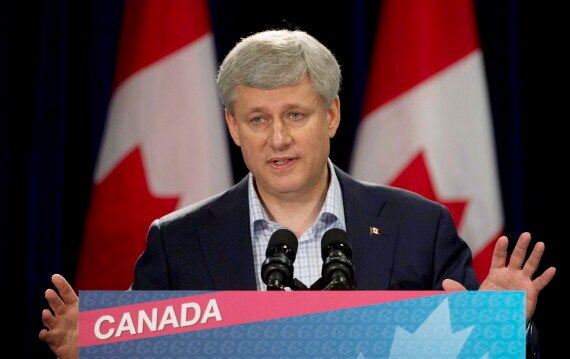 Former prime minister Stephen Harper said Trudeau's deficit plan was unrealistic during the election campaign. (Photo: Adrian Wyld/CP)
Modest deficits would lead to large deficits as they did in Ontario, Harper suggested. The Tories would go on to warn that the Liberals' $10 billion deficits would become "massive, permanent deficits."
Trudeau told Canadians during the campaign that "what the economy needs is a plan for growth and investment," and he promised to "tell them the truth" if things became radically worse.
That is in some ways what he did in December when he called the $10 billion deficits a "goal" but said he was still committed to his spending plan to expand the economy.
"We will do what is necessary and what is responsible to create that growth while reducing our debt-to-GDP ratio every year and while ensuring that we return to balance by the end of our mandate," Trudeau said.
On Monday, the Liberal government made it pretty clear it is likely to break both those promises.
According to Finance Canada figures, debt-to-GDP ratio will increase from 31 per cent in 2015-2016 to 31.8 per cent in 2016-2017 before dropping back to 31.1 per cent in 2017-2018.
Shy of massive tax hikes or big spending cuts, Lee said, Trudeau has little chance of balancing the books by 2019-2020.
"I think it will be impossible for them to balance, especially when you get up those magnitudes. 'Cause those are big cuts when you get up to $30 billion deficits."
"I can't see how they would do it, because there would be so many interest groups opposed, public service unions, NGOs, academics like me, all the people receiving the largest would declare holy war against the government," the Carleton University professor said.
"I think it will be impossible for them to balance, especially when you get up those magnitudes. 'Cause those are big cuts when you get up to $30 billion deficits."
Kevin Milligan, an economics professor at the University of British Columbia who was a member of Trudeau's economic advisory council before the election, told HuffPost that deficits go up and go down. He is less concerned about replicating the deficit era that Lee warned against, he said, because those were incurred at a time of high interest rates that is not representative of the current situation.
What worries Milligan is that the Liberals' debt-to-GDP ratio is going "in the wrong direction" at a time when economic growth is weak. The government knocked down real GDP growth from 2 per cent as projected in the fall economic update for 2016, to 1.4 per cent on Monday.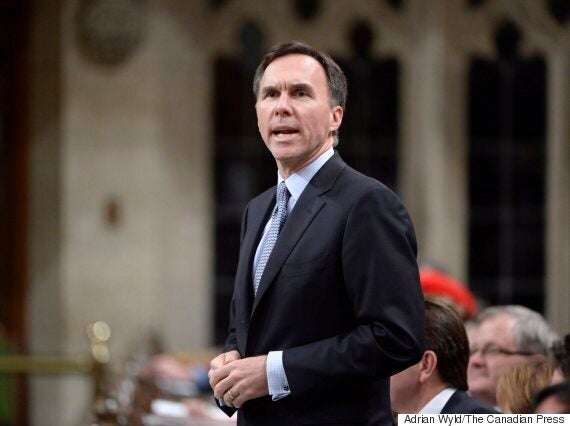 Finance Minister Bill Morneau confirmed Monday that the deficit will be at least $8.4 billion more than Liberals promised. (Photo: The Canadian Press)
"When the debt-to-GDP ratio is stable or declining, your public finances are sustainable. When debt-to-GDP is increasing they are not sustainable," Milligan said. "I can imagine worse crises, and if we start to increase debt-to-GDP ratio right now, we're not leaving a lot of room for a future crisis."
Still, he said, the Liberals are gambling that their spending program will help grow the economy and they won't have to decide between spending cuts or tax increases to get out of a string of deficits.
"The bet they are making is that, by having this stimulative deficit and investing in things that they think can be productive, … they can spur growth in the economy and that would … allow them to get sustainable public finances," he said. "Will it work? I don't know.
"It is a plausible path. If you can get growth back up to 3 per cent, all these problems go away."
Projections include $6 billion cushion
The Liberals' budget deficits could, however, be a bit lower than expected.
When the finance department announced its projections Monday that the budget deficits would be $18.4 billion in 2016-2017 and $15.5 billion in 2017-2018, it based that on forecasts from private-sector economists for Canada's weakening economy, but the government also included an additional $6 billion cushion per year in lost revenue to further mitigate potential risks: slower-than-expected oil prices, slower-than-expected growth in the United States and China, and more volatility in global financial markets.
Milligan said he has seen governments include $1 or $3 billion as a prudence factor but never $6 billion.
"I think it comes down to optics and politics," he told HuffPost. "It's clear that if you put in that kind of prudence factor, you're more likely to hit your number than if you don't…. This is something that started in the Paul Martin era to under-promise and over-deliver, and especially in year one of a mandate, it sets up a trajectory that looks much better."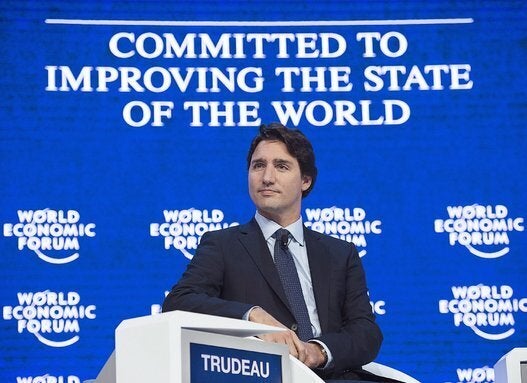 Trudeau Attends World Economic Forum