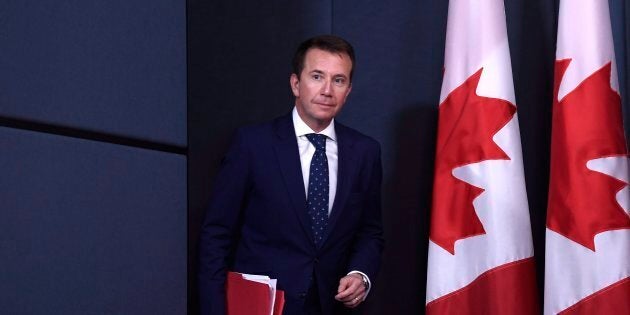 OTTAWA — The democratic institutions minister's office says it wasn't aware its 349-page bill closes a loophole that allows political parties to receive tens of millions of taxpayers' dollars in election reimbursements without showing any receipts.
When asked Monday about the loophole, acting Democratic Institutions Minister Scott Brison thanked HuffPost for the question and invited opposition members to amend the bill if they wanted to see it closed.
"In the course of the legislative process, we will have the opportunity at committee to consider others, and there is an opportunity through the legislative process to look at other opportunities to move further," Brison responded. "But we believe this is a significant modernization of the act."
Brison said the government would take an "evergreen perspective" to changing the legislation that outlines the rules for federal elections.
Tuesday, Brison's communications director, Jordan Owens, told HuffPost that neither she nor Brison was aware that the bill actually addresses the long-standing loophole — one the chief electoral officer has highlighted for a more than a decade.
Owens said she wasn't certain why all the government's communications material relating to Bill C-76, the Elections Modernization Act, makes no mention of it or why officials had also glossed over the change. She hypothesized that her office was more consumed with recommendations stemming from the 2015 campaign than with others made by the chief electoral officer, although the report she referred to does include the suggestion on page 80.
The massive election bill was tabled late Monday afternoon. Opposition MPs, who were given a briefing on the nuts and bolts of it, were also unaware of the change.
But buried on page 157 is an amendment that allows the chief electoral officer to require certain documents to be turned over by the chief agent showing proof of recorded election expenses.
After the 2015 campaign, taxpayers reimbursed the Liberals, Conservatives, NDP, Greens and Bloc Québécois half of the $121 million they spent during writ period — $60.6 million — without any proof of expenditures.
Marc Mayrand, the former chief electoral officer, had repeatedly told MPs the problem needed correcting.
Following the 2008 election, he noted in his report that "he has no means to verify the accuracy of the reported expenses on which the reimbursement is based."
"It is striking when looking at provincial regimes that we remain the only jurisdiction in Canada where political parties are not required to produce supporting documentation for their reported expenses," Mayrand told a Commons committee. "This anomaly should be corrected."
In his 2016 recommendations, Mayrand again stressed that Elections Canada "needs such documents to properly review party returns to ensure that the transparency sought by the act is being achieved." He also noted that parties receive tens of millions of dollars in direct public subsidies every election as well as millions in public subsidies in the form of substantial tax credits for their contributors."
When flagged, Elections Canada's spokesperson, Melanie Wise, told HuffPost on Tuesday it is satisfied Bill C-76 addresses the watchdog's recommendation that "as a matter of transparency and because of the large amount of public money at issue, parties should be required to produce documentation evidencing the expenses claimed in their returns on the [chief electoral officer's] request."
The Privy Council Office, where the democratic institution's ministry is housed, refused to provide an on-the-record response. Owens, however, said the change should be seen as the "power to compel receipts."
The Elections Act currently allows for the partial reimbursement of general election expenses as long as parties submit an audit report showing that proper accounting records have been kept. If a party receives two per cent of the valid votes cast in the election, or five per cent of the valid votes in one particular riding, then they are eligible for a 50 per cent refund.
In 2015, Canada's major parties received:
Liberals
Total paid elections expenses: $43,118,967
Final election expenses limit: $54,936,320
Reimbursement: $21,559,484
Conservatives
Total paid elections expenses: $41,871,574
Final election expenses limit: $54,936,320
Reimbursement: $20,935,787
NDP
Total paid elections expenses: $29,741,200
Final election expenses limit: $54,936,320
Reimbursement: $14,870,600
Total paid elections expenses: $3,908,024
Final election expenses limit: $54,893,641
Reimbursement: $1,954,012
Total paid elections expenses: $2,670,624
Final election expenses limit: $13,701,143
Reimbursement: $1,335,312
The letters from the outside auditors, hired by the Liberals, Conservatives and NDP following the 2015 election, all note how "due to the inherent nature of the transactions of electoral campaigns, the completeness of General Election expenses is not susceptible of satisfactory audit verification." Their verification, they write, is instead limited to the amounts recorded in the party's chief agent's accounting records.
According to the law, that was good enough to qualify for a $20 million refund.
It also seeks to make sure political parties are transparent about their privacy policies — although it offers no outside checks and few incentive to report breaches.
In many ways, Bill C-76 is a response to recommendations Mayrand made after the 2015 election, following the changes enacted in the Tories' Fair Elections Act. The new bill will:
Give Elections Canada the ability to streamline staff roles to ensure citizens spent less time waiting at polling stations to cast their ballots.

Restore the agency's right to engage in broad public-education campaigns, as well as the right to use of voter information card as a proof of address at the polls.

Allow for the pre-registration of 16 and 17 year olds.
The bill also amends current rules by raising the reimbursement rate for a candidate's daycare expenses or expenses related to their own disability or that of someone they care for — from a 60 per cent reimbursement rate to 90 per cent, in order to reduce barriers to entry.
Candidates, as always, will have to show records before obtaining a refund.
CORRECTION: A previous version of this story said the bill did not close the loophole. This story has been revised to reflect new information.