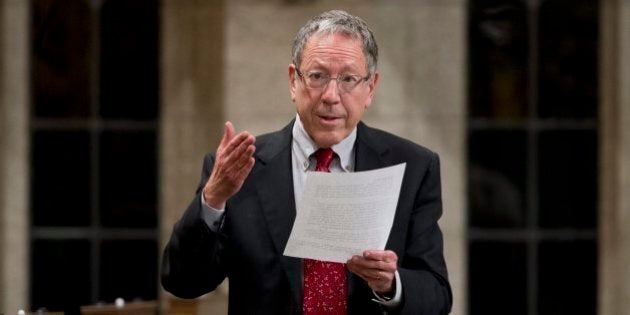 One of the most respected members of the Liberal Party was noticeably absent Tuesday as his party voted against joining a U.S.-led combat mission against the Islamic State of Iraq and the Levant (ISIL).
Veteran MP Irwin Cotler, a former minister of justice and human rights advocate, abstained from voting on a motion authorizing the six-month deployment of up to six CF-18 fighter jets, two surveillance planes, a refueling aircraft and 600 personnel to support airstrikes in the Middle East.
The motion passed 157-134, with 155 Tories, Green MP Bruce Hyer and Independent MP Brent Rathgeber voting in favour.
Liberal Leader Justin Trudeau announced last week that his party would not support the motion, saying Prime Minister Stephen Harper had not made the case for war. Trudeau told reporters Tuesday that his party would vote unanimously against Harper's plan.
New Democrats also announced well in advance that they would not support the motion.
But in the end, four veteran Liberal MPs — Lawrence MacAulay, Mauril Bélanger, Stéphane Dion, and Cotler — weren't in the House of Commons for the vote. MacAulay, Bélanger and Dion were all outside of Ottawa but their offices told The Huffington Post Canada they would have voted with their party.
Cotler's absence, however, was of particular interest to Tory minister Jason Kenney, who has aggressively slammed Trudeau Liberals for not wanting to join in the fight against ISIL, a terrorist group targeting religious and ethnic minorities.
After the vote, Kenney said Liberals should "hang their heads in shame" for not supporting airstrikes and again made mention of Cotler's absence, Sun News reports.
"This is an ignoble day for the proud Liberal Party of Canada, underscored by Irwin Cotler's absence tonight," he said.
Yet, Cotler released a statement just prior to the vote explaining what he called his "principled abstention." Cotler, who will not run again for the Liberals in 2015 in Mount Royal, a riding Tories have long-coveted, said the international community must move to protect innocent civilians under the "Responsibility to Protect" doctrine.
"When confronted by radical evil – by the genocidal slaughter of innocents – force may be required," he said.
But Cotler said the Harper government did not provide enough clarity so that MPs could make an informed choice. He also said he was "deeply disturbed" by Harper's statement that Canada would seek the approval of Syrian president Bashar al-Assad, himself a "perpetrator of war crimes, crimes against humanity, ethnic cleansing, and genocide," before carrying out any operations against ISIL in Syria.
Read the full text of Cotler's statement below:
For the last several weeks, Members of Parliament and the Canadians we represent have been seized with the genocidal incitement and mass atrocities committed by the violent extremist group known as ISIL. I know that my colleagues on both sides of the House have been horrified by ISIL's brutality and depravity, and take seriously the question of how best to combat it.

The motion put forward by the Government in this regard recommends a combat mission as a central part of an international coalition response that I have been advocating for some time. Indeed, I have been a long-standing proponent – together with my Liberal colleagues – of the Responsibility to Protect (R2P) doctrine, which states, simply put, that where there are war crimes, crimes against humanity, ethnic cleansing, or genocide, and the government of the region in question is unable or unwilling to take action – or worse, is the author of the criminality – the international community has a responsibility to intervene to protect targeted innocent civilians.

Admittedly, R2P is not limited to military action. Together with my colleagues in the Liberal Party, I have long proposed a series of non-military initiatives to come to the aid of civilians in Syria and Iraq, including enhanced humanitarian assistance, protection for victims of sexual violence, and criminal prosecution of the perpetrators of international crimes, including Syrian President Assad. Yet, when confronted by radical evil – by the genocidal slaughter of innocents – force may be required. Indeed, it is because of international inaction three years ago against Syria's criminal Assad regime that radical jihadists – including ISIL – have been able to take root, develop, and engage in a campaign of abhorrent brutality.

At the same time, the Government's motion lacks clarity about what the strategic nature and limits of Canada's mission will be. It mentions airstrike capability as only one element of a larger contribution of unnamed Canadian military assets; it does not specify where these assets will be deployed; and it has been less clear than warranted about the mission's objectives, costs, command, and rules of engagement.

In particular – and this is reason enough for me not to support the motion – I am deeply disturbed by the Prime Minister's statement that Canada would require the approval of the criminal Assad regime to carry out operations in Syria. To allow the perpetrator of war crimes, crimes against humanity, ethnic cleansing, and genocide, to green-light Canadian intervention is to turn R2P on its head. Assad should be a criminal defendant, not a coalition partner.

Moreover, the Government has neither briefed nor consulted with the leaders of the opposition, nor has it shared more fulsome information about the mission that would have helped Parliamentarians to make an informed choice.

Accordingly, on principled grounds, I will abstain from voting on the motion regarding Canada's combat role in the fight against ISIL. As such, I am in my riding this evening to honour a longstanding commitment.

I have the greatest respect for my fellow Members of Parliament, including my colleagues in the Liberal Party of Canada and our leader Justin Trudeau, who are bringing their perspectives and experiences to bear on this critical issue. We all support the members of the Canadian armed forces who will participate in this mission, and we share the hope that those threatened by ISIL's abhorrent crimes – including the Yazidis, Christians, Kurds, Muslims, members of the Syrian opposition, and others whom I have met – will yet achieve the security and freedom they yearn for and deserve.
After the vote, Kenney again slammed Trudeau on Twitter, accusing the Liberal leader of "whipping" Cotler and resurfacing the Liberal leader's controversial joke about Canada trying to "whip out our CF-18s" just to show how big they are.
But Kenney wasn't alone in his criticism. Two former Liberal MPs also took to social media to make clear they support the Tories on this issue.
Bryon Wilfert, a former Liberal foreign affairs critic and MP for 14 years, said the "case has been made" for military action.
And Michelle Simson, who was a Liberal MP from 2008 to 2011, said she was "ashamed" of her party's decision. She suggested that with the Syrian town of Kobani, located on the Turkish border, seemingly set to fall, Canada will be called upon to support Turkey under Article 5 of the Washington Treaty. The NATO convention states that an attack against one NATO ally is an attack against them all.
Trudeau suggested Wednesday that he was comfortable with Cotler's decision to abstain from the vote.
"Mr. Cotler, who is a friend and valued member of the Liberal team, is in the position where for three years he has been calling for airstrikes in Syria. At the same time, his statement was unequivocal: he cannot support this government's approach on this," he said.
Trudeau would not say, however, if Cotler flagged any concerns with the Liberal policy last week, saying caucus discussions stay in caucus.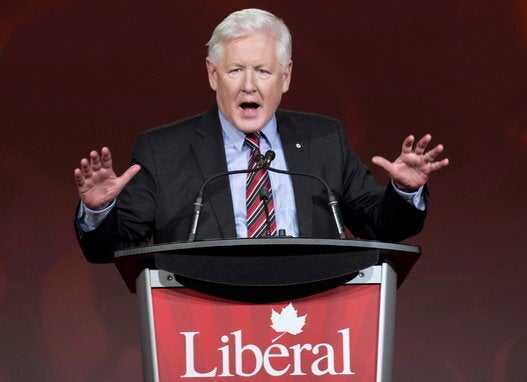 Liberal Stalwarts On ISIL, Iraq

With files from Althia Raj