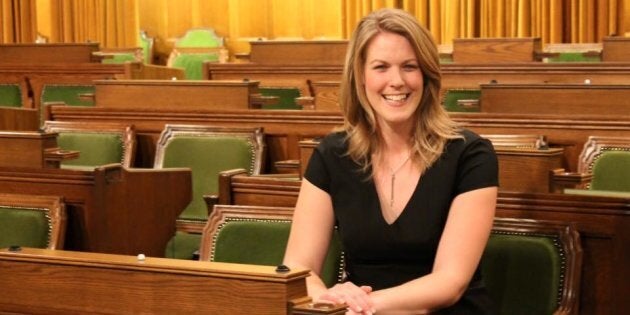 A meeting of the House of Commons committee on the status of women lasted about two minutes Tuesday after Liberal MPs walked out in protest over the Conservatives' pick for chair.
Prime Minister Justin Trudeau later said he supported the decision.
Tories nominated their new status of women critic, Alberta MP Rachael Harder, to serve in the role that is traditionally filled by a member of the opposition.
"The Liberal members of the committee cannot support the opposition putting forward someone like Rachael Harder, whose voting record is opposed to where women stand," a Liberal member of the committee is heard saying in an audio recording of the meeting. "We have to leave the meeting."
The meeting was called to an end because of a lack of quorum, but the conversation did not stop there.
'Shadow minister' for status of women
Liberals and NDP MP Sheila Malcolmson had raised concerns about the prospects of Harder serving as chair, CTV News reports, because they say she is anti-abortion. Harder was also accused of being anti-transgender rights, even though she did not vote on the Liberals' trans rights bill last year.
Tory Leader Andrew Scheer named Harder, who was first elected in the riding of Lethbridge in 2015, his "shadow minister" for the status of women in August.
Status of Women Minister Maryam Monsef told reporters Tuesday that while committees are independent, Liberal MPs who protested Harder's nomination should be applauded.
"The appointment of the chair of any given committee is a significant appointment, and there is no secret or doubt [about] our government's firm standing with women's right to choose and to have that right over their reproductive health," Monsef said.
"To appoint someone who's clearly on the record opposing that basic fundamental value is a signal that we are not on the same page, that we are not looking for common ground, and so here we are."
Monsef also used the occasion to criticize Scheer for, in her view, taking too long to denounce a Tory MP who engaged in "gender-based name-calling" last week. Veteran MP Gerry Ritz apologized for referring to Environment Minister Catherine McKenna on Twitter as "climate Barbie." Scheer personally apologized to McKenna over the incident.
To appoint someone who's clearly on the record opposing that basic fundamental value is a signal that we are not on the same page.Maryam Monsef
Monsef denied Liberals were simply playing politics.
"When we speak out about those who don't believe that women should have rights or choice over their bodies, we're speaking up for all women and girls in this country, and that's what we're here to do," she said.
Trudeau also told reporters that Liberal MPs on the committee made their own decision, but hinted it was the right call.
"One would hope that the committee for the status of women would have a spokesperson who would be able to stand up and unequivocally defend women's rights," Trudeau said. "That's sort of the point of the status of women's committee.
"In so saying, I trust the members of the committee to weigh in and to make the decisions as they see fit."
Liberals also made sure to bring the issue up in question period. Government backbencher Bernadette Jordan asked fellow Liberal MP Pam Damoff, who serves as vice-chair of the status of women committee, to share the group's agenda since they were "unable to elect a chair."
Tories cheer for Harder in question period
When Damoff noted that Scheer put forward Harder as his nominee for chair, Tory MPs erupted in applause and kept it going throughout the Liberal MP's answer.
Damoff told the House that Harder does not "support a woman's right to choose," but could scarcely be heard over the ovation.
"We believe that a committee as important as ours needs to be chaired by an individual who will protect and advance women's rights," Damoff said. "I hope the leader of the official Opposition will reconsider and put forward someone who believes in those rights."
"I would say that is actually gender-based violence targeted at little girls, preborn girls," Harder said at the time. "I'm wondering if you agree with this statement."
Harder accused Monsef of avoiding the question.
"I think what you would like to speak to me about is abortions, and I believe that women have a fundamental right... to be able to control their reproductive health," Monsef said.
Watch the exchange below:
Harder's office declined to give HuffPost Canada a comment.