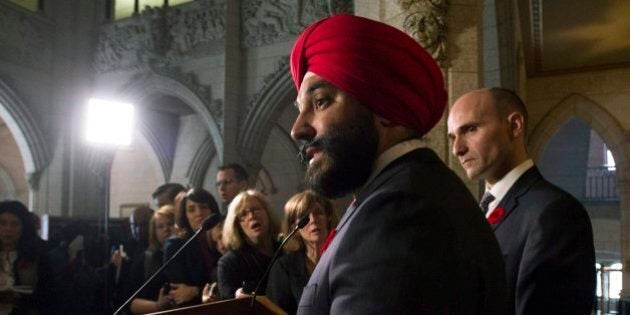 The federal Liberal government is shutting out advocacy groups arguing in favour of greater competition in Canadian internet services while repeatedly meeting with telecom giant Bell, a consumer advocacy group says.
OpenMedia says it's because of a "very cozy relationship" between the Liberals and Bell, which threatens to limit consumer choice in internet services.
"Public interest organizations have been completely shut out by the Liberals" on a critical issue involving internet competition, the group's campaigns director, Josh Tabish, told HuffPost in an email.
At the heart of the matter is an effort by Bell to overturn a CRTC decision last summer that granted small telcos access to the ultra-high-speed fibre internet network Bell is building.
A similar regulatory structure has been in place for years in non-fibre internet services. Small internet resellers like TekSavvy or Primus buy bandwidth from big telcos like Rogers or Bell and resell it to customers, often at prices that undercut the big players.
But Bell objected to the principle being applied to its new fibre network, arguing it would discourage the company from continuing to build out the network.
Consumer advocates say the Liberal Party's co-branding with Bell in the Let's Talk campaign for mental health awareness is a sign of a too-close relationship between the party and the telecom giant.
In its petition to cabinet, Bell says it has spent more than $2.5 billion since 2010 building out fibre networks in Gatineau, Que., Halifax, N.S., Kingston, Ont., and Quebec City.
Critics say the timing of Bell's decision to appeal the ruling to cabinet suggests it sees the Liberals as being more friendly to their argument than the previous Conservative government. Bell filed the appeal of the CRTC ruling from July the day after the Liberals won the election in October. It was also the last day Bell could legally appeal the decision to cabinet.
Since Bell's appeal, "the lobbying registry reveals that Bell has been meeting extensively with the Liberals, particularly at the Ministry of Innovation, Science, and Economic Development (ISED)," which is the office of Innovation Minister Navdeep Bains, OpenMedia said in an email to HuffPost.
"Real change? A new era of openness and transparency? Sure doesn't seem like it from where we're standing."
But consumer advocacy groups have been shut out of meeting with high-level decision-makers at ISED, OpenMedia says.
Among those shut out were the Public Interest Advocacy Centre and a number of academics "who submitted expert, detailed comments on why Bell's appeal is bad news for present and future Canadian Internet users," OpenMedia says.
And when OpenMedia was finally granted a meeting at ISED, it was with someone who didn't work on telecom policy and had no decision-making powers, the group said.
It all points to a "very cozy relationship" between Bell and the new Liberal government, Tabish said.
OpenMedia and others took note of the Liberal Party's public ties to Bell, including the Liberals' participation in Bell's Let's Talk campaign promoting mental health awareness.
Prime Minister Justin Trudeau and wife Sophie Gregoire-Trudeau appeared in promotional images that were co-branded with the Liberal and Bell logos.
A spokesperson from the office of Minister Bains argued ISED is listening to groups other than Bell.
"The government initiated a public consultation with a notice in the Canada Gazette in November 2015," the spokesperson said in an emailed statement.
"Comments from 88 parties were received and posted to the department's website. The government will carefully consider all parties' views prior to responding to Bell Canada's petition."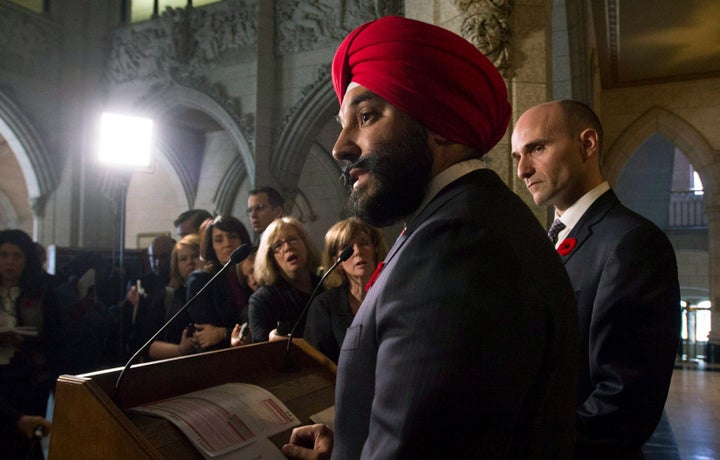 Innovation Minister Navdeep Bains has been reluctant to lend an ear to consumer activists on telecom issues, OpenMedia alleges. (Canadian Press photo)
A spokesperson for the Liberal Party said the party is involved in many charitable activities, not only those involving Bell.
"The Liberal Party frequently engages Canadians on important social causes that our members and supporters feel strongly about, including with successful recent campaigns for Pink Shirt Day and International Women's Day."
In its petition to cabinet, Bell argued that being forced to sell access to resellers will mean "far less private capital will be deployed in fibre-to-the-home network infrastructure."
That in turn will mean "far fewer" communities will get fibre internet; "jobs will be lost as a result of reduced investment"; and "the competitiveness of our economy will be seriously undermined, as fewer businesses … will be able to harness the power of new broadband infrastructure to compete globally and domestically."
OpenMedia argues the uncertainty created by the Bell appeal is harming the economy.
"This lingering market uncertainty has no doubt contributed to issues with large indie providers, such as Primus, which have gone into bankruptcy protection and are looking for a buyer," Tabish wrote.
The situation bodes poorly for consumer telecom choice in the Liberal era, Tabish suggested.
"Real change? A new era of openness and transparency? Sure doesn't seem like it from where we're standing."