OTTAWA — Prime Minister Justin Trudeau's hand-picked Senate leader poached a former Liberal senator and an ex-Tory senator to help him persuade the rest of the upper chamber to pass the government's legislation Tuesday. But the new positions were denounced by both Senate Liberals and Conservatives as mere window dressing.
Peter Harder, the government's representative in the Senate, emailed his colleagues Tuesday afternoon telling them that Sen. Diane Bellemare, a Stephen Harper appointee who left the Conservative caucus on March 8, and long-time Liberal Sen. Grant Mitchell, a Paul Martin appointee who announced his exit from the Senate Liberal caucus on Monday, will be his deputy leader and his whip.
Harder, who headed Trudeau's transition team after the October election, said Bellemare will be called the "legislative deputy" and Mitchell will be a "government liaison." The new positions are effective immediately.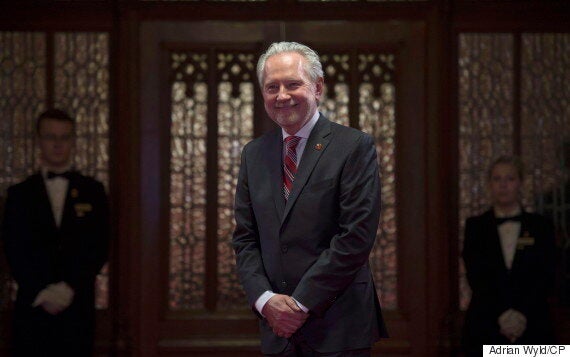 Senator Peter Harder waits to take his place in the Senate before being officially welcomed to the Senate on Parliament Hill in Ottawa, Tuesday April 12, 2016. (Photo: Adrian Wyld/CP)
Both jobs come with big salary boosts — $38,700, for Bellemare and $11,800 for Mitchell, on top of the senators' base salary of $145,400.
But colleagues on both sides of the chamber seemed perplexed by the new job titles. Conservative Leader Claude Carignan asked the Speaker of the Senate, George Furey, to rule on whether the new titles were actually job descriptions that exist in the rules of the upper house.
His deputy, Yonah Martin, deemed the whole thing "very confusing" and said it was unclear what roles Bellemare and Mitchell would actually be performing.
The Senate Liberals — who were kicked out of Trudeau's caucus two years ago — agreed.
Congrats on 'I'm not quite sure what position'
Senator Joan Fraser, the Liberal deputy, congratulated Mitchell and Bellemare for the elevation to "I'm not quite sure what position at this point" and said she didn't care what they called themselves — they could be "Government Jackinthebox" — but she wanted to see their mandate letters confirming they were acting as deputy leader and government whip.
"Thank you for the suggestion on names," Harder shot back, while he listened to his fellow senators take him to task for trying to change the titles of his new teammates.
"The government leader is playing word games," Senate Liberal Jim Munson told The Huffington Post Canada. "A leader is a leader, a deputy leader is a deputy leader, a whip is a whip…. They speak for the government of Canada, so let's get on with it."
Conservative Senator Linda Frum [@LindaFrum] tweeted: "Incredible! Senator Harder telling chamber Senator Bellemare is 'technically' Deputy Government Leader but not really because…[they're] independent."
"Is there doublespeak here," Conservative Senator Nicole Eaton @SenEaton asked also on Twitter. "Government Legislative Deputy but gets paid as Deputy Leader and Government Liaison who gets Whips salary?"
Still, Eaton seemed to find the whole jumble humourous. "[N]o no Jason the appointed 'Goverment liaison' [sic] person is there to whip the 'independents' not the independent Liberals," she quipped to Conservative MP Jason Kenney.
One individual at the centre of the discussion shared her frustration at her colleagues' responses.
Senators are playing partisan games with the whole debate, Bellemare said.
"It was a way to embarrass us," she told HuffPost. "They want to push us in the traditional roles so they can say 'Hey look, you can see, Trudeau didn't appoint independent senators; it is all Liberals. New Liberals.' This is the game, OK? ….
"Many don't believe that modernization is possible."
It might sound naive, the former Conservative senator said, but she believes Trudeau is "sincere" in his efforts to reform the Senate, and she thinks the changes will lead to more bills' being amended by senators unafraid to do their work, free of partisan considerations.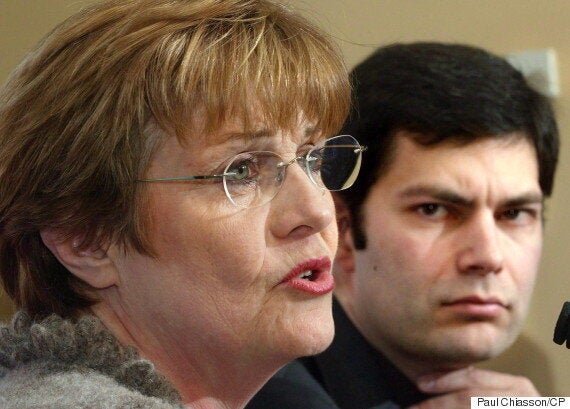 Diane Bellemare is shown after she was named labour critic for the Action démocratique du Québec in 2003. (Photo: Paul Chiasson/CP)
Her new job, she said, is to shepherd the passage of all legislation and to ensure that bills are given adequate study, in an impartial and nonpartisan way. It is something Bellemare said she felt was lacking in the previous Parliament under Harper, where most bills were studied for fewer than three weeks. The Conservatives' tough-on-crime bills were overturned by the courts, she said, in part because senators didn't do their job.
"The majority of the Senators in that committee were Conservatives, so that means the study was partisan," she said.
Looking at bills in a partisan way means looking at "everything you do with the angle that 'is it profitable for my political party?'" she said. "And if it is not good, I follow the party line, even if it is not good for Canada."
Senators shouldn't be looking at legislation through a partisan lens, Bellemare added. They shouldn't even be looking at legislation through a personal lens, she said.
A move away from partisanship
"Senators are appointed to represent the interest of the province in the federal legislation and to ensure that the legislation is sound and can be bettered. It's not to listen to our own values and our own preferences when we receive a bill, no. We are there to revise the legislation that has been voted in the other chamber [and ensure it] is correct, that it respects everything [the Charter, other laws]."
Bellemare wants the Senate to change its rules so that bills are returned after committee study with particular attention on:
whether the bill is constitutionally sound;
whether it could withstand a challenge under the Charter of Rights and Freedoms;
whether it touches on provincial, territorial or shared federal powers;
whether it conforms to treaties or international agreements Canada has signed or ratified;
whether it unfairly affects economically minorities or other disadvantaged groups;
whether it has an impact on any province or territory;
whether appropriate consultations have taken place;
whether the bills contains any grammar errors;
whether amendments were presented to the committee and not adopted, and what those amendments were;
And any other questions that the committee deems should be brought to the attention of the Senate.
These changes will help senators prove to the public that they are operating in a rules-based fashion similar to judges, she said.
Her job isn't to work closely with the government, only Harder will do that, Bellemare said. Her job instead is to ensure that bills are not flawed. If they are, she said, she's prepared to vote against government legislation — just as she voted against the Tories' bill C-377, union transparency legislation that she judged "unconstitutional" and "anti-union."
Bellemare told HuffPost she also plans to work with the independent senators and help organize them as a group.
"Independent senators may not vote the same way. However ... people need to have a group," she said. "At least to talk, to exchange views and to know what the agenda [is], to exchange about bills because you cannot have expertise on all the bills."
'I have no leverage to make anybody do anything'
Those independents, however, won't be subject to whipped votes or face disciplinary measures such as being removed from a committee or being barred from a foreign trips after voting against the party line, Mitchell told HuffPost.
"I have no leverage to make anybody do anything," he said. "Even if I do — and I don't think I do, but I'm just into the job — I wouldn't exercise them. It is inappropriate for the new vision of the Senate, period. And it would be absolutely unacceptable to independents, and I'm not going to do it."
Mitchell said the designation as whip should be dropped because it's "old, it's archaic, it's tired and it doesn't fit in the context that Canadians want to take."
He and Harder are using the word "liaison" to describe his new role because he'll be working with individual senators, the other parties' caucus whips, to rebuild the credibility of the Senate.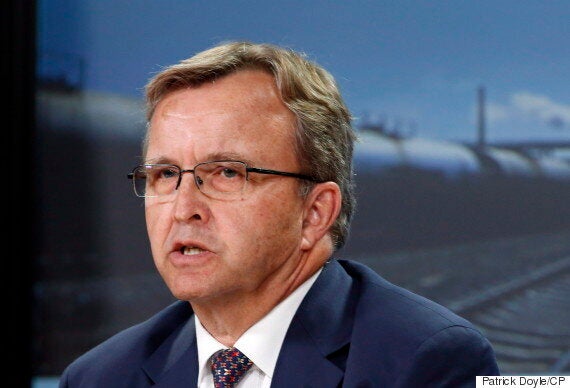 Senator Grant Mitchell speaks at a press conference after the release of a Senate report that calls for the review of rail safety in Ottawa on Thursday, August 22, 2013. (Photo: Patrick Doyle/CP)
"We are locked like a laser beam on that objective of contributing in an effective objective way to the public policy debate in this country. That is a shared objective, I know that, absolutely in my heart of hearts, and that is what I am going to work to support and facilitate in any way that I can."
Mitchell, a long-time Liberal, said the discussion isn't about "whether or not this is happening; it's happening." The Senate is changing, and now Senators have to discuss how they manage to make change work.
"I'm proof positive that if I can change, there is hope for everyone."
Some senators, however, seem unwilling to jump on the change bandwagon.
Conservative Sen. Leo Housakos, the former Senate speaker, suggested that if the Liberal government wants to change the titles of its team in the Senate, the place to discuss that isn't actually the upper chamber but rather the House of Commons, where the prime minister can introduces changes to the Parliament of Canada Act.
"If we want to make changes to the Senate of Canada and the public wants to engage in that dialogue, let's open up the Constitution and have a discussion," he added, suggesting Bellemare and Mitchell's title changes were a "slippery slope" that shouldn't be undertaken lightly.
"If we want to make changes to the Senate of Canada and the public wants to engage in that dialogue, let's open up the Constitution and have a discussion."

— Sen. Leo Housakos
Other senators, however, insisted that they aren't against reforms; they just don't think the new government representative should be running roughshod over the rules.
"It isn't our rights that we are protecting," Conservative Sen. Raynell Andreychuk said. "These are the rights of the people of Canada to have their democratic institutions run according to the rule of law."
Andreychuk told HuffPost she's unsure who is leading the changes: Harder or the Prime Minister's Office. "We don't know who it is coming from," she said.
But the Senate has rules and procedures, she said, and if Harder wants to change people's titles and positions, he should follow the process rather than announcing it to the chamber as a done deal.
"It has to be a consensus, it has to be a process, it has to be rule of law."
Who is to say that Harder even needs a deputy or a whip, she added.
"You are a whip when you have a caucus, so who is his caucus?" she asked.
"I think there should be proposals put and we should have some opportunities to discuss them, and see if there is better [out there]," Andreychuk said, noting that that is was precisely what the Senate's modernization committee is supposed to look at.
The current changes might look good, hands-off and independent, but the long-time Tory said that, in practice, it's far from it.
"When you have a government whip? When you have a government deputy leader who introduced how she is going to manage legislation through committee and everything? That's intruding on the independence of committees which we know have," Andreychuk said.
Committees are responsible for determining what they wanted to study and how they wanted to study it. Now, Bellemare wants to dictate terms, she said.
"That's the problem," Andreychuck said. No one knows what's going on.
"Where is the plan? Where can we reasonably understand what the government representative and now his team are going to do and how are they going to do it?
Harder did not return a request for comment.
Mandates for the two new Senate positions: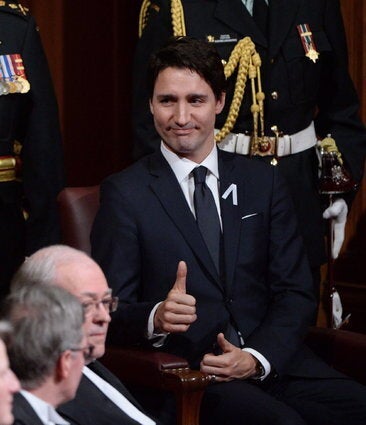 Trudeau's 7 New Senate Appointments