VANCOUVER — Federal Liberals are supporting the Conservatives' controversial anti-terrorism bill because they don't want the government to make "political hay" of national security issues in an election year, party leader Justin Trudeau suggested last week.
Speaking at the University of British Columbia Wednesday, Trudeau encountered a student audience that was vocally critical of the Grits' support for the sweeping legislation. The Liberal leader told the crowd he sympathizes with the many Canadians who have concerns about Bill C-51.
"My hope," he said, "is that this government … actually realizes from public pressure that it is going to have to make significant amendments to this bill.
"But we know that, tactically, this government would be perfectly happy if the opposition completely voted against this bill because it fits into their fear narrative and [their desire to] … bash people on security."
Trudeau said he didn't want to discourage the Tories from making amendments to the bill. But, he suggested, the Conservatives might try to score political points by preventing any amendments if they thought Liberal party support was dependent on them.
"I do not want this government making political hay out of an issue … or trying to, out of an issue as important as security for Canadians," Trudeau said.
"This conversation might be different if we weren't months from an election campaign, but we are," he added.
The Conservatives' anti-terrorism legislation would greatly expand the powers of the Canadian Security Intelligence Service (CSIS), giving it the ability to break the law including a Canadian's Charter rights, as long as a judge agreed to it. CSIS would also be able to disrupt or undermine various activities such as illegal protests by environmentalists or diaspora groups denouncing activities back home.
The definition of what constitutes an activity that undermines the security of Canada is so broad that it includes not just terrorism and the territorial integrity and security of the country but also critical infrastructure, border operations, the administration of justice, the financial stability of the country, activities that could cause serious harm to a person or property because of their association with Canada, or an activity in Canada that undermines the security of another state.
Trudeau told the approximately 800 people in attendance that he understands concerns from aboriginal groups, environmental organizations and "anyone who happens to disagree with the Conservative government" that they could be targeted by the legislation.
"I understand that view and that's why, in a few months time, if the government doesn't make those modifications, we will be offering Canadians, in an election campaign, improvements to this bill, and if we get elected we will implement them," Trudeau said. The Liberals would bring in oversight provisions and narrow the definition of what constitutes a security threat if elected, he added.
"I know that's frustrating for some people to hear. But the Conservative government has a majority. They were elected majoritarily in the last election – you may shake your heads about that and disagree, and you can disagree with our electoral system as well, but that is the situation we have right now."
Several young people in the audience were unhappy with Trudeau's response.
"Why not send a message to the Conservative government that Canadians don't want infringements on their civil liberties?" one man asked.
"Why should we trust you that once you become prime minister you will reign in Bill C-51?" asked another.
"Sir, I must say that supporting the bill that you know is dangerous while promising to reform it when you've been elected to government is tantamount to putting our rights hostage, and our vote is our ransom," said a young woman.
After fielding 40 minutes of questions, four specifically on C-51, Trudeau appeared testy at times, speaking quickly and losing patience at one point.
The Liberal leader pointed to three measures that, he said, were his primary reasons for supporting C-51:
Expanded powers related to preventive arrest which make it easier for police to detain someone, and to hold them in custody without a charge or a warrant for longer
Strengthening of the no-fly list
Increased information sharing between government departments and agencies
"[These] are significant improvements that will keep Canadians safer," he told the crowd.
Several experts, however, have raised concerns about these specific measures.
In his submission to the Commons' Public Safety and National Security committee, which begins its study of C-51 on Tuesday, Privacy Commissioner Daniel Therrien called the scale of information sharing "unprecedented." He said the scope of the new powers is "excessive" and said the safeguards against unreasonable loss of privacy are "seriously deficient."
Under the new changes, he said, 17 departments could share all the personal information they hold on Canadians, including tax information from the Canada Revenue Agency.
The sharing of erroneous information by Canadian security agencies led to the torture of Maher Arar in Syria, Therrien noted. He also referred to Edward Snowden's revelations regarding the pervasiveness of government surveillance programs and how they could affect all Canadians, not only those suspected of being terror threats.
University of Ottawa law professor Craig Forcese told The Huffington Post Canada that two inquiries dealing with national security – Air India and Maher Arar – called for and laid out ways to improve information sharing but that the government had ignored them in this bill.
"What [the government] did do was create a new concept of information sharing that is so vast that it risks increasing the size of the haystack to such a magnitude that it becomes more difficult to find needles," he said.
Forcese also raised concerns that the bill has no accountability mechanisms.
"In its present form, I think it is dangerous. That's not to say it can't be remedied…. Right now, it's an F, but I think with a few tweaks it could be a C+."
Forcese said he believes the preventive arrest measures also need more safeguards. The new rules would allow police to detain someone up to seven days without charge or review. Forcese cautioned that expanded powers shouldn't be used as "a proxy for intense interrogation by 'Bruno, the Mountie.'"
Amnesty International Canada's Alex Neve echoed Forcese's concerns about the detention measures, but said his organization is deeply troubled by all three of the measures Trudeau supports.
"It's very troubling, we've called for those provisions to be completely withdrawn from Bill C-51. It goes counter to what is required and expected under international human rights law," Neve said.
Neve also described the new no-fly list appeal system as very weak and said people mistakenly on the list might have a hard time getting their names removed, he said.
National security expert Wesley Wark, however, told HuffPost that he agrees with Trudeau, saying the new expanded no-fly list provisions fix holes in the old system, which focused only on individuals who posed "an immediate threat to aviation security."
"I think it's an improvement. I think it could be improved further in terms of introducing a better way to work an appeals process for people who find themselves on the list. The current measures are a little Kafkaesque in an unnecessary way," he said.
Wark, who is scheduled to testify to the Commons committee on March 24, said he believes the Liberals' support of the expansion of preventive arrests and strengthening of peace bonds is based on the aftermath of the Martin Couture-Rouleau attack on two soldiers in Quebec.
Although Trudeau found himself in the hot seat last week, he wasn't the only politician to hear complaints about his party's stand on the new anti-terrorism bill.
At the Manning Centre conference in Ottawa on Friday, Treasury Board President Tony Clement and Industry Minister James Moore were also grilled during an audience Q&A about Bill C-51 and the need to protect civil liberties.
"I believe that the definitions in the legislation need to be tightened up. They are too loose, and I think there should be more oversight of CSIS," said Langley, B.C., resident Craig Noren after Moore gave him an unsatisfactory answer.
Noren said he thinks he is not the only Conservative to question the scope of Bill C-51. In fact, sources tell HuffPost that some backbench Tories have also raised the issue of whether there should be more oversight of security agencies, to no avail.
"I think it's important that they get it right," Noren said.
"Even though I believe that this government will never misuse that piece of legislation, that doesn't mean a future one won't."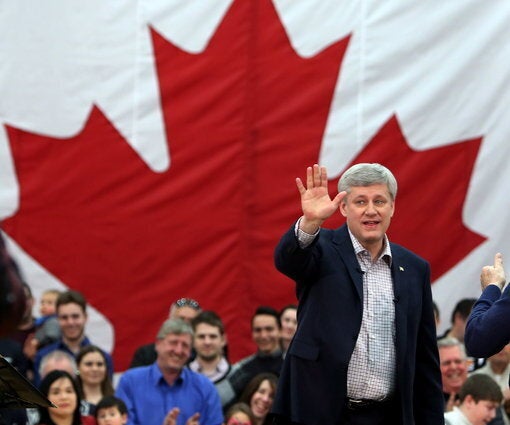 5 Things To Know About The Anti-Terror Law
Popular in the Community