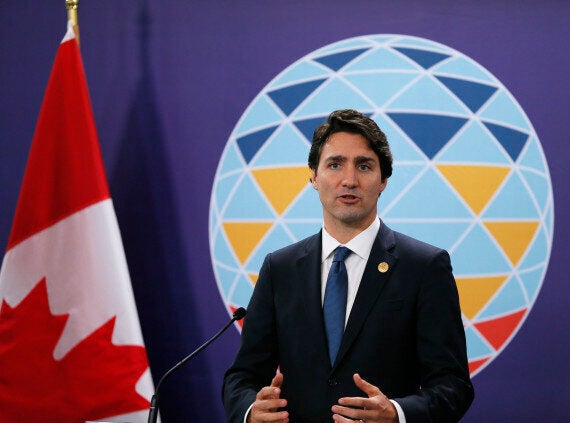 Canadian Prime Minister Justin Trudeau gestures during a news conference following the APEC Summit Thursday, Nov. 19, 2015 (AP Photo/Bullit Marquez)
OTTAWA — The Liberal government is looking into whether it can rescind dozens of appointments that were quietly made last June in the dying days of the Conservative government, The Huffington Post Canada has learned.
The Prime Minister's Office is "assessing the situation" and trying to determine if it can get out of several Conservative decisions, such as stacking the National Energy Board with Tories whose appointments kicked in only after the federal election. Prime Minister Justin Trudeau had campaigned to shake up the decision-making body, which regulates, for example, the construction of pipeline and natural gas exports.
"This is not a reflection of individual appointees, but rather of the opaque nature of the process surrounding their selection," Trudeau spokesman Olivier Duchesneau told HuffPost in an email.
"It is regrettable that, particularly over the last decade, government appointments have become synonymous with cynical backroom politics," Duchesneau added. "Canadians voted for a different approach. That's why we've committed to restoring Canadians' faith in their government – in part by adopting a new government-wide appointment process that is open and based on merit."
"This is not a reflection of individual appointees, but rather of the opaque nature of the process surrounding their selection."
Trudeau's office was caught by surprise Monday when iPolitics published a story noting the Conservatives made 49 appointments and reappointments last spring that would come into effect only after the federal election had passed, apparently an attempt by the Conservatives to bind the hands of a new government. Most appointments — in several cases for terms that had not yet expired — were dated for November and December, although some do not come into effect until January, February and March, and, in one case, 2019.
Liberal Sen. Percy Downe, who served as director of appointments for former prime minister Jean Chrétien between 1998 and 2001, called the future appointment practice "unheard of" — noting in particular the reappointment for John Badowski at the Transportation Appeal Tribunal slated for Jan. 1, 2019.
Downe expressed surprise that the Privy Council Office had not briefed the incoming government during the transition process.
"That is something the government would need to know, particularly, if it meant … that the government would have no appointments at all to the National Energy Board during their first mandate.
"That is significant, and it should have been brought to the incoming government's attention, and it's an oversight," the P.E.I. senator said.
"Every government wants people who share their values in these positions," he added. "After you find people who are qualified and competent, then you look for people who share your values. That is why the energy board, in particular, is an area that would be of concern to me."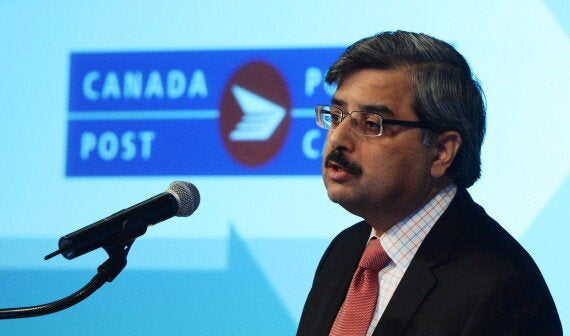 Canada Post President and CEO Deepak Chopra speaks during Canada Post's annual public meeting in Ottawa on Thursday, May 21, 2015. THE CANADIAN PRESS/Sean Kilpatrick
iPolitics reporter Elizabeth Thompson noted, for example, the reappointment of Canada Post CEO Deepak Chopra, scheduled to occur in February 2016 for a term that would last until 2021. Under Chopra, the postal agency decided to get rid of door-to-door home delivery — something both the Liberals and the NDP promised to reinstate during the election campaign.
Thompson also noted how Stephen Harper's cabinet had approved the appointment of National Energy Board (NEB) members Michael Richmond and Jacques Gauthier to three-year terms beginning after the federal election, on Nov. 1 and Dec. 13 respectively. Gauthier's term was slated to expire on Dec. 12.
The Tories filled the only vacant permanent seat on the NEB by appointing Keith Chaulk to a seven-year term that begins Monday, and ends in 2022. They also renewed Lyne Mercier, a former Gaz Métro executive and the board's vice-chair and alternate CEO, to a new seven-year term that ends in December 2022. She had been appointed only last year to serve until 2021.
During the election, Trudeau campaigned on making, what he called, "environmental assessments credible again." He promised that his government would allow resource development projects only after affected communities had granted their permission, and he also pledged that the entire assessment process would be revamped to ensure more robust oversight and environmental reviews that included analysis of upstream impacts and greenhouse gas emissions resulting from new projects.
"We will modernize the National Energy Board, ensuring that its composition reflects regional views and has sufficient expertise in fields like environmental science, community development, and Indigenous traditional knowledge," Trudeau pledged.
The Conservatives' unconventional appointments to the NEB mean there are no permanent vacancies to fill until 2020. Harper's cabinet appointed the maximum number of nine.
Trudeau could choose to appoint new temporary board members — there are currently five, but the legislation is silent on the maximum number. Temporary and regular board members earn between $148,900 and $175,100 a year, while the vice-chair gets paid between $171,200 and $201,300 and the chair earns between $226,100 and $266,000.
Regular board members can be removed only "on address of the Senate and the House of Commons." Both houses would have to vote in favour of a motion to remove one of the appointees. It is an arduous process intended to be used to remove prominent figures such as the auditor general or Supreme Court justices.
Although Trudeau has a majority in the House of Commons, it's a different story in the Senate. He expelled senators from the Liberal caucus two years ago and were they all to vote with his government anyway the Conservative senators would still have a majority in the upper house.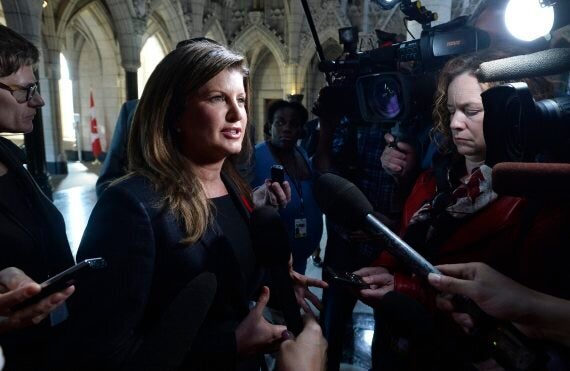 Elected Conservative Interim Leader Rona Ambrose scrums with media in Ottawa on Thursday, Nov. 5, 2015. THE CANADIAN PRESS IMAGES/Matthew Usherwoo
Conservative interim leader Rona Ambrose — who took part in the appointment bonanza, recommending in July the reappointment of Leanne Lewis to the Canadian Centre on Substance Abuse — was unavailable for an interview.
Conservative spokesman Cory Hann defended the 49 appointments, saying the vast majority were "clearly made to ensure the smooth running of boards and commissions ... into the late fall and early new year."
Only one individual, however, Jerry Lampert from the British Columbia Treaty Commission, was reappointed to a term that ended this fall or early in the new year. The other 48 stretch beyond November 2017 — two years after the election.
Hann pointed to an article that outlined how former Liberal prime minister Paul Martin had made hundreds of appointments leading up to a potential election in the spring of 2005. The National Post piece stated how Martin appointed well-known Liberal supporters Robert Fung, Hope Sealy, Tony Genco, Margaret Weir, Jean-Louis Hamel, Peter Clark, and Marcel Aubut. These individuals, however, were appointed for terms that kicked in immediately or within two months of the cabinet's decision, the orders-in-council database suggests.
"At the end of the day, it will be the current government's decision whether or not to revoke any of these appointments, not the decision of the Official Opposition," Hann told HuffPost in an email.
Most of the Tory appointments are not easy to rescind without spending significant political capital or opening the government up to lawsuits.
University of Toronto political scientist Nelson Wiseman told HuffPost he thinks the Liberals are unlikely to make any changes to the NEB appointments, for example, because it would take too much effort to remove them.
"I have a feeling that what they did is perfectly kosher under the Constitution and … it's challenging to rescind these things," Wiseman said. "Does the new government want to take this on? The only way I think they would take this on is if it was very controversial in terms of the personality."
In 2008, when the Conservative government removed Linda Keen as a president of the Canadian Nuclear Safety Commission, it kept her on as a member despite publicly stating it had lost confidence in how she handled the shutdown of a medical-isotope-producing nuclear reactor.
Commission members are easier to turf than National Energy Board members. Under the Nuclear Safety and Control Act, the commission's permanent members can be removed "at any time by the Governor in Council for cause." That means cabinet can decide unilaterally and does not need the approval of members of the House of Commons or the Senate.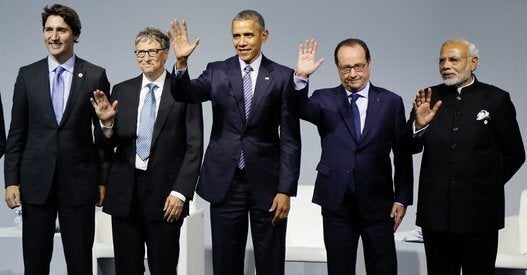 Trudeau's International Debut