WINNIPEG — Liberal brass have prevented a grassroots challenge to the government's restrictive assisted dying bill from hijacking the ruling party's first national convention since winning last fall's election.
A bid to have delegates consider an emergency resolution calling for amendments to the government's proposed new law on assisted dying was rejected late Thursday by the party's national policy committee.
Earlier in the day, journalists were shut out of a pre-convention meeting of the party's women's commission, where commission policy chair Wendy Robbins sought support for the resolution.
Indeed, journalists were forbidden from even entering the hallway outside the meeting room, although two reporters were inexplicably permitted to stroll into the room anyway.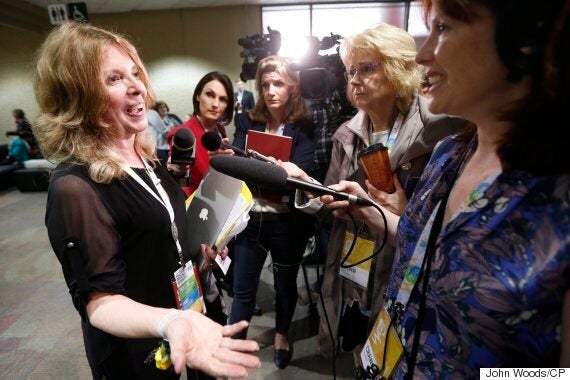 Wendy Robbins, who has put forward an emergency measure to expand Bill C41 on Assisted Suicide talks to media at the 2016 Liberal Biennial Convention in Winnipeg on May 26, 2016. (Photo: John Woods/CP)
The agenda for the convention, which was formally opened Thursday evening and runs until Saturday, is dotted with other events that are closed to the media, including all policy workshops and a question and answer session on the one other potential source of controversy: a proposed new party constitution.
That marks a departure for the Liberals, who have never barred media from policy workshops in the past, and seems at odds with Prime Minister Justin Trudeau's promise of openness and transparency.
After the women's meeting, Robbins said her resolution — which calls for a more permissive approach to assisted death — failed to get majority support in the room after a couple of MPs spoke against it.
'Hold your nose and say yes'
"They said, 'Everything's in order for (a final vote on the bill in the House of Commons on) Monday and don't get in the way and it's too late and it can't go back to committee,''' said Robbins, who emerged from the meeting in tears.
In essence, she said Liberals are being told: "Hold your nose and say yes (to the bill).''
Robbins nevertheless submitted the resolution, endorsed by more than 10 other delegates, to the national policy committee, which had sole discretion to decide whether to reject it or allow it to proceed to the convention floor.
Late Thursday night, party spokesman Braeden Caley said the committee concluded Robbins' resolution did not meet "the established standards'' for emergency resolutions, which are intended to allow "urgent new matters to be raised that have not had an opportunity to go through the party's established policy process because they could not have been foreseen.''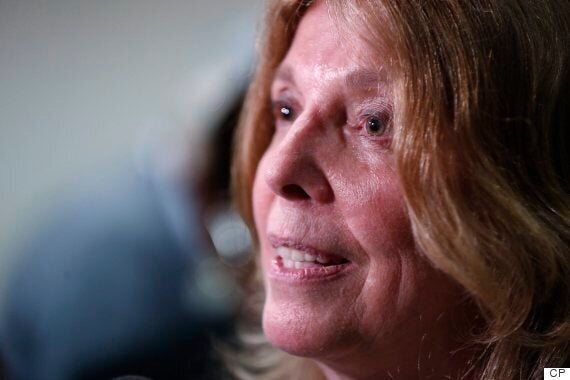 Wendy Robbins. (Photo: CP)
In this case, Caley said assisted dying "is the subject of continued long-standing debate and (Robbins' resolution) was already defeated through a democratic vote in one part of this convention (the women's commission meeting).''
Bill C-14 was introduced in the House of Commons just over a month ago. The Liberals have so far rejected any substantive amendments, although the bill has been widely panned for failing to comply with last year's landmark Supreme Court ruling or the charter of rights.
Robbins' resolution called on the government to drop the bill's restrictive eligibility criteria and adopt instead the more permissive criteria set out by the Supreme Court when it struck down the ban on assisted dying.
It also urged the government to allow advance requests for medical assistance in dying.
'A very difficult subject' for all parties
"Many of us are saying better no legislation than bad legislation,'' Robbins said in an interview before the women's meeting.
Robbins got some backing from former prime minister Paul Martin, who said the emergency resolution should be debated, if that's what delegates want.
"I would be in favour,'' he said. "It is a very difficult subject on both sides for many of us and I think that the more we can debate it, the better it is.''
At the G7 summit in Japan, Prime Minister Justin Trudeau said there are people, including Liberals, who think the government is going too far and others, including Liberals, who think the government is not going far enough.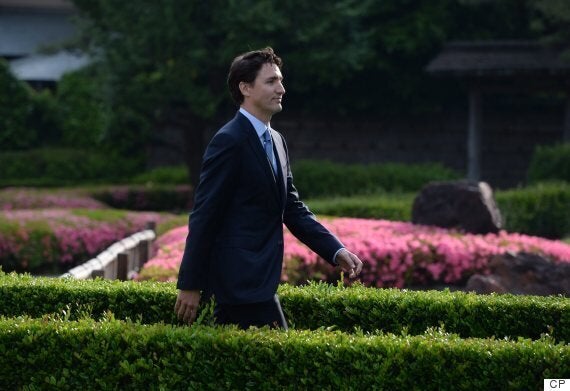 During his visit to Japan, Prime Minister Justin Trudeau said there are Liberals on both sides of the debate. (Photo: CP)
"But we recognize to what point it's an important step we are trying to move past and it's essential to do it in a responsible way, as we have done,'' he said.
"Regarding the internal process at the Winnipeg convention, it's other people who will decide or who will follow the evolution of the different debates on many resolutions that we will do. I am not engaged at that level on what will be debated or not.''
The government is scrambling to enact its new law by June 6, when the ban on medically assisted death will be formally lifted, in accordance with the Supreme Court's ruling.
But Martin said it's "important that we get it right and that we don't be bound by arbitrary timelines.''
"[It's] important that we get it right and that we don't be bound by arbitrary timelines.''

— Former prime minister Paul Martin
However, Robbins said she'd come under "a certain amount of pressure'' from senior Liberals to withdraw the resolution in the interests of demonstrating a united front behind the fledgling government's first important piece of legislation.
"They really don't want grassroots Liberals to embarrass them.''
From the government's perspective, a debate over the assisted dying bill would mar what was otherwise shaping up to be a celebratory post-election convention undisturbed by controversy.
Bill C-14 would make assisted death available only for clearly consenting adults "in an advanced stage of irreversible decline'' from a serious and incurable disease, illness or disability and for whom natural death is "reasonably foreseeable.''
"They really don't want grassroots Liberals to embarrass them.''

— Wendy Robbins
That's considerably more restrictive than the criteria set out by the Supreme Court, which ruled that consenting adults with "grievous and irremediable'' medical conditions who are enduring suffering that is intolerable to them have the right to seek medical help to end their lives.
Until Robbins' resolution, the biggest item on the convention agenda was a proposal to overhaul the party constitution to, among other things, do away with the concept of membership, giving anyone willing to register as a Liberal the opportunity to vote in leadership and nomination contests, attend conventions and take part in policy development.
Some rank and file Liberals have mounted a campaign to reject the proposed new constitution, which they fear would give too much discretion to party brass to run the party as they see fit.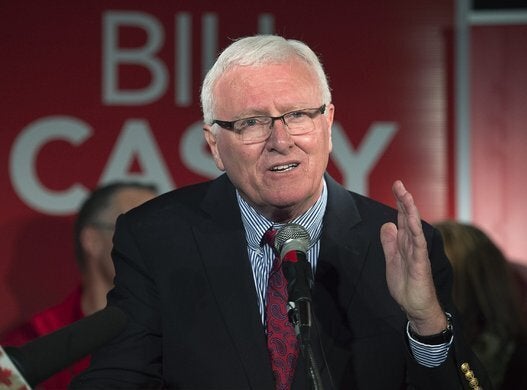 Longest-Serving Current MPs