OTTAWA — The Liberals are defending accusations that they've already blown through their $10-billion deficit plan by announcing millions — possibly billions — more in spending than they've budgeted.
This week, the Conservatives and the NDP both accused the Grits of underestimating their promises. Calgary incumbent candidate Jason Kenney said the Liberals' shortfall would amount to $24.7 billion in the Liberals' first year alone, while NDP Toronto candidate Andrew Thomson said the Liberals shortfall was almost $11.6 billion.
"Justin's reckless promises show that he just doesn't understand the consequences of making rash promises," Kenney said.
"He's already spent the entire $10 billion, and he's only just started making his promises," NDP Leader Thomas Mulcair told reporters on Friday. "He hasn't announced a single thing on health care. He hasn't announced funding for his billion-dollar Kelowna accord policy….what will Justin Trudeau do? Will he abandon the promises he has already made? … Will he take future generations deeper and deeper into debt?"
That's nonsense, said Liberal John McCallum, an incumbent candidate in the Greater Toronto Area and a former chief economist at the Royal Bank. His opponents are simply wrong, he asserted.
"The numbers are crazy," he said. "I think they might have been more damaging if they were in the realm of possibility."
The Conservatives forecast that the Liberals' spending in year one would be $52.9 billion, against revenue of $28.3 billion.
The NDP said the Liberals would spend almost $16 billion in their first year in office but obtain only $4.4 billion in new revenue.
"I'm going to give the NDP credit, [their numbers are] less crazy than Jason Kenney," McCallum said. "[But] if the NDP is so incompetent that they claim a big surplus and they have a deficit, and they have two sets of numbers on which to give their projections, how can you believe what they say about anybody else?"
HuffPost found the NDP did double count some of the promises the Liberals made, on youth programs, for example.
Tory numbers 'completely stupid and ridiculous': Grit candidate
With regards to the Conservatives' number, McCallum said it is "completely stupid and ridiculous."
"If they had said we had a two-billion shortfall, maybe we would pay some attention. But a $25-billion shortfall?"
McCallum said Tories included in their calculations funding for things the Liberals had once voted in favour of, or pronounced themselves on, that the party no longer supports.
"They are putting in things that we talked about many years ago but are not in our platform," he said. "They are double-counting. It's crazy. I mean they have $5.5 billion for a housing related to CMHC. That number is zero, because everything to do with housing is in our infrastructure budget," the Liberal candidate went on.
"They have $4 billion for EI, which is based on a 2010 vote in the House, which was time limited and has nothing to do with our platform. They have $4 billion for something to do with a carbon tax, which we said we are not going to do. The whole thing is nonsense."
No party has yet released a platform that includes its costs, although the NDP has taken a step on that path by issuing a financial breakdown of their promises or their specific fiscal assumptions for the coming four years. Without any numbers, it's impossible to say whether the Grits' costing makes any sense.
Trudeau says he's been clear about numbers
Despite Liberal Leader Justin Trudeau's assertion that his party was the first to release a fiscal framework, the document he refers to only outlines a plan to run three deficits, including two of up to $10 billion, to pay for a $60-billion increase over 10 years in various infrastructure projects.
Another document, on "fairness for the middle class," outlines how the party will boost child benefit cheques by $4 billion by cancelling income splitting for families and states that the Grits would fund a $3-billion cut to the middle-class tax bracket by increasing taxes by $3-billion on the top 1 per cent — those individuals making $200,000 or more.
Both the NDP and the Tories say that expectation is far too optimistic. Most backgrounders, from youth jobs to veterans services, have detailed information on the spending commitments but all of Trudeau's commitments related to making government more open and transparent have not been costed.
McCallum said people would just have to wait to see the Liberals' numbers when their plan comes out.
"I'm confident that our numbers will add up."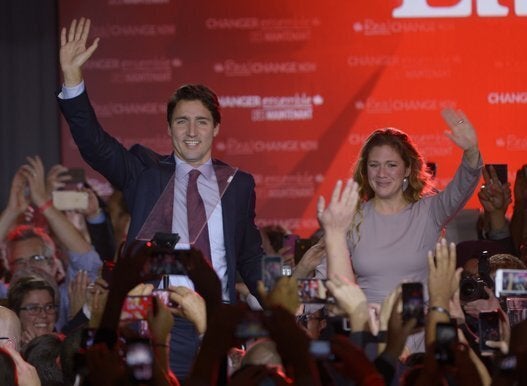 In Photos: Canada Election 2015