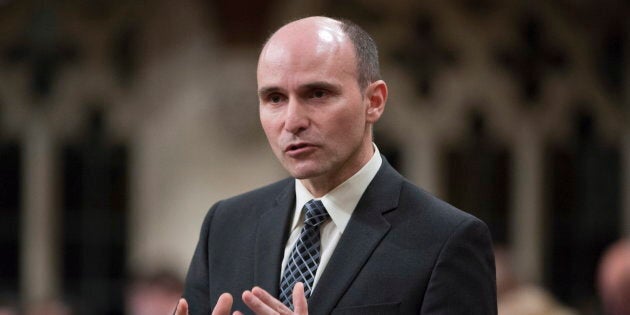 OTTAWA — The federal government's decision to embrace gender-neutral language is being decried by some opposition MPs as ridiculous, a waste of time, and a general affront to freedom of speech and biological realities.
Earlier this year, the Liberal government asked front-line personnel at Service Canada — civil servants who respond to queries regarding, for example, social insurance numbers and old age security — to begin using gender-inclusive language.
"This avoids portraying a perceived bias toward a particular sex or gender," states a speaking note for managers and team leaders asking them to direct employees to use gender neutral terms.
"For example, the words mother and father are gender-specific; the corresponding gender neutral term for both would be parent.
"The use of honorifics in client interactions (Mr. Mrs. Ms. etc.) can also be seen as gender specific by a client. [Staff] can address the client by their full name or ask how they would prefer to be addressed," the note, the government says was sent Jan. 19, stresses.
The gender-neutral directive is intended to reflect changing Canadian society. The government's IT systems are being updated to better represent same-sex families by eliminating over time such mandatory fields as "Mother's given name" and "Father's given name" and moving towards identifying individuals as "Parent" and "Parent" instead.
Conservative MP Larry Miller thinks the changes are over the top.
"Their priorities are way out of whack," he told reporters Wednesday. "[It's] totally ridiculous. I have a mother and I have a father. Anybody out there, even if you were born through a surrogate you still have a mother and a father biologically... We all have a mother and a father. That's all I have to say."
Bloc Québécois MP Louis Plamondon wondered why Service Canada was wasting its time on gender-neutral language instead of fixing the Phoenix pay system.
It is a slippery slope, he suggested. "Should we stop talking about the 'black market'? Should we ban that? Should we also ban the term 'whitewashing'? This is all very philosophical, isn't it?"
If Ottawa was responding to a court decision, the Bloc MP said, that would be one thing. "But for now, there isn't any. So why always take the lead all the time to respond to pressure groups that don't represent at all the majority of the population?
"I do not know how at all anyone can be insulted by being called Mr. or Mrs.... It's completely surprising how people are wasting their time on such things."
NDP Leader Jagmeet Singh, however, is fully in support.
"I think it is a good idea," he told reporters. "If we want to create a society where we respect everyone, we must give more consideration to individuals who are in minority positions who have experienced a lack of respect for years."
"Why did this bad joke become a government directive?" he asked.
Jean-Yves Duclos, the minister of families, children and social services, tried to reassure the opposition that Service Canada would continue to use "Mr." and "Mrs." to address individuals who prefer the term.
But he suggested the changes are needed to reflect the diversity of families in the 21st century.
Egale Canada lauds 'good first step'
"We have recomposed families looking after children. We have parents of the same gender. These parents deserve the same respect and the same support as other parents in Canada," he said. "I am glad that we have a government that supports this view."
Helen Kennedy, the executive director of Egale Canada, a national LGBTQ human rights organization, praised Ottawa's directive as "a good first step" in an interview with the Canadian Press.
"Issues around gender-neutral language are extremely important, and they may not be important to the opposition but, I can tell you, they're very important to members of our community," she said.
Conservative MP Marilyn Gladu said she appreciates Service Canada wants to be respectful and is pleased staff will ask Canadians how they want to be addressed, but she called the directive "just another example of the Liberal government deciding what you can and cannot say.
"[It] seems like a step towards the word police," she told HuffPost. "Hopefully, there will be no disciplinary consequences for employees that slip up and use one of the traditional terms."
With a file from The Canadian Press.
Popular in the Community