The federal defence minister says Canada remains "in the fight" against the so-called Islamic State, even while insisting the Liberals' retooled mission is non-combat.
But Harjit Sajjan balked Wednesday when asked directly in question period if Canada is "at war with ISIL."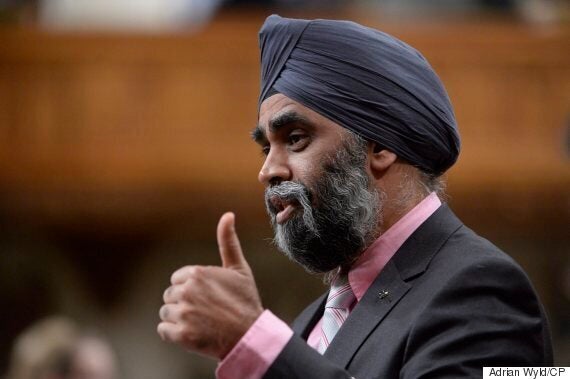 Defence Minister Harjit Sajjan answers a question in the House of Commons Wednesday. (Photo: Adrian Wyld/Canadian Press)
Conservatives say the plan is a "shameful" step back, largely because CF-18 airstrikes have already ended. New Democrats say the plan goes too far because hundreds of Canadian troops could face danger on the ground training Kurdish forces.
In the House of Commons Wednesday, Tory defence critic James Bezan highlighted that the U.S. general running the air campaign against ISIS was "surprised" to learn Canada was withdrawing fighter jets.
"Will the defence minister stand with our allies and put our CF-18s back in the fight?" Bezan asked.
"I can assure the member… we are in the fight with our coalition partners."

— Harjit Sajjan
"I can assure the member… we are in the fight with our coalition partners," Sajjan replied.
The defence minister added that coalition partners have told him the Liberals' plan is a good one because "this fight against ISIL can only happen on the ground."
"Why is the Liberal government opting out of the combat mission against ISIS? This isn't a fight anymore," Bezan said.
Sajjan reminded the Tory critic about the chain of command in the military, suggesting he's spoken with people above Brown who are pleased.
But Pierre Paul-Hus — associate Tory defence critic and like Sajjan, a military veteran — followed up by saying that it's important for soldiers to know if they are going to participate in ground combat operations.
"The United States has declared that they're at war against ISIL, France has done the same," Paul-Hus said. "This is a fundamental question for our soldiers. Can the minister tell us if Canada is at war with ISIL, yes or no?"
Sajjan said he didn't fully understand the question.
"If it means we're defining fighting against ISIL and defeating them, we are committed to it," Sajjan said. "We've done it in the past. We will assess the situation. And this is what's needed on the ground right now."
Trudeau says Liberals stepped up in 'fight'
Earlier in question period, interim Tory Leader Rona Ambrose accused Trudeau of misleading Canadians by suggesting that American allies were "just fine" with Canada pulling the jets.
"Our allies were pleased to know Canada continues to be a strong member of the coalition and indeed has stepped up our involvement in the combat, the fight against ISIS," Trudeau said, adding that the country is contributing with training, intelligence, and refugee support.
Liberals 'denying the facts': NDP
In question period on Monday, NDP foreign affairs critic Hélène Laverdière accused Liberals, who once criticized the previous Tory government's "loose definition of a combat mission," of now failing to provide clear answers.
"Will the minister stop denying the facts and admit that our soldiers are engaged in a combat mission?" she asked.
"This is a non-combat mission," Sajjan responded.
"However, we are in a conflict zone. Our troops will be at risk. That is the reason why we have mitigated this with many aspects of bringing in certain capabilities."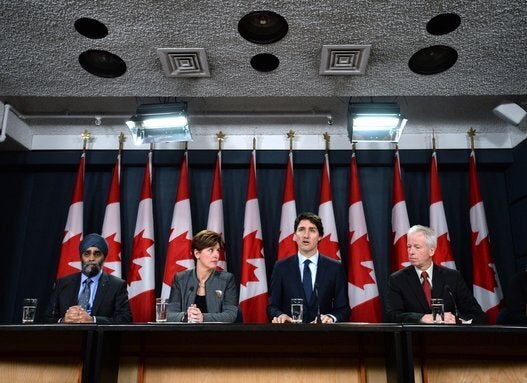 Canada's ISIS Mission: Then & Now