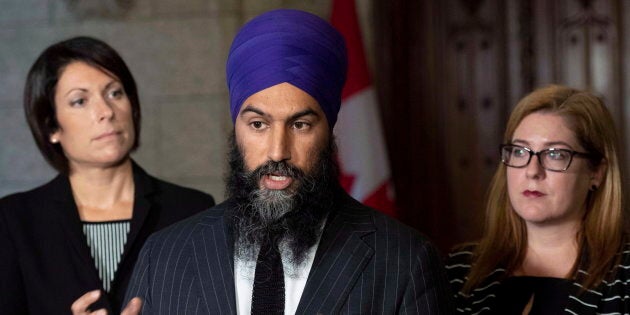 Federal Liberals will not be extending a so-called "leader's courtesy" to give the NDP's Jagmeet Singh an easier path to the House of Commons
A senior Liberal source unauthorized to speak on the matter has confirmed to HuffPost Canada that Liberals will run a candidate against Singh in an upcoming byelection in the British Columbia riding of Burnaby South. The source confirmed earlier reports from both The Hill Times and CBC News.
The byelection is expected to be called early in the new year and take place in February. The government will also call votes to fill vacancies in two other ridings: Quebec's Outremont, previously held by former NDP leader Thomas Mulcair, and Ontario's York-Simcoe, left open by the exit of former Tory MP Peter Van Loan.
Watch: Jagmeet Singh concedes he has 'a lot more work to do'
Green Party Leader Elizabeth May announced in August that her party would not put up a candidate against the NDP leader, honouring an informal Canadian parliamentary tradition of clearing some space for party leaders who don't hold seats in the Commons.
In 2002, governing Liberals and Progressive Conservatives did not run candidates against then-Canadian Alliance leader Stephen Harper when he sought a seat in a Calgary. The same courtesy was extended to a seatless Jean Chretien when the Liberal leader ran in a 1990 byelection.
In both cases, however, Harper and Chretien were leaders of the Official Opposition without the right to sit in the Commons. Singh, a former Ontario MPP, is the leader of a third party.
In 2000, governing Liberals did not run a candidate against Progressive Conservative leader Joe Clark in a Nova Scotia byelection, even though he was not the Official Opposition leader. Clark was, however, a former prime minister attempting to make a political comeback.
The Liberal source told HuffPost that grassroots Liberals in Burnaby South wanted to compete to win the seat, long held by New Democrats. Former NDP MP Kennedy Stewart formally resigned the seat in September while running successfully to become Vancouver's mayor.
Conservatives have already nominated lawyer Jay Shin as their standard-bearer in the riding, meaning Singh has his work cut out for him.
"I'm not sure why Mr. Trudeau delayed making this call in the first place, but I'm excited to discuss the issues that matter most to the people of Burnaby South, like the housing crisis, costs of prescription drugs and threats to our environment," Singh told HuffPost in a statement.
"The Liberals will need to answer to voters for their many betrayals over the past three years. With an NDP MP, the people of Burnaby know they'll have someone in their corner pushing the government to deliver solutions they urgently need."
In late October, the leaders of the four main opposition parties released a joint letter calling on Prime Minister Justin Trudeau to immediately call byelections in the three ridings with vacancies.
At the time, Trudeau had only called a vote for Dec. 3 in the Ontario riding of Leeds-Grenville-Thousand Islands and Rideau Lakes. The riding was held for years by the well-respected Conservative MP Gord Brown, who passed away in May, and is widely expected to stay Tory blue.
"The longstanding tradition in Canada is to call the by-elections for all vacant seats at the same time," they wrote in the letter. "However, you have offered no clear explanation as to why you only called a by-election date in Leeds-Grenville while the 334,000 Canadians in Burnaby-South, York-Simcoe, and Outremont should continue to go without federal representation."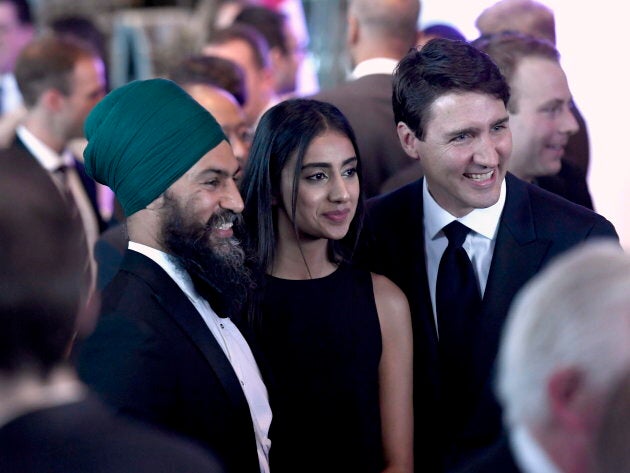 According to Elections Canada, a byelection must be called within six months after a seat is vacated. Trudeau needed to call a vote in Leeds-Grenville-Thousand Islands and Rideau Lakes by Oct. 30.
Based on the timing of the vacancies in other ridings, as made official by Elections Canada, Trudeau needs to call a byelection in Outremont by Jan. 30, in Burnaby South by March 18, and in York-Simcoe by March 30.
The delay has also been good news for Maxime Bernier's People's Party of Canada. As CBC News pointed out, while Bernier applied to register his party with Elections Canada in October, he would not have been able to run candidates in byelections within 60 days of that application.
Still, New Democrats have blasted Trudeau as "petty and manipulative" for not calling the votes. Trudeau scoffed at the NDP's "sanctimony" over the issue.
Watch: NDP leader says things are 'trending up'
"We look forward to calling them soon and look forward to campaigning against people who are so enthusiastic about the democratic process," Trudeau told the House at the time.
Liberals also noted all the other byelection races that Singh has passed on since becoming NDP leader in October 2017, including three last December — in the B.C. riding of South Surrey-White Rock, Newfoundland and Labrador riding of Bonavista-Burin-Trinity, and Ontario riding of Scarborough-Agincourt — and a June byelection in the Chicoutimi-Le Fjord riding in Quebec.
Some dismal polling and fundraising numbers could be putting more pressure on Singh to get into the Commons, where he can demonstrate leadership during question period and present a contrast with Trudeau and Tory Leader Andrew Scheer.
Singh could face trouble in Burnaby South
A Mainstreet Research poll released Monday suggests Singh faces an uphill climb in his chosen riding. According to the poll, 36 respondents in Burnaby South are saying they would vote Liberal, while 29 per cent back the Tories and 27 per cent support the NDP.
A loss in February would hugely damage Singh's leadership with a federal election less than a year away and, potentially, spur another NDP leadership race.
Asked this week how he intends to buck a negative trend in recent opinion polls, Singh said his plan is to "keep on talking" about the issues he thinks are most important to Canadians.
With files from Althia Raj