In an effort to cool the overheated housing markets in some of Canada's largest cities, the Trudeau government is making it a little harder to get a mortgage.
But an analysis from CIBC suggests the changes will have a limited impact on most housing markets, and will hit some weak housing markets harder than the hot ones the Liberals are trying to cool.
Finance Minister Bill Morneau announced Friday that the government is raising the minimum down payment for a government-insured mortgage on houses valued between $500,000 and $1 million. (Government-issued insurance on homes above $1 million was eliminated last year.)
Under the new rules, buyers will still need to put 10 per cent down on the portion of the house price above $500,000. The portion below that will still require just 5 per cent down.
So on a house worth $700,000, the effective minimum down payment would be 6.4 per cent, or $45,000, Morneau said.
The new rules come into effect on Feb. 15, 2016.
The move is designed to target the hot property prices in Toronto and Vancouver. By leaving alone mortgages under $500,000, they are in effect attempting to leave alone most of the rest of Canada's housing markets.
"The changes made today could be less impactful than the changes made between 2008 and 2012," TD Bank deputy chief economist Derek Burleton wrote.
"Hot markets in Ontario and B.C. are being driven by purchasers with larger down payments, whether it be millennials getting help from their parents, move up buyers, and/or domestic or foreign investors."
An analysis from CIBC deputy chief economist Benjamin Tal finds only 3.9 per cent of new mortgages across Canada would be affected by the changes. In Toronto, about 5 per cent of mortgages would be affected. And in Vancouver, only 2.5 per cent will be affected — less than the national average.
Even Montreal's sluggish housing market will be hit harder than Vancouver, the CIBC analysis found.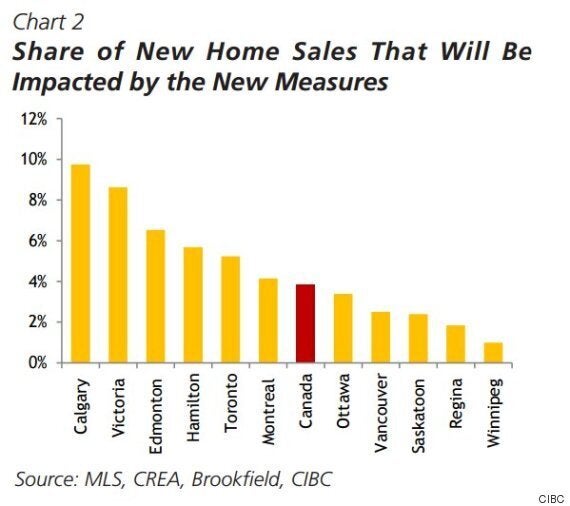 Ironically, the city that will be hit hardest will be Calgary — "not exactly a city that needs additional cooling," Tal writes.
Tal says Calgary will be hit hardest because it has a particularly high number of "high-ratio" mortgages with 5-per-cent down payments.
"The new measures reflect some creativity in the thinking regarding Canadian housing," Tal wrote, adding that the plan is "much preferred to the indiscriminate weapon of higher interest rates."
"However, while it sounds dramatic, our analysis suggests that the overall impact will be felt only at the margin given the relatively small segment of the market that will be impacted — even in the target markets."