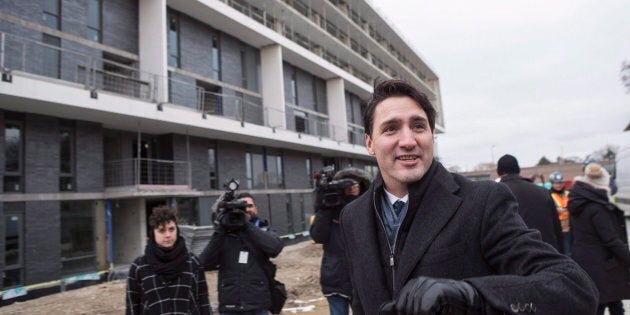 OTTAWA — Though Prime Minister Justin Trudeau proudly stated a year ago that his government recognized "housing rights are human rights," his Liberal MPs voted to defeat an NDP motion stating exactly that.
Back on a cold November day in Toronto last year, Trudeau said: "Everyone deserves a safe and affordable place to call home."
But that wasn't the message delivered Tuesday when the Liberals — including two Toronto MPs, Adam Vaughan and Marco Mendicino, who stood behind Trudeau when he made that announcement last year — joined Conservatives to defeat a motion supported by the Bloc Québécois, Green Party Leader Elizabeth May and former Grit MP Hunter Tootoo.
NDP critic bashes 'cynical ploy'
The NDP motion noted that since 90 per cent of the funding for the Liberals' national housing strategy will flow only after the next election, and much of it is dependent on collaboration with provincial governments and the private sector, the House of Commons should "recognize the right of housing as a human right."
The motion called on the government to bring forward 50 per cent of the funding before the next election to help build homes in Indigenous communities, as well as new affordable housing, social housing and co-ops units, renovate existing housing, and bring forward a plan to end homelessness.
In a statement, NDP housing critic Sheri Benson slammed the Liberals for failing to live up to expectations. Instead of investing billions earmarked for affordable housing projects now, she said, the Grits were using a "cynical ploy" to force people to wait.
With home prices out of reach for many, rising rents, rental shortages, long waitlists for non-market housing and increasing homelessness, Benson said Canadians "cannot afford to wait until after the next election for this crisis to be solved."
Vaughan, the Liberal parliamentary secretary responsible for housing and urban affairs, defended the government's approach during a debate in the House last week.
Every single housing expert that the government consulted recommended Ottawa move progressively with a year-by-year approach, he said.
"If a program is front-end loaded, inflation and need and sustained subsidies disappear in the back-end and people are de-housed with a policy that is designed that way," Vaughan said.
Benson said she didn't agree with his "assessment."
The Liberals have pledged $40 billion for a national housing strategy. Jean-Yves Duclos, the minister of families, children and social development, said approximately one third of that money would be invested between 2015 and 2019 with the remaining two-thirds invested in the following eight years.
Earlier this summer the NDP had pressed the Liberals to make good on their pledge to recognize housing rights as human rights.
"Legally enshrining a right to housing would show that everyone deserves the right to security, good health, and safety in the form of adequate housing," Benson had then said, as she promoted a letter signed by 170 organizing backing the NDP's call.
Last November, the Liberals also defeated an NDP private member's bill that sought to legislate housing as a human right in Canadian law. The bill was therefore never sent to committee for further study or amendments.
Popular in the Community