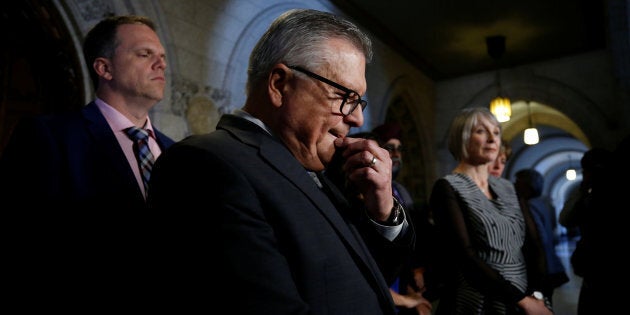 OTTAWA — The Liberal government tabled new gun legislation Tuesday, if passed, will make lifetime background checks into an applicant's history of violence mandatory.
It's a measure that would replace the five-year time frame authorities look at to determine a person's eligibility for a firearms licence. Lifetime background checks are currently optional.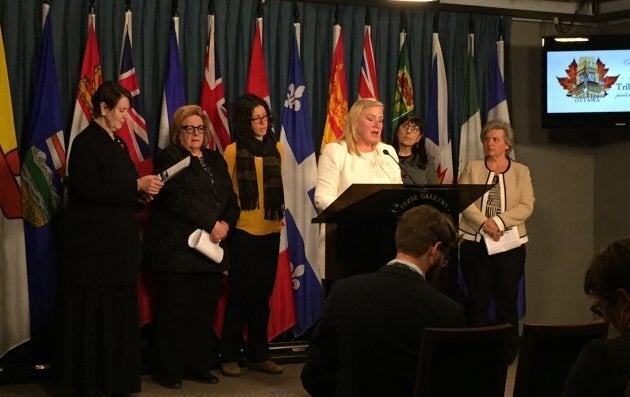 When asked about how the changes address lethal risk in unreported cases of domestic violence, senior officials said authorities are limited to using information available to them.
Flags in criminal records will affect eligibility, as well as any tips that come through 1-800 public safety lines which may warrant a chief firearms officer to authorize a more thorough reference check.
"They can speak to a spouse if there are indications of problems at work, they can speak to an employer, they can speak to a coworker," a senior official said at a media briefing. "So they will not limit themselves in terms of what they look at."
Women face disproportionate risks from guns that are too often used to threaten, control, and kill them in domestic violence.Colette Prevost, director of advocacy at YWCA
Less than one-third of domestic violence is reported to police across Canada, according to StatCan. Advocates for victims of violence told reporters on Parliament Hill they wished the government had consulted with them more.
"Women face disproportionate risks from guns that are too often used to threaten, control, and kill them in domestic violence," Colette Prevost, director of advocacy at YWCA, said at a press conference. "Whether in rural communities or downtown Toronto, firearms feature prominently in violence against women."
She told HuffPost Canada she welcomes how the new bill provides a framework and will standardize licencing rules and increase control on sales. But she still has concerns about the safety of women in rural areas.
Guns are often used to intimidate women, she said. So the issue there is not about buying firearms legally, she added, it's about dealing with a weapon that's already in the home.
Goodale calls new gun legislation 'sensible' and 'practical'
Wendy Cukier, the president and co-founder of the Coalition for Gun Control, said the government reached out to the group two weeks ago.
She said it was in that meeting where they delivered overall concerns and priorities to Mark Holland, parliamentary secretary to the minister of public safety and emergency preparedness.
Formed in the wake of the Montreal Massacre that killed 14 women at École Polytechnique on Dec. 6, 1989, the Coalition for Gun Control represents more than 200 organizations across the country.
With the announcement of enhanced background checks, Cukier said, "It does appear that the Liberals have followed through on at least some of their promises."
During the 2015 election, the Liberals campaigned on promises to require vendors to keep sales records; require buyers to show their licence when purchasing a gun and for sellers to verify it's valid; they're all actions the new legislation proposes to do.
Advocate calls decade of gun law changes '
heartbreaking'
For Priscilla de Villiers, the issue is personal. Her 19-year-old daughter Nina was killed after she was abducted at gunpoint from a Burlington, Ont. tennis court on Aug. 9, 1991.
Her killer had a long history of violence and was out on bail at the time. The weapon used in the abduction and killing was legally owned and unrestricted.
As an advocate who's been working on fixing "egregious" loopholes in Canada's gun laws, de Villiers said, "It's heartbreaking to watch over the past decade as the law, the attitudes have become eroded."
The new gun bill also proposes to repeal Bill C-42, the Common Sense Firearms Licensing Act. That act, pushed by the former Conservative government, allowed the free transport of restricted and prohibited weapons without a permit.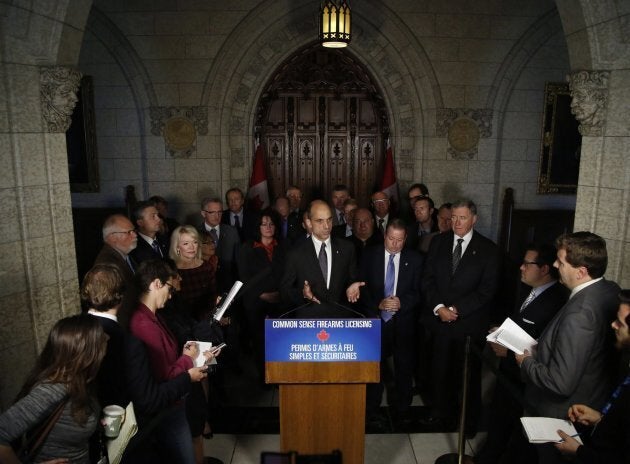 Still, de Villiers would like to see more done. She pointed to the United States, where she said Canada can find tougher gun laws to model after. "It's got better provisions for tracking guns used in crime. For preventing the diversion of guns into illegal markets," she said.
The Liberals' new gun bill proposes to reinstate a rule requiring businesses, excluding private sellers, to keep records of firearm sales and purchaser data. As for tracking guns that may have been used in a crime, the current process isn't straightforward.
Authorities have to go to the weapons manufacturer, who then checks records to determine which retailer the firearm was sold. Using that information, police can track if a gun was used in a crime.
It's one example advocates says suggests how the legislation is written to placate gun owners than to address the concerns of victims of gun violence and their families.
"During this whole debate, there's been a virtual silence on the victim's perspective," de Villiers said. "Why are they not at the table?"