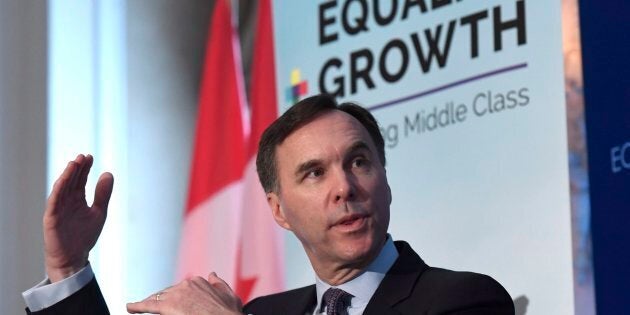 OTTAWA — If Prime Minister Justin Trudeau worries about the impact of U.S. President Donald Trump's policies — his big corporate tax cuts or his threats to dismantle the North American Free Trade Agreement (NAFTA) — Tuesday's federal budget didn't show it.
There is one line in the 367-page budget on the U.S. tax changes that could affect Canada's competitiveness and ability to attract foreign investment — a pledge to study their impact over the coming years.
Instead, the Liberals' third budget suggests Trudeau is much more concerned with protecting his left flank by courting those NDP voters who lent him their vote in 2015 and may be itching to return home.
The federal Liberals appear to steal a key plank of the NDP's next election platform by signalling that they too are ready to campaign on a national pharmacare program. Among the budget's announcements is new advisory council on the implementation of a national pharmacare program. It is scheduled to report in the spring of 2019, just in time for the plan to be included in a late election-year budget or — surprise! — a Liberal platform.
On Tuesday, Finance Minister Bill Morneau played coy, telling Global News: "I can't see that far in the future."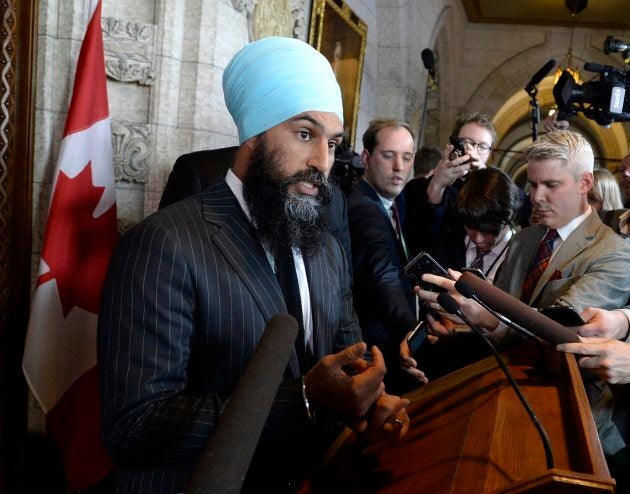 But NDP Leader Jagmeet Singh seemed stung by the news as he faced reporters in Ottawa. A week and a half ago, nearly 2,000 New Democrats were gathered in the city for a party convention cheering on as Singh promised them that "the the time for timid is over" and that "too many people have waited for far too long" for the promise of national pharmacare.
In an interview with HuffPost Canada's politics podcast "Follow-Up," Singh acknowledged that the rest of his ideas, free national dental care and vision care, and public Internet service across Canada, are aspirational goals. Free post-secondary tuition and legalizing the personal consumption of all drugs are the only promises the NDP leader has to himself, for now.
Trudeau, the proud feminist, seems to have also looked to the NDP's 2015 election platform for some left-wing inspiration. This budget fulfills two promises New Democrats made in the last campaign: a pledge to enact pay equity legislation in the public sector so that all employees receive equal pay for work of equal value, and the promise to strengthen the mandate of Status of Women. In this case, the Liberals made it a permanent department.
The Grits' 2018 budget is Canada's first gender-based-analysis-plus budget. All its policies have been placed through a gendered analysis on how they will affect women and girls. The result is a budget that invests heavily in the advancement of women, from funding five weeks of supplemental parental leave to encourage men to stay home with their kids, to allowing MPs to take maternity leave, to creating a generous "women entrepreneurship strategy," to spending $30 million to attract women and girls to sports, to addressing violence against women through different programs, including threatening to pull federal funding from any post-secondary institution that doesn't enact best practices when it comes to addressing sexual assault on campus.
There is plenty in the federal budget that those on the left will like. A new Canada Workers Benefit replaces the Working Income Tax Benefit to make it more accessible and generous. Greenpeace praised the Liberals for making the largest contribution towards conservation and species protection Canada has ever seen. The Canadian Labour Congress highlighted the government's plan to commit up to five days of paid leave for victims of domestic violence, programs to fight racism against blacks, and highlighted its effort to close tax loopholes and crack down on tax evasion.
More federal budget stories:

Liberals' Big-Spending Budget Details $18.1B Deficit

Budget Makes National Parks Admission Permanently Free For Kids

Liberals Take Baby Steps With New 'Use-It-Or-Lose-It' Parental Leave

Liberals' 2018 Budget Lays Foundation For Universal Pharmacare Plan
Of course, it wasn't just NDP voters that gave the Grits their majority. There are goodies for the Atlantic provinces — which gave the Liberals every seat in the region. A major promise includes reforming the employment insurance system to address problems experienced by workers in seasonal industries, such as fisheries and tourism. The previous Conservative government's EI reforms made it harder for seasonal workers to draw benefits, and many on the East Coast punished them at the polls. This new policy is a transparent effort by the Liberals to show voters they are in their corner.
Before Trudeau came to office, his Liberals railed against the Tories for using boutique tax credits and regional development agencies to hand out government largesse. Now, the Grits too have discovered tax credits are a cheap and useful micro-targeting tool. This budget expands the tax credit for psychiatric service dogs. It also provides an additional $1.55 billion over six years to regional economic development agencies to help improve the economy in their regions.
There are also nods to voters in the forestry sector in Eastern Canada, a $100-million plan to help develop next generation rural broadband, and a handful of small-craft harbours also seeing federal investments.
And while, yes, the big ticket items such as the billions on science and innovation spending and money for indigenous Canadians to ensure everyone has access to clean drinking water help the government tell a story about its priorities. No one should forget another Grit priority is winning the next election. One targeted vote at a time.