The Liberal government will not hold a vote in Parliament before possibly deploying hundreds of troops for United Nations peacekeeping operations, two senior ministers say.
International Development Minister Marie-Claude Bibeau told The Huffington Post Quebec this week that Prime Minister Justin Trudeau will make the final call about a future mission with his ministers, not members of Parliament.
"The decision will be taken at the cabinet committee," Bibeau said in an interview Tuesday.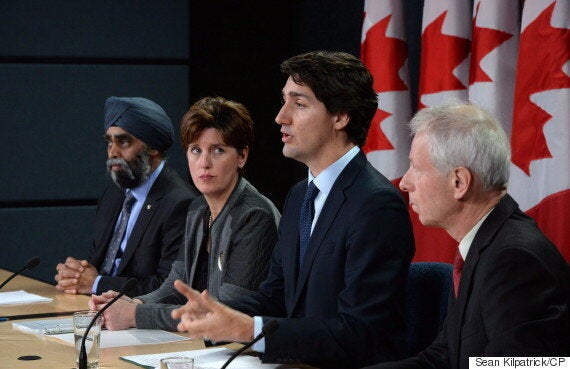 Defence Minister Harjit Sajjan, International Development Minister Marie-Claude Bibeau, Prime Minister Trudeau, and Foreign Affairs Minister Stephane Dion appear at press conference in Ottawa on Feb. 8. (Photo: Sean Kilpatrick/The Canadian Press)
She did suggest, however, that there could still be a debate in the House of Commons.
Defence Minister Harjit Sajjan said much the same to The Globe and Mail Thursday, pointing to the mandate Liberals received from voters last year to revive Canada's peacekeeping tradition.
"We will be deciding in cabinet and moving forward as quickly as possible," Sajjan told the paper.
Sajjan made the remarks at the United Nations Peacekeeping Defence Ministerial in London. Though he announced Canada will host the summit next year, Sajjan did not provide any more details about where troops could soon be deployed.
Canada has already pledged to make up to 600 troops available for UN peacekeeping operations, with Africa as the expected destination. Missions in Mali, South Sudan, the Central African Republic, and the Democratic Republic of Congo have all been highlighted as possible spots for Canadian troops.
Mali is considered to be the most dangerous of the destinations. More than 100 peacekeepers have been killed in the West African country since 2013.
The government has also pledged $450-million over three years for peace operations.
Liberals allowed vote on ISIL mission
While deploying troops is an executive decision for Trudeau and his cabinet, former prime minister Stephen Harper made a point of seeking the support of MPs in such situations.
While largely a formality considering Liberals hold a majority of seats in the House, a debate and vote would give opposition parties the chance to formally voice displeasure or offer their support to the government's plan.
Government not being transparent: Tories
Conservatives have been pushing the Trudeau government to commit to a full debate and vote, and have already accused Liberals of not being transparent.
At a press conference in Ottawa Thursday, Tory defence critic James Bezan said troops shouldn't be sent to war zones to "fulfil the prime minister's personal aspirations" of winning a seat on the UN Security Council.
Shortly after, Bezan released a statement with associate defence critic Pierre Paul-Hus saying it was disappointing Canadians still lack "a clear understanding" of the role troops will play.
"The Liberals must clearly lay out the details and risks of the mission before deploying Canadian personnel to a war zone," it read.
With files from The Canadian Press, Catherine Lévesque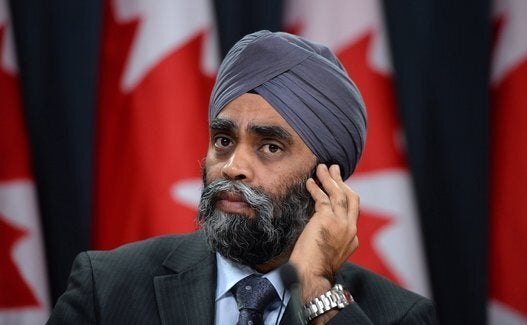 Current MPs With Military Experience (2016)