OTTAWA — Rookie cabinet minister Mélanie Joly stood proudly in the House of Commons this week to announce that her department, Canadian Heritage, had launched online consultations on the controversial memorial to the victims of communism.
"Our government promised greater involvement with citizens in decision-making," she read aloud from the sheet of paper she held in her hand. Canadians from coast to coast to coast are encouraged to share their vision for the memorial, she said, looking thrilled and excited by the prospect. "Based on these consultations, I will announce next steps," she declared.
That refrain dominates Parliament these days. From the defence minister to the employment minister to the minister of public safety, nearly every cabinet minister is consulting.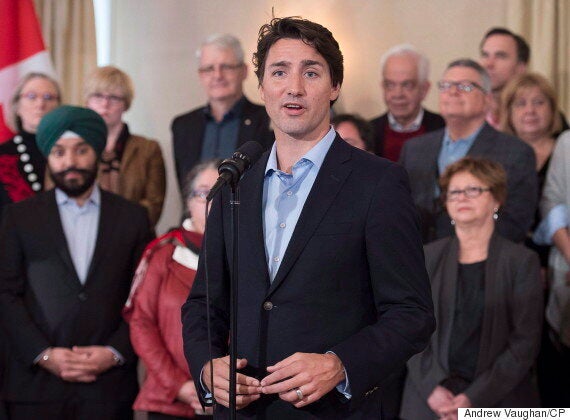 Prime Minister Justin Trudeau speaks to media at a cabinet retreat in St. Andrews, N.B. (Photo: Andrew Vaughan/CP)
There are consultations underway — or soon to begin — on everything from the pre-budget submissions (the department says there has been a record level of public participation), to CBC's future, to the Trans-Pacific Partnership agreement (TPP), to Canada Post home delivery, to legalizing marijuana, to employment insurance reforms, to a full review of the environmental assessment process, to changes to the electoral system, to ending gender-based violence, to Canada's official languages act, to consultations on what the inquiry on missing and murdered indigenous women and girls should look like, to future child care delivery models in Canada, to a pan-Canadian climate change plan, to changes to the Access to Information system, to an open government plan, to the sustainability of fish stocks, and the list goes on.
Critics say the sheer number of consultations is an attempt by Trudeau to avoid making decisions that will displease some Liberal voters. The government defends the move by saying Canadians are thirsty to be involved in the decision-making process.
During a debate on pipeline reviews in the Commons recently, Conservative MP Peter Kent said flatly that he thinks Trudeau and his cabinet "know what the right answer is for the safe transportation of oil. But I fear that with their potential consultations, they are procrastinating unnecessarily."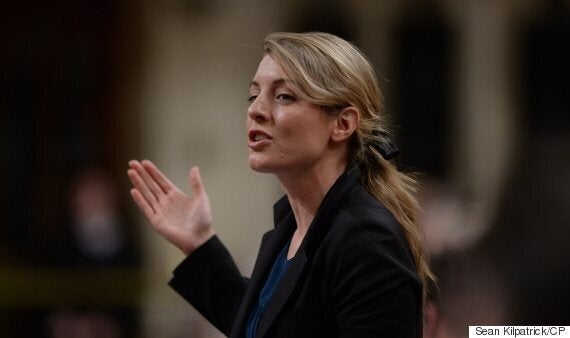 Heritage Minister Melanie Joly responds to a question in the House of Commons Tuesday. (Photo: Sean Kilpatrick/CP)
Conservative MP Dan Albas suggested Friday that the Liberals have consulted enough on TPP — there have been more than 200 meetings, according to the government's own count — and should ratify the deal now. "When will the federal Liberals realize they have hit peak consultation, get off the fence, and support jobs in British Columbia?" he asked during question period.
"Sometimes consulting becomes a way to defer a decision," Conservative MP and former Treasury Board president Tony Clement told The Huffington Post Canada. "That will work for a while, but at some point in government, you actually have to decide stuff."
There is a cost to not making decisions, the former minister added. "There is a fiscal cost, or a policy cost, or people-will-be-suffering cost. So this can work as a short-term tactical strategy, but it will not work in the long term."
Consultations as political cover
Donald Savoie, a public administration expert at the Université de Moncton, agrees. Consultations provide political cover only for a short period of time, he said.
"Being against consultations is like being against motherhood — we can't be against it, but it doesn't always work out as planned," he said. "You can kick the can down the road as much as you want, but at some point the can is going to catch up to you."
Consultations are predictable, Savoie said. "Some [people] are going to be for, some will be against, and there will be no consensus, and so decisions have to be made."
The political scientist said Trudeau's consultations may be a continuation of his successful electoral strategy of speaking in generalities in order to be all things to all people. The Liberal leader's vagueness on the TransCanada Corp.'s Energy East pipeline, for example, led many Westerners to believe Trudeau would support the project, while he also courted Quebecers who were adamantly opposed.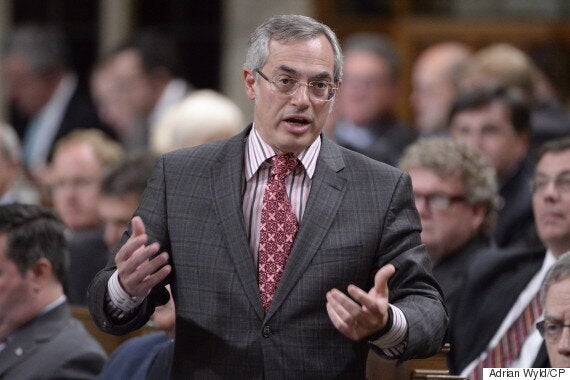 Conservative MP Tony Clement, shown speaking in the House, says being in government means "deciding stuff." (Photo: CP)
"That type of political strategy works very well in an election campaign, [but] it remains to be seen whether it can work in governing. I'm not so sure," Savoie said. "I always thought it was better to make tough decisions early in the mandate so that the electorate would have time to turn the page and forget about it."
To consult on nearly every policy issue you are facing, Savoie added, suggests Trudeau may not have made the wisest promises.
"I think…we could expect political parties to know of what they speak before they make commitments. It is fairly obvious to me … that reverting policy on Canada Post [home delivery] was fraught with new expenses and they ought to have known that," he said.
Public Services Minister Judy Foote recently announced she will launch an independent review of Canada Post that will look at home delivery and involve public consultation. During the election campaign, the Grits promised a review, but Trudeau also pledged to reverse the agency's cuts to door-to-door service.
"When will the federal Liberals realize they have hit peak consultation?"
It is good to be prudent, the Canadian Taxpayers Federation's Aaron Wudrick said, but when it's happening on every issue, "it suggests that maybe you didn't do your homework enough during the campaign."
While some controversial and costly promises involving mail delivery, changes to Bill C-51, employment insurance, environmental review process and the TPP are punted months and years down the line, Wudrick noted that the Liberals were quick to act on other campaign pledges.
"If they are all about consultations before making decisions, why are they repealing C-377 and C-525 [controversial Conservative legislation that was widely viewed as anti-union] before having consultations? Why did they stop enforcing the First Nations Financial Transparency Act before having consultations? Why did they rule out extending the runway at the Toronto airport without having consultations?"
On a few things the Liberals felt strongly about, they have bypassed consultations, he said, but on politically "stickier" files, such as the TPP, they hide behind the "consultation fig leaf."
'We need action right now'
University of British Columbia political scientist Kathryn Harrison sees it somewhat differently.
She believes public consultations are a good thing when enacting major public policy changes that have long-lasting consequences.
"There are lots of people who think that consultations on a trade agreement is a very important thing," she said. "Things like the electoral system and federal-provincial relations with respect to Canada's greenhouse gas emission target, these have potential for really big and far-reaching policy changes. They are important things where it is appropriate to solicit input from the public."
Harrison is particularly interested in seeing how the Liberals will come through with a plan to meet ambitious emission targets while maintaining harmony with the provinces. A federal-provincial meeting is set for March.
"The first thing they did [when they got into office] was sign on to an international climate agreement that will be very challenging. They were elected to lead, how are they going to do it? If they just keep announcing more commitments to keep talking … that is the moment where I will be more frustrated."
NDP MP Linda Duncan has no problems with consultations — up to a point.
"Yes, it is good that they want to consult everybody, but we need action right now," she told HuffPost. "There are a number of ideas on the table right now that people are throwing around where they can, in fact, take quick action," she added, referring to environmental regulations that were gutted by the previous Conservative government.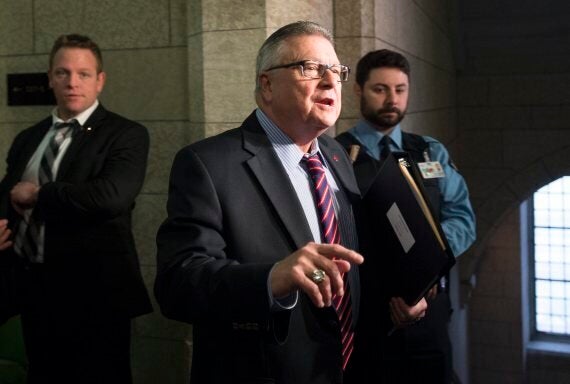 Public Safety Minister Ralph Goodale speaks to reporters in Ottawa. (Photo: CP)
Public Safety Minister Ralph Goodale, who is involved in consultations ranging from C-51 and other national security laws to striking a new parliamentary committee on national security oversight, defended the government's penchant for consultations, saying Canadians are eager to voice their opinions.
"It is an extraordinary situation, but it is absolutely necessary that we do this," Goodale told HuffPost."We want to have a government and a public policy agenda that genuinely reflects what Canadians want.
"Canadians have a lot of pent-up desire to be engaged. They felt that they have been shut out of their own democracy for a long time, so you have to give them a chance to re-engage and listen to what they are saying."
In his mandate letters to cabinet ministers, Trudeau said he expected them to engage constructively with Canadians, civil society groups, business leaders, organized labour, the not-for-profit sector, as well as other levels of government.
"Canadians have a lot of pent-up desire to be engaged. They felt that they have been shut out of their own democracy for a long time."
Don Rusnak, a new Liberal MP from the Ontario riding of Thunder Bay–Rainy River, said he doesn't think there is such a thing as too much consultations.
"There is never too much consultation or communication," he said. "You need to hear where the mood of the country is at and what the people want. If you don't hear that, then you are not effective government."
The Conservatives under Stephen Harper took a "top down approach" that Trudeau is committing to reversing, Rusnak added.
First Nations chiefs seeing a familiar pattern
But at least one group soon to be involved in some of those consultations isn't so sure.
Trudeau promised to engage First Nations on a true nation-to-nation basis, said Ghislain Picard, the regional chief of the Assembly of First Nations of Quebec and Labrador (AFNQL) but then he ignored a letter that several aboriginal groups sent him in December outlining changes they wanted to see in the pipeline review process.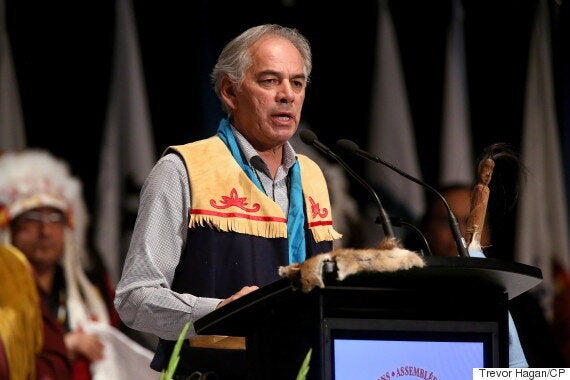 Ghislain Picard speaks at the Assembly of First Nations elections in Winnipeg in December. (Photo: Trevor Hagan/CP)
Picard said he and other chiefs fear they are starting to see a familiar pattern.
"It raises a lot of concerns from our First Nations leadership," he told HuffPost. "We feel that, on the one hand, they speak about the partnership and renewal of the partnership and the relationship and, on the other hand, what they seem to be doing doesn't reflect that intention."
Picard is hopeful the consultations will be meaningful, but he said the signals aren't there so far.
"There is so little said, or not enough said, that it leaves anyone the liberty or the opportunity to make interpretations," he said.
"Anybody who knows the leadership from the First Nations' side will know that this can only last so long."
Popular in the Community