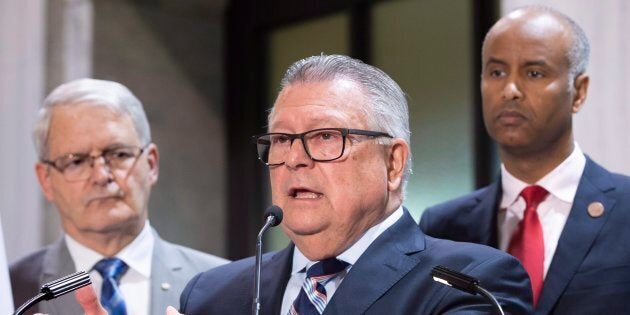 OTTAWA — Three federal cabinet ministers tried to discourage thousands of Nigerians from claiming asylum in Canada Monday with a statistic that paints an erroneous picture of their likely acceptance rates.
Public Safety Minister Ralph Goodale, Transport Minister Marc Garneau and Immigration Minister Ahmed Hussen held a joint press conference in Montreal to calm fears related to the influx of asylum seekers — 7,500 have crossed into Canada from the United States since this January.
"Let me make the point emphatically that coming across the border in a way that tries to circumvent the law, or defy proper procedure is not a free ticket to Canada," Goodale said.
Asylum seekers must go through a "rigorous process," Garneau stressed. "We estimate that more than 90 per cent of irregular migrants don't respond to our criteria and will have to leave, including 200 in the coming weeks."
In total, 101 Nigerians had their claims approved last year while 104 were deemed not to be refugees in need of protection. Twenty-one cases were abandoned or had their claims withdrawn. The approval rate for Nigerians in 2017 was 45 per cent.
Goodale's press secretary Scott Bardsley told HuffPost Canada Tuesday that the 90 per cent claim is based on an estimate by the Immigration and Refugee Board of Canada (IRB) "that is retrospective and looking primarily at Haitians.
"That is not forward looking and there is nothing to say that that would apply to cases we've seen this year., That is a comment that retains very specifically to what the IRB analysis found last year, but again that was with predominantly Haitians."
"... It should have been a bit more clear that it is retrospective," Bardsley acknowledged.
Nigerians were the second largest group of asylum seekers in 2017. Haitians, the largest group last year, were accepted at a rate of eight per cent. Only 43 refugee applications were approved, while 278 individuals were rejected.
But 131 Haitian asylum seekers also abandoned their claims and another 66 withdrew, either willingly or because they died, or they were deemed ineligible to file for refugee protection because of serious criminality. While many chose not to proceed with their claims, it is unclear how many of these individuals actually left Canada.
Jayden Robertson, a spokesperson for the Canada Border Services Agency, said the federal government does not collect exit information for individuals flying out of the country.
"Therefore, we are not in a position to provide the number requested," he wrote in an email.
Asylum seekers who abandon their claims are placed on a deportation list. Last year, 243 individuals were removed via deportation order, a small fraction of the 20,593 irregular migrants who were intercepted at the border.
Bardsley cautioned that number is small because the government needs to take the time to apply Canadian law and uphold Canada's international obligations.
Each case is determined on its individual merits, he noted. Once a decision is made by the IRB, "someone needs to exhaust all their avenues of recourse and appeals before somebody is removed."
Immigration minister to travel to Nigeria
Right now, the processing time for an in-Canada asylum claim is two-and-a-half years. Claimants could possibly stay in Canada for a decade while they fight the merits of their case. The Liberals have beefed up IRB funding, adding 64 new decision makers in an effort to clear another 17,000 cases a year.
So far this year, the majority of 7,500 irregular migrants who have crossed into Canada are Nigerians travelling on valid U.S. visitor visas. From January to March 31, Nigerians accounted for 52 per cent of all irregular asylum claims.
Since, July 2017, 81 per cent of all the Nigerians intercepted by the RCMP crossing illegally into Quebec, have had non-immigrant visas for the United States.
The federal government believes these individuals are solely applying for visas in order to arrive in North America and make a claim in Canada at the unofficial crossing near Lacolle, Que.
Monday, Ottawa announced three Canadian officials are working closely with U.S. visa officials in Lagos and that Hussen will travel to Nigeria in May for discussions with that country's officials.
The feds say there are currently approximately 70 to 80 individuals crossing the border each day, but they expect that number to swell to 400 a day in the coming weeks as the weather warms.
Popular in the Community