OTTAWA — The Liberal government is not ruling out a referendum on proposed changes to the electoral system, says the parliamentary secretary to the Democratic Institutions Minister Maryam Monsef.
Ontario MP Mark Holland told The Huffington Post Canada Wednesday that the government wants to let "the process evolve."
A referendum is "not something that we are ruling in or out," Holland said.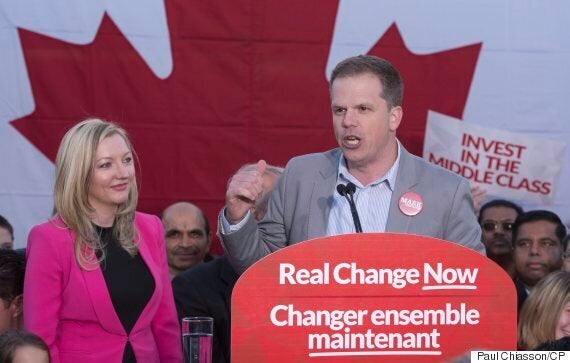 Mark Holland addresses supporters at a campaign rally in October. (Photo: Paul Chiasson/CP)
"We don't want to prejudge the committee's work or the consultations that are going to take place by saying that it has to end in some particular outcome…. We are going to watch how that process unfolds."
But what would lead the government to decide to hold a referendum?
Holland wouldn't say. "I don't know where we are in a year, I have no idea…. I'm not clairvoyant."
The government's job is to participate in the "most robust, comprehensive engagement" possible to hear from Canadians about how they want their system to evolve, he said. At the end of a year, when a new proposal for a voting system is presented, the government will "look at where we are."
"We don't want to prejudge the committee's work or the consultations that are going to take place by saying that it has to end in some particular outcome."
Holland made his comments after attending an open caucus meeting with the Senate Liberals — the Liberal members of the upper chamber who were kicked out of Trudeau's caucus two years ago — where his appearance was greeted as somewhat of an "olive branch" by some senators.
The parliamentary secretary pledged that the government would soon strike an all-party, "non-partisan" parliamentary committee to study electoral reform that would seek to build a consensus with Canadians.
"This needs to be a historic engagement of the likes that we have not seen before," he said.
Holland said he and Monsef also plan to tour the country to "supplement" the committee's work.
Ex-chief electoral officer says referendum not needed
Former chief electoral officer Jean-Pierre Kingsley, York University political scientist Dennis Pilon, and Fair Vote Canada's Kelly Carmichael also appeared before the group of Liberal senators and an audience of about 50 people. They all agreed it wasn't necessary for the government to hold a referendum before changing the way MPs are elected.
"We don't put people's rights to a vote," said Pilon, who advocated for a system with more proportional representation to reflect people's natural tendencies to vote for political parties and not individual politicians.
Internationally, few referendums have approved changes to voting systems, he said, qualifying New Zealand's recent experience as an exception.
"What we know from referendums is that when you ask people the question and they don't know what it is about, they usually say no," he added.
"What we know from referendums is that when you ask people the question and they don't know what it is about, they usually say no." - Political scientist Dennis Pilon
Carmichael, who also advocated a more proportional system, said she hoped the consultations would suffice.
Kingsley said a referendum could be avoided if the government government received the support of another major political party for its proposal.
But the former chief electoral officer cautioned that newspaper editorialists might create so much public pressure as to make it nearly impossible for the government to avoid holding one.
"There will be a lot of pressure, and I think that we need to face the fact, there will be that. How the government will respond will depend upon how the public perceives the issue."
Liberals trying to rig' election: Tory MP
The Conservatives argue that a referendum is absolutely required.
In a pamphlet distributed to his constituents, Conservative democratic institutions critic Scott Reid declared the Liberals' campaign promise of changing the current first-past-the-post system to be a "Liberal plan to rig the 2019 election."
The flyer, which quotes Conservative-leaning pundits, urges residents to demand a referendum.
In an interview with The Tyee online magazine, Reid is cited suggesting that the Liberals will propose a ranked ballot that. He believes such a change will disproportionately hurt Conservative voters, who are less likely to vote for second-choice candidates and, whose ballots, as a result, may be more likely to be thrown out for being incomplete.
"If you produce that system, you've rigged the next election," Reid is quoted saying. "That is very likely the system that the Liberals are going to set up.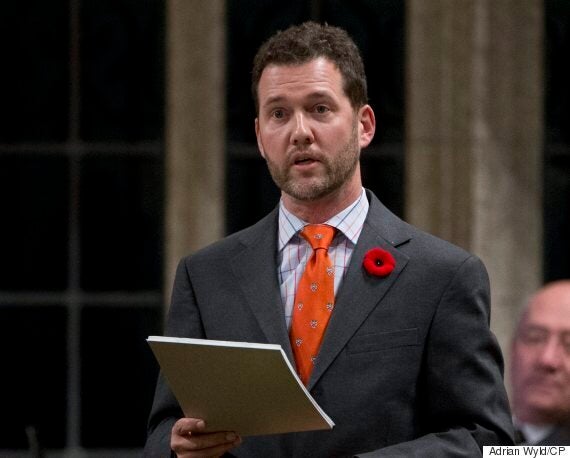 Conservative MP Scott Reid speaks in question period in 2012. (Photo: Adrian Wyld/CP)
Holland said he wasn't surprised by Reid's comments.
"He is interested in maintaining the status quo and delegitimizing this process," the parliamentary secretary said. "For him to make that kind of proclamation that somehow this process is predetermined when it is just beginning, I think is farcical, and instead of attacking it and throwing stones at it, I would encourage him to take part in the discussion."
Less stable governments on the horizon?
Liberal senator and constitutional expert Serge Joyal warned Holland that changing the electoral system to one likely to result in more minority governments means Ottawa should also consider delineating the powers of the Governor General to appoint the prime minister and dissolve parliament.
He also noted that a legislative change would require the approval of all of the provinces.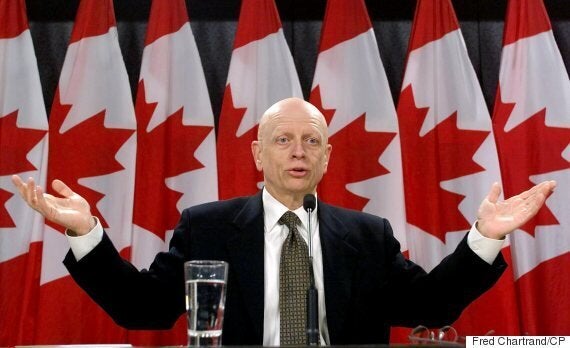 Former chief electoral officer Jean-Pierre Kingsley is shown at a news conference in 2002. (Photo: Fred Chartrand/CP)
Kingsley told senators he thinks the federal government should look at keeping the first-past-the-post system in rural and remote areas but create large geographical groups in urban areas encompassing four or five ridings where residents' votes would be distributed proportionally. It would be a made-in-Canada approach, he said.
Green Party Leader Elizabeth May, who attended the meeting, said she hopes the first-past-the-post system will be replaced because it encourages "nastiness" in politics.
"It becomes very difficult for someone in my position to say, out loud, that Stéphane Dion was a fine person and I liked working with him, because the response was, 'well that's a terrible thing. Why would anyone say anything nice about someone in another party?'"
May said she believes the Greens lost half their vote in the last 24 hours before the Oct. 19 election because people voted strategically for the Liberals to get rid of the Conservatives.
She asked Holland if she, along with her 10 Bloc Québécois colleagues, will be allowed to sit on the all-party committee studying the changes to the electoral system.
Holland was less than committal.
"We are still working out the formation of the committee at this point," Holland said. "We haven't made a determination on its composition."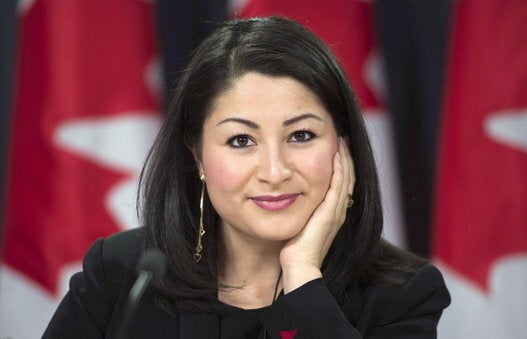 Maryam Monsef, Democratic Institutions Minister
Popular in the Community