OTTAWA — Liberal Leader Justin Trudeau will not allow his MPs a free vote on the massive Trans-Pacific Partnership trade agreement.
Asked about it Wednesday morning, Trudeau was cautious with his answer.
"We're a long way from that," he told reporters.
"We have a very clear policy on free votes that says elements that are in our platform, elements that go to the heart of the Charter of Rights and Freedoms, and elements that are confidence matters, that is, matters of budget, people would be expected to vote with the Liberal Party," Trudeau went on to say.
"On other issues, they would be expected to stand up for the interests of their constituents right across the country because that is what we elect people to do."
Moments earlier, when asked about his position on the trade deal during a campaign event in London, Trudeau said he was "pro-trade" but also "pro-Parliament."
"For 10 years, we've had a prime minister who has made decisions unilaterally, and I actually believe that the people that we send to Ottawa to be strong voices for our communities need to be heard on issues of such import as our economic policy and trade."
A senior Liberal adviser told The Huffington Post Canada that the TPP is a "major piece of economic policy that would doubtless require budgetary measures to implement."
"We would have a full discussion in caucus and Parliament, and vote on this as a team. We are very clear in our platform that the Party is pro-trade," spokeswoman Kate Purchase wrote in email.
Pointing to conventions, the Liberals appear to believe a potential negative vote on the trade deal could trigger a government to collapse.
Parliamentary conventions dictate that motions dealing with "the granting of supply" or motions related to the budgetary policies of the government are confidence measures.
Trudeau pledged in his platform to allow his MPs more free votes.
"We will give Canadians a stronger voice in the House of Commons by limiting the circumstances in which Liberal members of Parliament will be required to vote with cabinet," the party announced in June.
Liberal caucus members would be free to vote as they wished, except for:
- Votes that implement the Liberal electoral platform;
- Votes that are traditional confidence matters, such as the budget and the throne speech;
- Votes that "address our shared values and the protections guaranteed by the Charter of Rights and Freedoms" — phrasing that is commonly understood to include any motion dealing with abortion rights.
NDP won't be bound by deal, Mulcair says
While the Conservatives promote the trade deal reached on Monday, NDP Leader Thomas Mulcair has said he would be ready to walk away from a trade pact with 11 countries that represent 40 per cent of the world's GDP.
"I'm absolutely certain I would never be able to support this deal," he told the Ottawa Citizen earlier this week.
Mulcair said he would not introduce a deal to Parliament that would cost 20,000 auto jobs — the number that Unifor, the union representing auto workers, estimates would be lost with the acceptance of the TPP.
Regardless of which party wins on Oct. 19, the TPP needs to be approved by Parliament.
Trudeau has said his party believes in free trade but wants to see the details of the agreement before declaring its support.
On Wednesday, however, the Liberal leader left little doubt of where he stood, on the general question of trade.
"As a prime minister, [I] commit to making the case for trade, reminding Canadians that we are a nation based and built on trade. We have resources and goods to share with the world," Trudeau said. "We have a small population. We have a geographic situation that gives us access across the Atlantic, south to our NAFTA partners, and across the Pacific to the growing markets of Asia."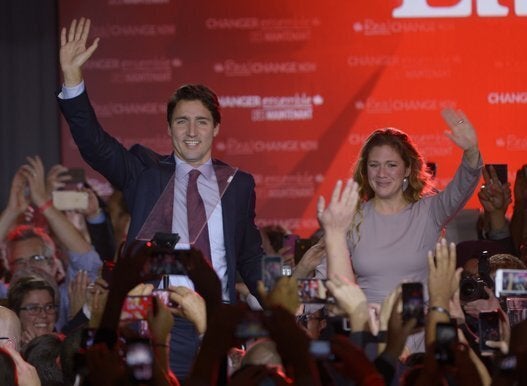 In Photos: Canada Election 2015
Popular in the Community