OTTAWA — The Liberals outspent the Conservatives during the last campaign to win the election, Prime Minister Justin Trudeau's closest adviser said Tuesday.
Gerald Butts, Trudeau's principal secretary, told a group of consultants, party strategists and reporters that they would be surprised to soon discover the Grits had spent more than the Tories.
"Shocking to everybody. True. But not material," Butts told the crowd assembled for an event celebrating journalist Susan Delacourt's book Shopping For Votes: How Politicians Choose Us and We Choose Them.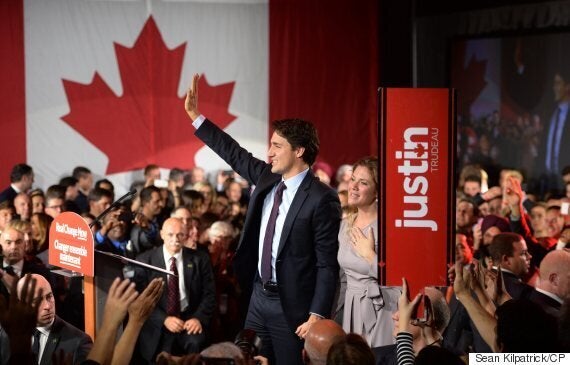 Justin Trudeau and wife Sophie Gregoire waves to the crowd after his speech at Liberal election headquarters in Montreal, Que. on Monday, October 20, 2015. (Photo: Sean Kilpatrick/CP)
The Conservatives spent $41,871,574 during the 11-week campaign — $13 million less than the $54,936,320 spending cap. The Liberals and the NDP haven't filed their financial returns with Elections Canada yet. They have until June 20.
Trudeau's chief of staff, Katie Telford, suggested the numbers told an interesting story about the Liberals' strategy during the 2015 campaign.
"The game never changes," Butts said. "The game is about how do you talk to people in a way that they are going to tell you what they really think and that you are going to have reliable information on which to base your campaign plan."
Digital advertising versus phone calls
Two line items, Butts said, contrasted the Tories and Liberals' approach. "One is, how much we spent… on digital advertising versus what the Tories' spent. And how much they spent on paid phone calls versus what we spent."
While Butts and Telford didn't reveal the Liberals' numbers, the records show the Tories spent $17.261-million on radio and television ads, $1.958-million on other advertising methods and $5.124-million on voter contact calling services.
"The game is about how do you talk to people in a way that they are going to tell you what they really think and that you are going to have reliable information on which to base your campaign plan."
The Conservatives "fell in love with their method" of reaching out to potential voters, Butts suggested. "[The Tories] figured out how to do robocalls way sooner than anybody else in Canada and it was like they showed up to a candle factory with a light bulb. It works so much better because everybody else was trying the old ways and they innovated their way to the front of the pack.
"But the key weakness in that was that it was not real people talking to real people. It was people that they paid" — Butts stressed the word — " to do the work that people like Arif, and Michael, and Ali, should be doing every single day," Trudeau's trusted adviser said, listing off some of the Liberal candidates in the room.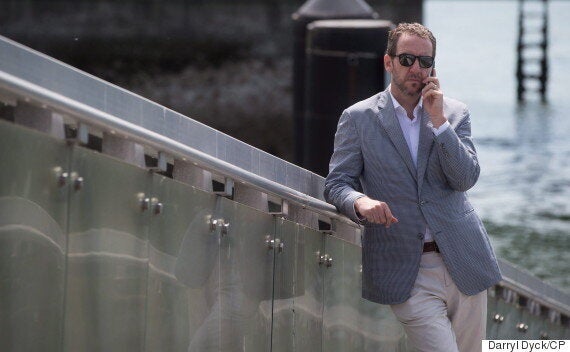 Gerald Butts speaks on his phone as Trudeau holds a news conference in North Vancouver, B.C., on Friday May 29, 2015. (Photo: Darryl Dyck/CP)
"That key insight, of real people talking to real people and using that interaction as the way to gather our data is the secret to why we are here today and two other people aren't giving this speech," Butts concluded.
The Liberals' digital campaign director Tom Pitfield told The Huffington Post Canada in April that the party spent a lot time, effort and money, reaching out online to young Canadians — a core demographic for the Grits' big win — on sites such as Facebook, YouTube, and VICE.
"We spent a lot of money doing it and reaching out to [youth] based on the content that they engaged in," he said.
While the Grits also invested heavily in technology and in a large television ad campaigns, Butts warned Tuesday that the Liberals' methods and strategy in 2015 — of out-lefting the NDP and being seen as the best option for change — likely couldn't be replicated in three and half years.
"Our campaign for 2015 won't work for 2019, we've got to invent it from scratch. We've got to question all the things that we did wrong, but most importantly we've got to question all the things we did right," he said.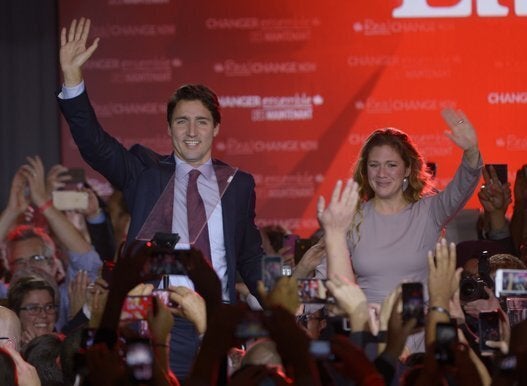 In Photos: Canada Election 2015