OTTAWA — The Liberal government is forming a long-awaited all-party committee to recommend a new electoral system and explore mandatory and online voting.
But the Grits are keeping most of the seats on the committee — raising concerns by opposition parties that whatever the government wants passed is likely to get pushed through.
"[T]his morning the Liberals stacked the deck and announced a committee that would give them complete control over changes to our voting system. That is not right. When they change the rules of democracy, everyone should have a say," Conservative interim leader Rona Ambrose charged.
"Does the prime minister have so little faith in Canadians that he thinks Liberals can change what every vote means in this country without taking it to the people in a referendum?"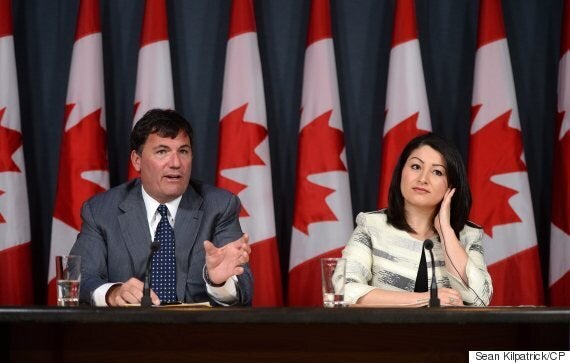 Democratic Institutions Minister Maryam Monsef and Government House Leader Dominic LeBlanc make an announcement regarding electoral reform during a press conference at the National Press Theatre in Ottawa on Wednesday, May 11, 2016. (Photo: Sean Kilpatrick/CP)
Prime Minister Justin Trudeau said he found it a "a bit rich coming from the party that brought in the unfair elections act without any consultations to try to stack the deck in its favour."
Canadians had heard the Liberals campaign pledge and supported his party with a majority to deliver on its promises, Trudeau said.
During the election, the Liberals promised to "make every vote count." The party pledged that the 2015 election would be the last conducted under the first-past-the-post system and promised that within 18 months of forming a government, it would introduce legislation to enact electoral reform.
On Wednesday, Democratic Institutions Minister Maryam Monsef said the government is fulfilling its promises by launching a national dialogue with Canadians.
"This is not about advancing a skewed partisan interest, but about giving greater and more representative voices to all Canadians to express their values, needs and aspirations in elections," she said. "This is an investment in the future of our country."
Canadians deserve broad representative politics, elections that inspire citizens to vote, representation that reflects diverse political views, and stable governments they can rely on, she added.
The new committee will be asked to release its final report no later than Dec. 1, 2016 — giving the Grits five months to come up with a new bill and meet the deadline. Monsef told reporters the committee's work will be consultative and the cabinet will retain the final say on what's proposed.
MPs will be asked to engage their constituents through town halls and provide the committee with a written report based on the input. The minister said she envisaged 338 town halls but the opposition questioned whether it is fair for MPs to only hold one town hall, especially in rural areas, and to hold them in the summer when many Canadians are away. Reports from the town halls are due on Oct. 1.
However, it's the composition of the 10-person committee — six Liberal government members, three Conservative MPs, and one New Democrat — that is raising eyebrows.
Green Party Leader Elizabeth May and one member of the Bloc Québécois will be allowed to attend meetings but will not have the right to vote or make any motions.
The committee chair will be a Liberal.
NDP critic: Liberals passed on chance to be 'courageous'
Democratic Institutions critic Nathan Cullen said the Liberals had chosen to stack the decks and "maintain their false majority on the committee."
"We believe there was an opportunity here to be courageous, and bring forward a process that Canadians could have more faith in, thereby allowing the results of whatever the committee's work is to have more legitimacy in the eyes of Canadians," he said.
Cullen pointed to the committee studying the government's current bill on physician-assisted death and noted that the Liberals were using their majority there to vote against all the opposition's amendments.
He said he expected the Liberals to propose a system of voting that made all votes equal. "The legitimacy of what the government puts forward will require the support of another major party in the House of Commons, that is also clear. Otherwise, the system of stacking the deck and excluding some voices and increasing the power of others, is what it is."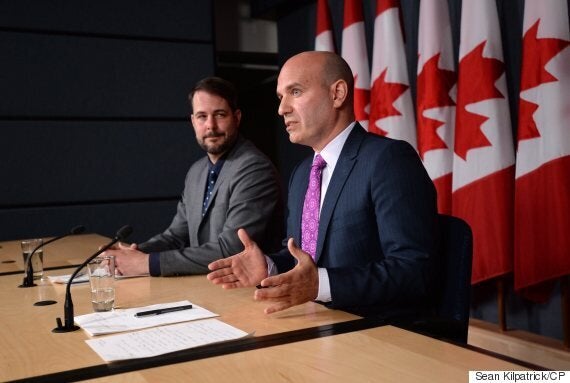 NDP MP's Nathan Cullen and Alexandre Boulerice hold a press conference to comment on the government's announcement on electoral reform at the National Press Theatre in Ottawa on Wednesday, May 11, 2016. (Photo: Sean Kilpatrick/CP)
Monsef, however, refused to commit to that.
"What we're hoping for and I would add what Canadians expect with this committee is for all of us to put our partisan interests aside. This is not about us. This is not about what's good for one party over another. This is about what's in the best interest of Canadian democracy," she said.
The minister was asked four times during her press conference how she and the Liberals — who obtained only 39.5 per cent of popular support — could say they wanted change the electoral system to find "common ground, pursue consensus, and encourage the inclusion of all Canadians regardless of their partisan positions" and yet had used their majority in the House of Commons to dominate 60 per cent of the committee's seats.
"This is not about advancing a skewed partisan interest, but about giving greater and more representative voices to all Canadians to express their values, needs and aspirations in elections."

— Maryam Monsef
"The composition of the committee that we are introducing reflects the composition of the House of Commons," she responded each time she was asked. Monsef said the Liberals had invited the Greens and the Bloc to be part of the conversation. "Frankly, that is the only committee right now that has all parties at the table."
Cullen had suggested the government allocate seats based on the proportions of vote obtained in the last election. But Government House Leader Dominic LeBlanc such a step would have drastically increased the size of the committee.
May told HuffPost in an email earlier Wednesday that she was pleased to be a member but disappointed she did not to have voting rights. She said will be seeking reassurances that Liberal MPs on the committee will be free to vote for "what is in the best interests of Canadian democracy — not their party."
Both Monsef and LeBlanc said the government would consult widely but refused to endorse a national referendum to pick a voting system calling such a decision "premature."
"The referendum question is much like putting the cart before the horse," the minister told reporters.
Right now, the government's priority is to hear from a broad range of perspective, she said, noting that she would also be touring the country and making an effort to reach out to Canadians whose voices are often marginalized.
She said she would be announcing new ways of engaging Canadians in a conversation in the coming weeks.
Conservative MP Michelle Rempel deemed the whole Liberal press conference a "charade" and continued the Tory call for a national referendum.
"Rather than this charade, the Libs should have just put their preferred system out and get reaction to it," she tweeted.
Conservative Democratic institutions critic Scott Reid told The Huffington Post Canada last month he fears the Grits will propose a system that naturally gives them the biggest partisan advantage.
"This is a blatantly, nakedly opportunistic attempt to change the rules in a way that will help them to win election 2019 or do better at it by systematically disenfranchising certain Canadians," he said.
"A government which says that first-past-the-post produces artificial mandates can hardly argue that 39 per cent in an election is a mandate for electoral reform."
Preference? No preference?
Last year, Prime Minister Justin Trudeau, then only the Liberal leader, told reporters his prefered electoral system was a preferential ballot, also known as a ranked ballot.
"The system he likes is also coincidentally the system that seems to favour Liberals, maybe not so coincidentally," said Cullen, whose party favours a mixed-member proportional representation system.
Many experts believe a ranked ballot would benefit the Liberals as they tend to be the second choice of other parties" supporters. An analysis by CBC's Eric Grenier suggest the Liberals would have won 224 seats under a preferential ballot, but only 134 seats under a proportional system. They won 184 seats.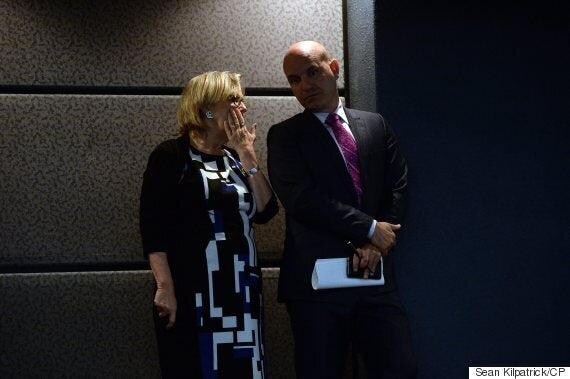 Green Party Leader Elizabeth May and NDP MP Nathan Cullen speak as they listen in on a press conference at the National Press Theatre on Wednesday, May 11, 2016. (Photo: Sean Kilpatrick/CP)
On Wednesday both Monsef and LeBlanc insisted the government was coming at the electoral reform study with an "open mind." LeBlanc told reporters there had been no cabinet discussion on the time of result the Liberals sought.
Cullen said he opposes preferential ballot because it advantages centrist parties and kills a large spectrum of ideas by pushing parties to the middle they can obtain first and second place ranking from voters.
When the prime minister was asked his preference last last month, Trudeau said Canadians, if they wanted change, would vote out any government using whatever system was in front of them.
"A good political party that has the right kind of platform or program for Canadians should be able to make any system work," he said.
Monsef outlines priorities
Monsef said, in a statement late Tuesday, that the government is committed to reform that respects Canadians" "shared values of fairness, inclusiveness, gender equity, openness and mutual respect.
"These are Canadian values, not partisan values," she said.
The values the government wants represented in a new electoral system — and the ones it wants any new system to be judged against are:
Effectiveness and legitimacy: whether it increases public confidence that votes will be "fairly translated" and distortions reduced;
Engagement: whether it encourages voting, fosters greater civility in politics, enhances social cohesion, and offers under-represented groups a chance to be included in the process;
Accessibility and inclusiveness: whether any proposed measure avoids undue complexity in the voting process;
Integrity: whether the public's trust in a secure and secret process will be safeguarded by reliable and verifiable results.
Local representation: whether any new reforms ensure the continuing link between local MPs and their communities.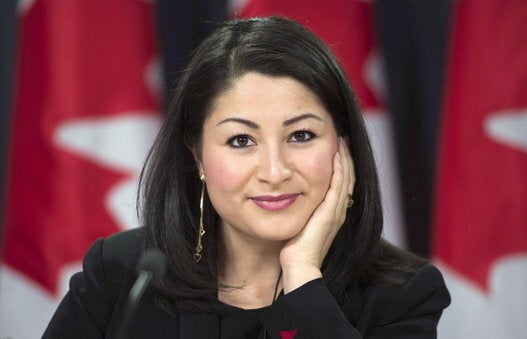 Maryam Monsef, Democratic Institutions Minister
Popular in the Community