Canadians overwhelmingly support Liberal legislation that would make it illegal to discriminate on the grounds of gender identity, a new poll suggests.
The Angus Reid Institute released numbers Wednesday exploring attitudes towards transgender Canadians and the role government should play in protecting their civil rights.
The poll found that 84 per cent of Canadians support Bill C-16, which was unveiled by Justice Minister Jody Wilson-Raybould in May. If passed, it will cement the terms "gender identity" and "gender expression" as prohibited grounds for discrimination under the Canadian Human Rights Act.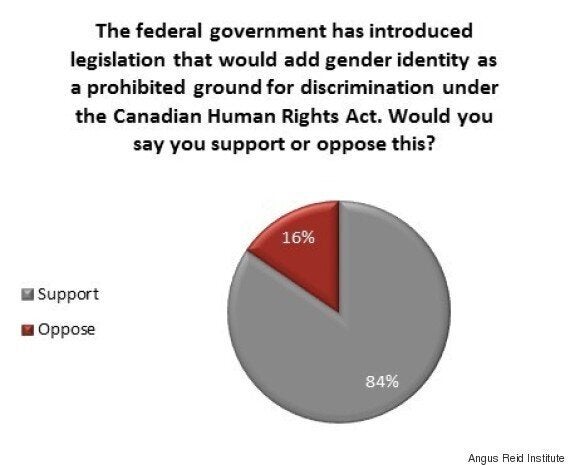 Fifty-seven per cent of respondents told the firm they "strongly support" the bill, while just 16 per cent of Canadians either "moderately" or "strongly" oppose the legislation.
A vast majority of Canadians — 85 per cent — told the firm they believe transgender people face discrimination in their daily lives. Nearly eight in 10 said they agree that Canada should "work to accommodate and protect transgender people in society."
Seventy-eight per cent of respondents told the firm that acceptance of transgender people is a "sign of social progress," and a strong majority of 71 per cent said they disagree that being transgender is "unnatural."
However, 70 per cent also told the firm that society is "too fixated on issues related to transgender people."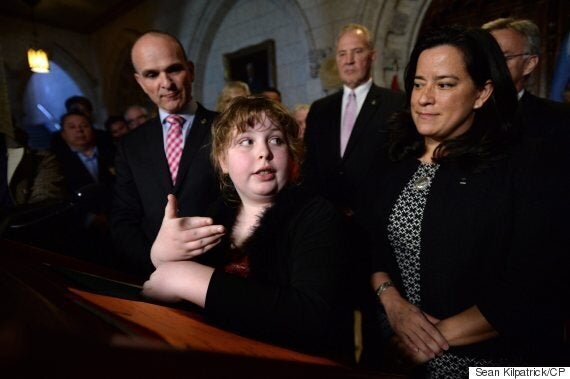 There appears to be less agreement on how governments should tackle the matter of identification and documents, such as health cards and driver's licences.
The government of Ontario has already started issuing health cards that do not display information about a person's sex or gender, a move that has come with some hiccups.
In 2017, Ontarians will also have the option to obtain gender-neutral driver's licences by selecting "X," instead of "M" for male or "F" for female.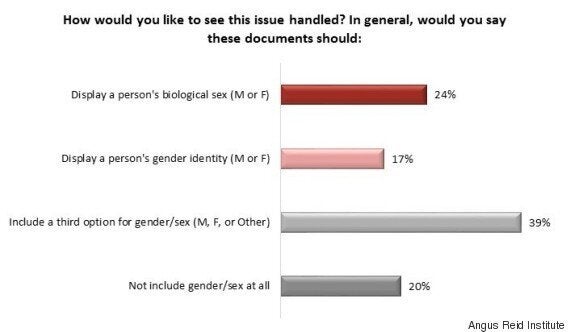 Thirty-nine per cent of Canadians said they would like to see a third option for sex and gender — "other" — included in government documents. Twenty per cent said they would prefer if gender was not included at all.
Twenty-four per cent said government documents should "display a person's biological sex," while 17 per cent said they should show a person's "gender identity."
Nearly six in 10 Canadians said they think transgender people should use the bathroom in which they would be most comfortable. Another 42 per cent think transgender people should follow "pre-set rules and regulations" on the matter.
When it comes to trans children, however, roughly two-in-three said they should use the bathroom that corresponds with their gender identity.
And a slim majority — 52 per cent — said they agreed that the "government should not be involved in deciding which washrooms transgender people use."
The online survey was conducted from July 26 to Aug. 2 among a randomized sample of 1,416 Canadian adults who are part of the Angus Reid Forum. Similar surveys have a margin of error of 2.6 percentage points, 19 times out of 20.
With a file from The Canadian Press
Vancouver Pride Parade 2016
Popular in the Community