OTTAWA — Liberal MPs urged dozens of Conservative political appointees Monday to follow the federal government's request and voluntarily resign from positions to which they were appointed in the dying days of Stephen Harper's government.
Last summer, Harper's cabinet approved the appointment or term extensions for 49 people, whose positions took effect only after the Oct. 19 election.
The Prime Minister's Office is particularly incensed over the unusual, and extraordinarily high, $1-million-plus severance packages that some appointees negotiated with the Conservative government. In total, taxpayers could be on the hook for $18.5 million to break the contracts.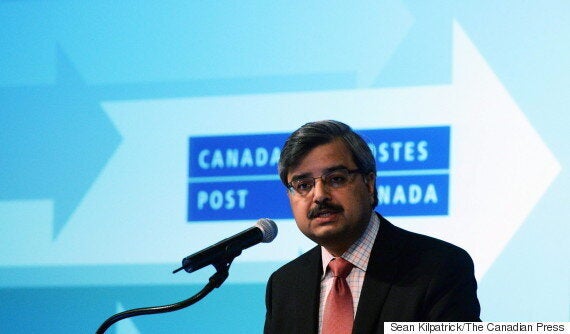 Canada Post president and CEO Deepak Chopra speaks during Canada Post's annual public meeting in Ottawa. (Photo: Sean Kilpatrick/CP)
Thirty-eight people were appointed to terms that took effect between Oct. 20, 2015, and Dec. 30, 2015. Ten people were appointed to terms starting in 2016 and one extreme case was to start in 2019. But John Badowski, the chairperson of the Transportation Appeal Tribunal of Canada, resigned his future appointment last week before being formally asked.
Canada Post President Deepak Chopra, for example, was signed on July 28 to a five-year contract extension that begins on Feb. 1, 2016, and is worth between $445,400 and $523,900 in salary alone. National Energy Board member Keith Chaulk was also signed that day to a full-time six-figure, seven-year position that began on Nov. 23, 2015, more than a month after the election. His appointment means the Liberals may have to wait until 2020 to fill any permanent vacancies to the NEB, the body that decides, among other things, what pipelines are built.
On Monday, government House Leader Dominic LeBlanc took the unusual move of writing to ask 33 appointees to resign voluntarily.
The Liberals made a commitment to establish an open, merit-based appointment system, LeBlanc wrote in the letter, in which he stated that he was writing on behalf of Prime Minister Justin Trudeau.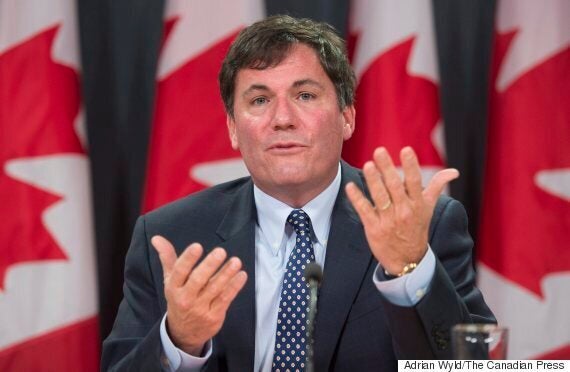 Government House Leader Dominic LeBlanc gestures during a news conference. (Photo: Adrian Wyld/CP)
"I am therefore asking that you consider voluntarily choosing to not serve pursuant to the appointment approved by the previous government. This will allow for a new selection process in which you are welcome to participate," LeBlanc wrote.
"We expect to be held accountable for the quality of appointments made during our tenure and your co-operation in meeting the expectations of Canadians is appreciated," he added.
The Liberals gave the 33 appointees until Dec. 18 to decide what they want to do.
National Energy Board appointments particularly tricky
Natural Resources Minister Jim Carr, who is responsible for the NEB and the Liberals' promise to include aboriginal and environmental voices on the board, told reporters he is counting on people's willingness to do the right thing. Some appointments, Carr confirmed, could easily be revoked but others, such as the NEB's, could not.
As HuffPost reported earlier, it would take a motion in the Senate and in the House of Commons to fire an NEB board member — an unusually difficult process that is also used to fire Supreme Court justices.
"I can't divine what would possess Mr. Harper to do this."
Ottawa Liberal MP David McGuinty said it was a "fair and reasonable request" for the government to ask these appointees to step down.
"I can't divine what would possess Mr. Harper to do this… . If the purpose was to try to influence from the political grave, so to speak, the regulatory responsibilities of different boards and agencies, that is unfortunate, and I think those who are appointed to should take up our prime minister's offer."
Montreal Liberal Marc Miller told HuffPost the Tories appointments "don't seem right" and he backs his government's request.
"They should probably take their honour and do the right thing and resign," added fellow newbie Liberal Winnipeg MP Robert-Falcon Ouellette. Individuals may be qualified, he said, but their appointment should be reviewed in order to ensure that they line up with the "philosophy of the government."
Not so fast, Ambrose says
Interim Conservative Leader Rona Ambrose told reporters that the Tories' appointments were merit-based and that the Liberals should review them before assuming people were appointed for their partisanship.
"[J]ust because it was a Conservative government doesn't mean none of these people are qualified. There's a lot of incredibly credible, qualified people," she said.
Manitoba Conservative MP James Bezan told HuffPost the Liberals could just pay out the millions in severances if they wanted their own people appointed.
"These are people who serve at the pleasure of the government, and the government can let people go at any time if they want to do that and pay the severance packages out and use taxpayers money in that way. That's up to them," he said.
The Liberals have been trying for two weeks to figure out what to do about the Tory appointments — after discovering the issue in an iPolitics story that the bureaucrats had failed to warn them about. It remains unclear what Trudeau will do if few appointees take him up on his request they resign.
Individuals who are getting letters:
Wayne B. MacIntosh, director of Canada Lands Company Limited
David Joel Somer, member of Social Security Tribunal
Raymond Raphael, member of Social Security Tribunal
Roy Wong, citizenship judge on Citizenship Commission
Gerard J. Fitzpatrick, director (P.E.I.) of Canada Revenue Agency (Board of Management)
Sandra Cawley, member (B.C.) of Payments in Lieu of Taxes Dispute Advisory Panel
James White, member (NWT) of Payments in Lieu of Taxes Dispute Advisory Panel
Aletta Anne King, member (Yukon) of Payments in Lieu of Taxes Dispute Advisory Panel
Neil Kenneth Tedstone, member (N.L.) of Payments in Lieu of Taxes Dispute Advisory Panel
Guy Parent, veterans ombudsman, Office of the Veterans' Ombudsman
Clarence T. Jules, chief commissioner, First Nations Tax Commission
Danièle Dion, vice-chairperson and member, Great Lakes Pilotage Authority
Robert Joseph Bebbington, member of Immigration and Refugee Board
Haig Basmajian, member of Immigration and Refugee Board
Anthony Peter da Silva, member of Immigration and Refugee Board
Edward Earl Aronoff, member of Immigration and Refugee Board
Maria de Andrade, member of Immigration and Refugee Board
Keith Chaulk, member, National Energy Board ** new appointment
Robert Bruce Ellis Hallsor, director (users), Prince Rupert Port Authority
Stephen J. Mallory, director, Via Rail Canada Inc.
Ray Castelli, chairperson, Canadian Commercial Corporation
Olga Luftig, member, Canadian Human Rights Tribunal
George Ulyatt, member, Canadian Human Rights Tribunal
Marian Tyson, member (N.S.), Payments in Lieu of Taxes Dispute Advisory Panel
George N.F. Hungerford, Canadian representative, North Pacific Anadromous Fish Commission
Daniel Gosselin, chief administrator, Courts Administration Service
Deepak Chopra, president, Canada Post Corporation
Leanne M. Lewis, chairperson, Canadian Centre on Substance Abuse
James A.S. Legh, member (B.C.), Payments in Lieu of Taxes Dispute Advisory Panel
Surinder Pal, member (Manitoba), Payments in Lieu of Taxes Dispute Advisory Panel
Carolle Brabant, executive director, Telefilm Canada
Margaret Louise Beckel, director, Canadian Museum of Nature
Mark O'Neill, director, Canadian Museum of History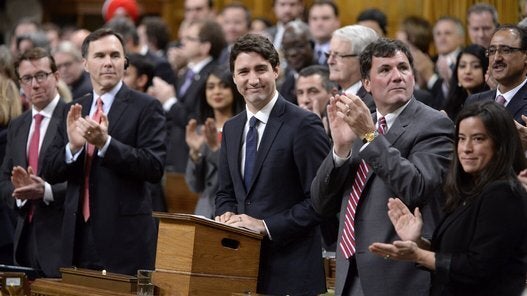 Canada's Parliament Returns

Popular in the Community