OTTAWA — "You'll need to volunteer yourself for this," reads a tag line at the bottom of a GIF the Liberal party used to mobilize young Canadians during the last federal election.
The GIF is a scene from "Arrested Development," the critically acclaimed television show, in which socially inept Buster tells his brother, Michael: "Mom volunteered me for the army. Just because the fat man dared her to."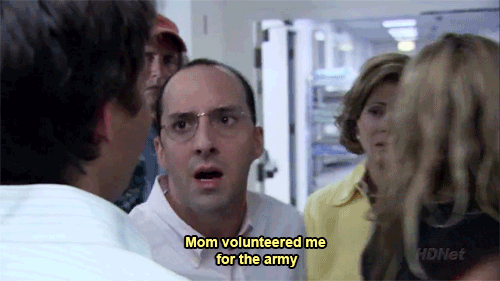 The GIF on the party website includes only the first part of that quote, but it is one of several pieces of content the Liberals used last fall to connect with and encourage young voters to cast a ballot.
Six months after the last election campaign, the impact of the Liberals' outreach to 18- and 24-year-olds — a fully developed media campaign that addressed young Canadians on issues such as marijuana legalization, youth jobs, the environment, affordable post-secondary education and the rights of lesbian, gay, bisexual, transgender, queer/questioning and two-spirited people, otherwise known as LGBTQ2 rights — is getting more attention.
A new survey out Tuesday from Abacus Data suggests young Canadians were critical to the Liberal party's majority victory on Oct. 19.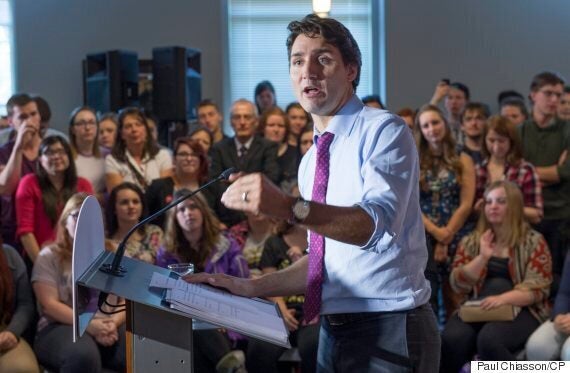 Liberal leader Justin Trudeau addresses students and staff during a campaign event at St. Thomas University Wednesday, October 7, 2015 in Fredericton. (Photo: Paul Chiasson/CP)
Forty-five per cent of Canadians aged 18 to 25 voted Liberal, compared with 25 per cent for the NDP and 20 per cent for the Conservative Party, the online poll of 1,000 suggests.
More young people voted for the Liberals in every region of the country, including in Alberta, than for any other party.
The Liberals' gains came mostly at the expense of the NDP, the Abacus survey indicates. Forty-three per cent of young voters who had gone NDP in 2011 voted Liberal in 2015, while 29 per cent of young Tory voters switched to the Grits.
The online survey of Canadians aged 18 to 25 was conducted between Feb. 8 and 15. The margin of error for a comparable probability-based random sample of the same size is +/- 3.2%, 19 times out of 20.
'Young people coalesced around one option'
"Young people affected the last election in a way they haven't in the past," David Coletto, the CEO of Abacus Data, told The Huffington Post Canada. "We see much higher evidence of a higher turnout among those under 34, and, really for the first time since 1997, young people coalesced around one option."
Coletto said he believes "young people really gave the Liberals a majority."
"The Liberals probably would have won, had [youth] turnout been what it was in 2011, but I think [the increase in the youth vote] really pushed them over."
While the Liberals' vote grew by double-digits across all age groups, Coletto's survey suggests that the increase in support among young people was most impressive as it represented a 30-point swing among voters aged 18 to 29 and a 31-point swing among those aged 30 to 44.
His findings are similar to a Statistics Canada survey from February that also reported a 12-point increase in voter turnout for youth aged 18 to 24, and an 11-point increase for those age aged 25 to 34.
Youth influence not so 'trivial'
Young people have a "trivial influence" on election outcomes because of their declining voting rates, Graves told HuffPost.
"If the youth voted, it would change a lot," Bricker added. "But you first need them to show up."
Young people, he said, don't vote because they don't think their vote matters.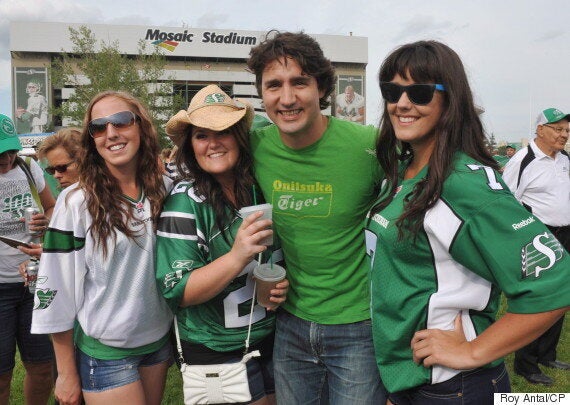 Liberal Leader Justin Trudeau poses with Caitlynn Charteris, Jay Cee Hebron and Tory Shynkaruk as he visits the Saskatchewan Roughrider practice field on Friday, July 5, 2013, in Regina. (Photo: Roy Antal/CP)
During the 2011 election, Elections Canada estimated, less than 39 per cent of young Canadians cast a ballot. In 2008, the agency's best guess was that 37 per cent of 18- to 24-year-olds had participated.
Canada's chief electoral officer, Marc Mayrand, was particularly concerned about the low turnouts.
"If young people understood their collective influence and started to vote at the same rate as the general population, then that would mean 700,000 more votes at the election. That is bound to have an influence," Mayrand told HuffPost.
While it may not have been a sure bet, Liberals did set out to engage what they believed would be a core demographic for their electoral strategy, and they devoted considerable resources to involving young people, especially in the last weeks of the 2015 election.
Betting on youth proved expensive
At the outset of the campaign, the Liberals found identifying young voters online to be expensive, said Tom Pitfield, the person responsible for the Liberals' digital campaign and the current head of the think tank Canada 2020. So the party focused on other segments of voters, while it knocked on campus doors and pushed its message out to young people through shareable campaigns.
As HuffPost first outlined in a piece about the Liberals' winning strategy immediately after the election, Trudeau's team designed a campaign titled #matters that focused solely on young people's issues. A microsite, built by Pitfield's team of 20-somethings, included compelling digital videos featuring real people, some of which went viral and helped the Liberals spread their message beyond the youth demographic to their parents, teachers and siblings.
A few days before on-campus advance polls opened on Oct. 5, the Grits made a big and expensive push on Facebook, Youtube, and Vice, among other sites, to get their message out, Pitfield said.
Trudeau also sat down for with Vice for a town hall in which he urged young people to head out to the polls, a key point of the #matters campaign, telling them "Stephen Harper doesn't want you to vote." The clip went viral.
"We hit hard," Pitfield said. "We spent a lot of money doing it and reaching out to [youth] based on the content that they engaged in."
The Liberals were also aided by having a party leader who was, in Pitfield's words, "likeable" and who connected well with young people.
"We did use it to our advantage in any way we could."
The Liberals' electoral strategy depended on bringing new voters to the polls, and they did. Voter turnout rose from 61.1 per cent in 2011 to 68.5 per cent — the highest since 1993.
"I think the lesson is: Don't write off young people. Don't write them off as being apathetic and unengaged."

— David Coletto, Abacus Data CEO
Getting young people out to vote was also helped in part by an Elections Canada pilot project that included new polling stations on some university campuses and in community centres.
Another reason for the higher voter turnout among young Canadians, Coletto suggests, is all the get-out-the-vote campaigns by organizations such as Apathy is Boring and the Canadian Alliance of Student Associations, which commissioned his survey. More than one-third, 37 per cent, of the voting youth reported being encouraged to vote by an organization working to increase turnout among younger voters, the Abacus survey suggest.
Millennials a force in 2019
So what does it all mean?
Coletto believes the young people — millennials, those born between 1980 and 2000 — could constitute the largest voting group in 2019, becoming an influential and powerful block.
"I think the lesson is: Don't write off young people. Don't write them off as being apathetic and unengaged."
For Trudeau's government, keeping young voters happy and engaged is key to a successful re-election strategy, Coletto added.
So far, he sees signs the Liberals are listening to their younger demographic of voters. Trudeau appointed himself minister of youth, and the federal budget included many policies and programs aimed at youth employment and affordable post-secondary education, he noted.
"It's not easy to get young people engaged and get them to turn out again, so I think the results suggest that as we head towards the next election, as far away as that is, this government, probably more than any government before, has a real motivation to keep young people engaged … and I think that's a fundamental change."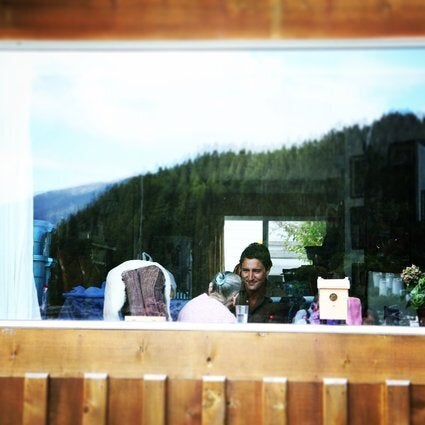 Trudeau's Photographer Explains Favourite Shots