OTTAWA — TransCanada's Energy East project and Kinder Morgan's twinning of the TransMountain pipeline will not be forced to submit to an entirely new review process, the Liberal government says.
Natural Resources Minister Jim Carr and Environment Minister Catherine McKenna are scheduled to announce new rules for the review of energy projects in Canada after the markets close on Wednesday.
"We know that to get resources to market, you have to do it in a sustainable way," McKenna told reporters Tuesday.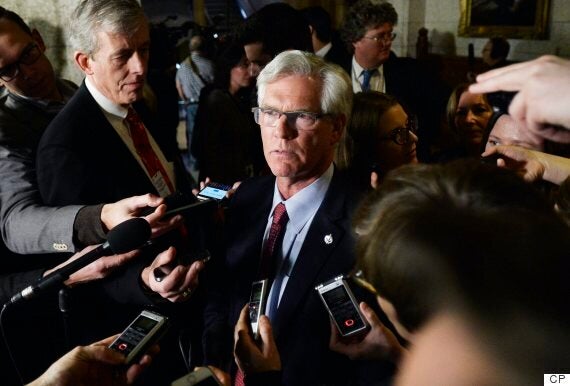 Natural Resources Minister Jim Carr speaks to reporters in Ottawa. (Photo: CP)
"As part of our mandate, we said that we would assess greenhouse gas emissions, including upstream emissions, and that's what we're planning to do."
Some projects, such as the controversial TransCanada Corporation's Energy East pipeline — which will transport crude oil from Alberta and Saskatchewan to refineries in Eastern Canada — and the Kinder Morgan project, will fall under a "transition process."
That means the projects will have to submit to new greenhouse gas emissions assessments but will not have to begin their National Energy Board reviews from square one, McKenna said. Kinder Morgan hearings are currently under way. Energy East's hearings have not yet been held, but the project submitted its application to the National Energy Board in 2014.
McKenna told reporters the federal government's new measures are designed to ensure that energy projects can have the trust of Canadians or can regain the trust of Canadians that had been lost through past evaluation processes.
Not what Liberals promised: Mulcair
NDP Leader Thomas Mulcair lashed out at the government, saying these types of reform were not what the Liberals had promised.
"What Mr. Trudeau promised during the election campaign wasn't a little bit of a patchwork on top of the existing system," Mulcair said. "He said these evaluations would have to be redone and they would have to be redone after they [the government] had put in place a clear, thorough and credible environmental assessment process."
"What we learned yesterday from the environment commissioner is that that basis, that foundation is completely defective. So you can't build solidly on a defective foundation. You have to start over again."
War of words between West, Quebec
Last week, Montreal Mayor Denis Coderre unleashed a torrent of criticism when he announced, along with mayors representing the 82 jurisdictions of the Montreal Metropolitan Community, that he was adamantly opposed to the project. The mayors cited environmental concerns, specifically possible contamination of the drinking water supply.
Western politicians lashed out at Coderre, and Quebecers in general. Saskatchewan Premier Brad Wall suggested Quebec should back a region of the country that had provided the province with billions in equalization payments, while Alberta Wildrose leader Brian Jean said Montreal was being hypocritical after dumping its raw sewage in the St. Lawrence River.
Prime Minister Justin Trudeau stepped in and met with Coderre on Tuesday. After what appeared to be a friendly meeting, Coderre told reporters he was open to changing his mind, but only if Energy East did its "homework."
"Energy East must change its project, and then we will see," he told HuffPost.
Trudeau told reporters that he thought his job was to play the role of a "responsible referee" to find ways to export Canada's products and resources abroad in a responsible way.
"My responsibility as prime minister is to make sure that, on national projects, we are behaving in a way that both contributes to the economy, to a secure environment, to bringing people together and to creating a better future for future generations."