On Friday, the actor and his ex-wife, Naomi Watts, took their two sons — nine-year-old Sasha and eight-year-old Kai — to San Diego Comic-Con. Naturally, the boys dressed up in costume, with Sasha going as a Jedi from "Star Wars" and Kai going as Harley Quinn from "Suicide Squad."
"This is a WTF moment. A boy dressed as a girl 😳," one wrote.
"He's a boy!! Why he dressed up like Harley Quinn??" another said. "Comeon daddy. He's boy. Make him A BOY."
And one even added, "What is wrong with society in this day and age. Poor child. Now that is the first steps of having life issues at a later time."
It's a boy playing dress up. I'm sure more than half of you pretended to be the opposite sex once or twice as children.
Many also made assumptions about Kai's sexuality, claiming he must either be gay or trans because he chose to dress up as a female comic book character.
"I'm glad he's letting his son be who he wants to be, but I guess we have a good idea that he won't really be a son for very much longer," one commented.
Some fans came to Schreiber and his son's defense, explaining to haters that playing dress up is an innocent and normal part of childhood.
"Just because he wanted to dress up like harley quinn does not mean he is trans, maybe he just felt like it, but none of us can speak for him or his father," one user snapped back. "Instead of rambling, open a book. It's a boy playing dress up. I'm sure more than half of you pretended to be the opposite sex once or twice as children. This is one of the most innocent things and you all shatter it with disgusting social constructs."
Many also applauded Schreiber for destroying gender constructs and for letting his son be whoever he wants to be.
"This makes me so happy, instead of fucking his kid up with gender constructs about how to play he's allowing his kid to safely have fun and encouraging his imagination," one said. "Boys can play with dolls, girls can play with trucks...If this causes you to be so angry you have to ask yourself, why are you so scared?"
There has always been a double standard when it comes to gendered clothing. It's socially acceptable for girls to wear boys' clothes, but not the other way around. A prime example of this is Jaden Smith, who has previously faced backlash for wearing dresses.
In an interview with Nylon last year, the 19-year-old explained why he's trying to break gender stereotypes: "So in five years, when a kid goes to school wearing a skirt, he won't get beat up and kids won't get mad at him."
Moral of the story: just let kids be kids.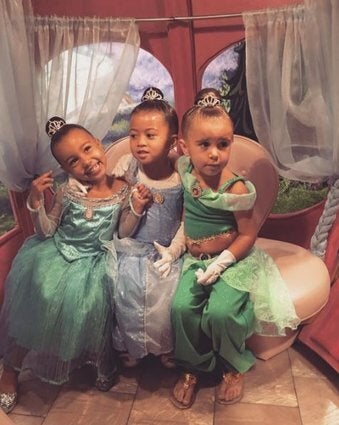 Celebrity Kids Who Dress Themselves