A few years ago, before we had even started writing songs together, Classified asked me to play trumpet at one of his shows. I was in the green room warming up when Maestro Fresh Wes walked in. You've got to understand that Maestro was one of my heroes growing up. I knew every last second of "Symphony in Effect." I just had to tell him. I said, "Man, I've been a huge fan for a long, long time. It's a real honour to meet you". He turned, gave me a fist bump and said, "Respect."
That was the first of many entirely unexpected experiences I've had working with Classified. Just this morning, a couple minutes before I sat down to write this article, there was a knock at my door. It was a dude from Purolator with my first Juno in his hands. I had dreamed of this moment before, but I must tell you, I certainly never expected it to be for Rap Recording of the Year! But heck, I'll take it.
Yes, Classified and I are an unlikely combination. I'm a guy who learned music on the trumpet -- taking lessons, learning theory, playing in the school band, Royal Conservatory, that whole route. Class learned by making beats, writing rhymes, sampling records, cutting and pasting. But that's part of the reason why I think the collaboration works. We hear things in totally different ways. Where I hear harmony and structure, he hears energy and momentum.
About a year ago I went out to Classified's studio and sang about 14 songs -- trying to find something we could collaborate on. Just as I was about to leave, and I swear this is true, I remembered one more idea that I hadn't quite finished yet. It was just a groove and a couple verses, nothing else. I played the guitar part and sang: "I read the rules before I broke 'em." Class looked up immediately and said: "That's it." As with everything we've worked on, the song became something quite unexpected. He wrote his verses, we worked on the choruses together and we ended up with "Inner Ninja": a song about tapping into your inner strength to overcome life's obstacles. We went back and forth for days about whether the whole "ninja" concept was too quirky. We knew people were either going to love it or hate it. The song went on to become one of Canada's biggest-selling hip hop singles of all time!
I'm now living a bit of a double life. Last week, Classified and I played the Much Music Video Awards. There I was, surrounded by thousands of screaming teenagers -- and I'm up there rocking it in my suit, glasses and my quickly-greying hair. The weekend before that I was the feature performer at the 50+ expo in Halifax (one of Atlantic Canada's biggest seniors' events). Admittedly, these are totally different worlds. But strangely, I now feel at home in both. I feel at home, because in each case, I'm just being myself. And if I've learned anything about hip hop from Classified it's that the most important thing is to keep it real.
Classified has become one of Canada's biggest rap stars because he tells his own story, not someone else's. He doesn't pretend he's from the city, or that he's had a rough past on the streets. He lives in a small Nova Scotia town and he's still tight with many of the friends he had in elementary school. And that's the story he tells. Because he tells that story -- his story -- it works. It's an important lesson: don't try to be something you're not. A couple months ago after a Classified show in Edmonton, I ran into a fan. He looked at me, amazed, and said: "Hey, aren't you the guy who plays the nerd in the video?" I sure am. I don't play the nerd, I AM the nerd.
A few weeks back, Class and I performed as a duo (just me on guitar and vocals and him rapping) at The Source Magazine headquarters in downtown Manhattan, right beside Puff Daddy's studio. The Rolling Stone Magazine of rap -- revered by hip hop fans everywhere. If I ever had a reason to worry about not fitting in, it would be here. We walk in and there are 15 people around a table: critics, writers, videographers, editors -- everyone is there. And these guys know hip hop. We play "Inner Ninja."
Then, from the back of the room, the biggest dude there stands up andsays: "That was so dope!" I look at him and say, "Respect."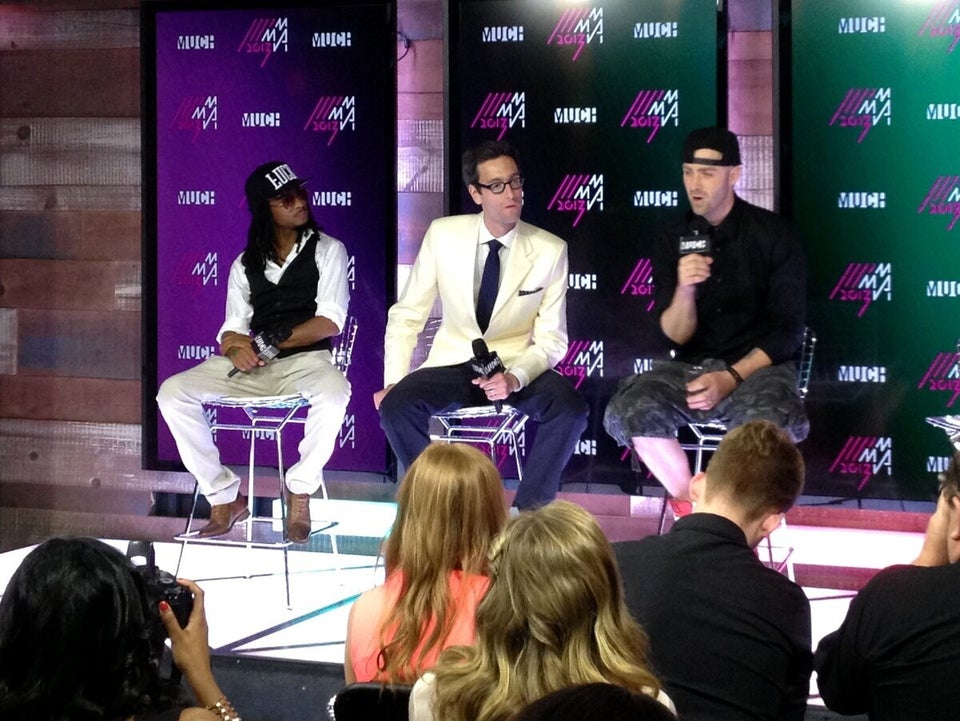 Behind The Scenes At The 2013 MMVAs