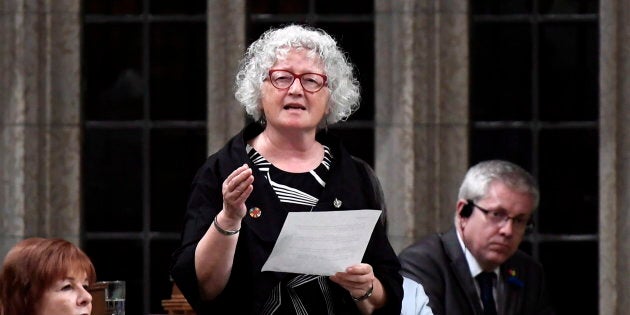 Federal Conservative strategists say they are worried about the competitiveness of their New Democratic Party rivals, just as another veteran NDP MP joins a growing list of party stalwarts headed for the door.
Edmonton Strathcona MP Linda Duncan, the lone NDP MP from Alberta, announced Tuesday that she will not run again in the 2019 election. Duncan, first elected in 2008 when Tories won every other seat in the province, said in a release that it was time to "pass the torch to another."
Her announcement comes one day after another veteran MP, London-Fanshawe's Irene Mathyssen, revealed she also plans to retire from politics next year. Mathyssen was first elected in 2006 in the battleground city where all three major parties are competitive.
In total, seven NDP MPs have chosen not to run again, including former leader Tom Mulcair. He resigned his Montreal-area Outremont seat earlier this summer and it is widely believed the traditionally Grit riding is the Liberals' to lose. The NDP currently has 42 caucus members.
NDP Leader Jagmeet Singh, who had previously mused about waiting until the 2019 to take a shot at a seat in the House of Commons, is now running in the upcoming Burnaby South byelection. It was sparked by the exit of longtime B.C. MP turned Vancouver mayoral hopeful Kennedy Stewart.
Listen to the latest from "Follow-Up":
The party is polling around 17 per cent in public opinion surveys and the Tories need the NDP to be stronger to pull votes from Liberals in tight three-way races, especially in Ontario.
"I hope that Mr. Singh will win this byelection in Burnaby South," Leclerc told HuffPost, despite the Tories planning to run a candidate there.
"We need to see him more. He needs to be more proactive, so we need to make sure that the NDP has a strong leader in the House, [and] some exposure."
Jason Lietaer, a Conservative strategist, said he's concerned that the NDP doesn't seem to have a plan to do better.
"If you are hoping for a Conservative government, this is an existential threat," Lietaer said.
"We won't win the election if [the NDP] is at 10, or 15, or 18 per cent in the polls, that is the truth, we all know it. We can all do the math."
Duncan had been caught in the middle of an ongoing feud between the Alberta NDP government and Singh over the expansion of the Trans Mountain pipeline which Premier Rachel Notley supports and the federal leader opposes. Notley has publicly blasted Singh's pipeline position as "naive."
Earlier this summer, popular Hamilton Centre MP David Christopherson, a fixture in the House since 2004, said he would not seek re-election.
Christopherson was briefly punished by Singh for breaking party ranks and voting for a Conservative motion condemning an attestation requiring any group applying for Canada Summer Jobs grants to respect abortion rights. NDP MPs, including Singh's former leadership rival Charlie Angus, publicly criticized the party leader for disrespecting a senior member.
Northern Quebec MP Romeo Saganash, who also complained about Christopherson's treatment, has also said he won't re-offer in 2019.
Last month, Quebec MP and foreign affairs critic Hélène Laverdière announced her plans to leave politics after the next election, citing a desire to spend more time with family. Laverdière had defeated former Bloc Québécois leader Gilles Duceppe in 2011 and in 2015 to win her seat.
Laverdière told HuffPost Canada at the time that it shouldn't been seen as a harbinger of future trouble for the party that experienced New Democrats are leaving politics.
"It's a very rewarding life to be an elected representative but it's also very, very demanding," she said.
NDP 'positive' about fundraising
In the latest Elections Canada quarterly report, the NDP reported raising $872,401 from 12,451 donors over the three-month period ending on June 30. The Liberals raised $3,099,217 from 31,692 contributors and the Tories reported pulling in a whopping $6,045,466 from 40,908 individuals.
NDP spokesman Guillaume Francoeur suggested to The Canadian Press this summer that the numbers might be lower because of an internal policy of not fundraising during contests like this spring's Ontario election.
He said the NDP was on pace to replay its 2015 campaign loan in the coming months that the party was feeling "very positive about our fundraising as we enter an election year."
Lietaer and Leclerc joked that the Tories should perhaps lend a helping hand.
"Maybe as Conservatives we ought to start giving some money and advice over to Jagmeet Singh," Lietaer, a Tory strategist under former prime minister Stephen Harper, said.
"Some fundraising," Scheer's chief of staff added with a smile.
With a file from The Canadian Press