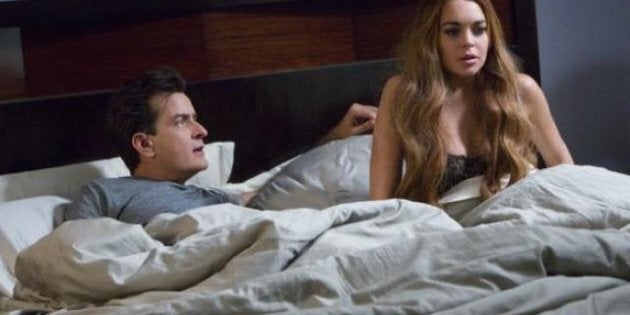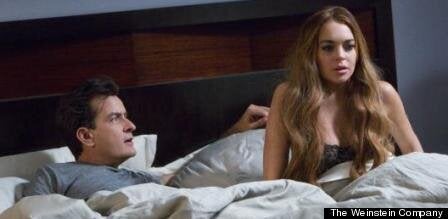 Charlie Sheen has already donated $100,000 to the Lindsay Lohan Scholarship Freeloader Fund, not to mention arranging for a stylist to hook her up with a fancy designer dress (which she ruined by shredding it like a DIY project). But, instead of, I don't know, paying him back, Sheen figured he'd use LiLo for his own evil purposes and get the actress to guest-star on his show, Anger Management. And, what a coincidence -- she guests on the same week Scary Movie 5, in which they both cameo, hit theatres (not that it made any sort of impact).
The only show that's less funny than AM is Sheen's former show, Two and a Half Men, so I fully expected to hate everything about it. I figured after the half-hour was up, Lohan was going to wish her twin from The Parent Trap was real, or she could have done a little Freaky Friday switch-a-roo action with one of AM's other cast members, but actually, Lohan is probably the best thing about the episode, maybe even the best thing about the series thus far. I know, I know, not exactly rave reviews, but she isn't that bad. Perhaps it's because Lohan is playing herself, or rather, a sweet, exemplary version of herself. (Or rather still, the way Lohan truly sees herself. Yep, delusional as ever.)
In AM (which already aired on FX in the U.S. but premeres tonight on CTV), Lindsay Lohan is an innocent, sober homebody who just wants an ordinary life where she can shop for groceries without the paparazzi following her every move. Pfft. It's probably the most diverse role of her career. The lines her character are given were fairly amusing and Lohan plays the self-deprecating parts decently. But it's everyone else, even Sheen, who get the short end of the writers' sticks, though to be honest, I think that's a regular occurrence and Lohan just got lucky.
The episode plays up Lohan's notoriety, except there is good reason for all of it. All the things we read about Lohan are all part of the joke. She drinks and snorts too much, she steals anything that isn't nailed down; basically, she is everything that is wrong with America.
In real life, Lohan is an inspiration to hot messes everywhere. She's a diva, gets photographed in compromising, crack-y positions, destroyed a designer dress that was on loan, was caught stealing and with empty liquor bottles in her car. On AM's skewed version, Lindsay refuses to do a commercial because it exploits her struggles, eats a messy powdered donut, Charlie pulls a thread that ruins her dress, mistakes his daughter Sam's sunglasses for Lohan's, and the questionable empty bottles are from Sam's school recycling project. See -- Linnocent!
Funny enough, the episode manages to make fun of both Lohan and Sheen -- who is infamous for his own meltdowns but managed to go from #WINNING with tiger blood coursing through his veins to, gulp, mentor -- but they both play along and work quite well off one another.
For all of us who thought Lindsay Lohan forgot how to act and lost her talent like a fried extension, we were wrong. Lohan might even expect some sort of public apology but she may as well be asking for an Oscar and a unicorn while she's at it. At best, LiLo did confirm her acting skills are still as sharp as ever -- when she wants them to be -- and is probably hoping by the time she's out of rehab (this year), someone will want to hire her.
Really, though, her AM episode reminded me of that beautiful, red-haired, freckly Mean Girls star who was the next It girl, and it almost made me forget Liz & Dick. Almost. Unfortunately, there are just some things you can't unsee.
Anger Management airs Mondays at 8 p.m. ET/PT on CTV in Canada and on Thursdays on FX in the U.S.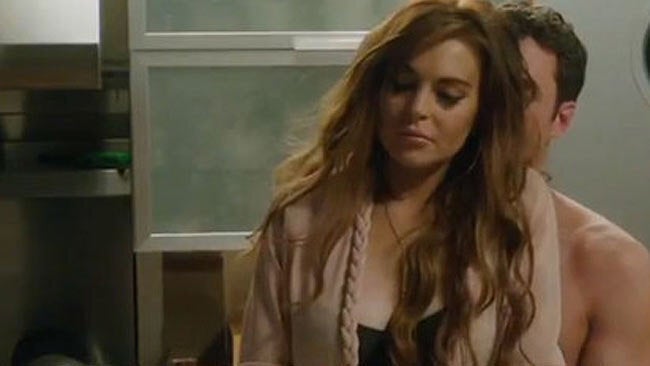 Lindsay Lohan