When many of us think of "nude" tones, a light, beige colour probably comes to mind. The only problem is that not everyone's skin tone matches that hue.
One woman in particular, Toronto native Chantal Carter Taylor, has taken notice of the lack of options for women of colour in the underwear department for years. So she decided to create her own brand.
That's how the Love and Nudes was born, an inclusive line of nude underwear that matches the various skin tones of the women Taylor hopes will rock her products.
"We're developing a line of bras and panties that represent the diverse colours of the world," the fashion industry veteran tells the CBC. "I wanted to create something that was for us, by us."
Although Carter Taylor's line appears to be the first of its kind in Canada, in the U.S., businesswoman Catalina Girald created Naja lingerie last year after noticing African American Olympic gymnast Gabby Douglas wearing "nude" ankle wraps that didn't match her skin tone. It was at that point she realized there was a gap in the clothing industry when it came to catering to women of colour.
"We're all beautiful in our own way, in our own skin tone, colour, whatever that is. Just be your own beauty."
The need for more options when it comes to "nude" tones are vital, since women of colour have been left out of the conversation, and media imagery, for so long.
"As a group, [women of colour] are still fighting to have our beauty recognized," she said. "Part of feeling beautiful is looking like ourselves."
"I feel it is imperative that women of colour be represented in bras, panties, and lingerie," she added. "We shouldn't have to go to a specialty store, on a goose chase, or spend a fortune to get a bra that looks more like us. Being ignored is a slight. Every time I shop for bras, I am subjected to a micro-aggression."
As for Carter Taylor, while the Love and Nudes line won't be available for purchase until May 2017, she already has high hopes for the success of her brand.
"Love and Nudes is about more than just undergarments," she tells The Huffington Post Canada. "We're creating a brand that empowers women to love their skin."
"Our goal is to create a global community designed to celebrate, connect and share one another's individuality and showcase the beauty of difference through our #OwnYourTone video series," she adds, "where we showcase women of colour in our communities who are doing positive things to inspire others to live their best lives."
The #OwnYourTone series focuses on women of colour owning their voice and skin tone, Carter Taylor says. And works as a storytelling campaign that shows girls and women what's possible when they love the skin they're in.
"We're all beautiful in our own way, in our own skin tone, colour, whatever that is," the designer shares in her CBC interview. "Just be your own beauty."
CORRECTION: An earlier version of this story referenced Chantal Carter Taylor's last name as Taylor only, when it is actually Carter Taylor.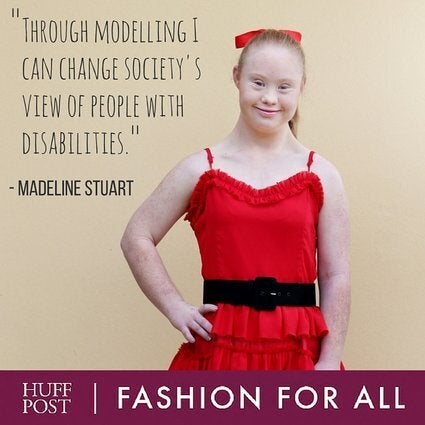 Quotes On Why Diversity In Fashion And Beauty Matters