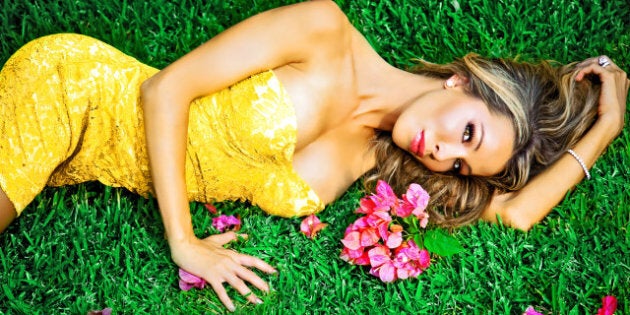 "So many people ask me how I keep myself in such good shape," says Lisa Hochstein, a Toronto native who is currently starring in Bravo's The Real Housewives of Miami. "But working out and eating good is really it ... and a lot of people don't understand that concept."
The 30 year old, who's posed for Playboy three times and is married to plastic surgeon Dr. Lenny Hochstein (known as the "Boob God"), might be simplifying matters slightly. She admits she's been lean her whole life, and taking care of her body certainly informs her daily routine.
"I try to work out four days a week," she tells The Huffington Post Canada, describing a routine that alternates between thighs and triceps, glutes, hamstrings and quadriceps, and abs and calves every day.
A lifetime of dance — she trained in ballet and jazz — and a love of pilates makes the 5"4, 110-pound self-described housewife a tiny force to be reckoned with. But does that mean she's never had work done? Definitely not.
"I want to remove the stigma, because everything thinks I've had head-to-toe plastic surgery and that's not the case at all," she says. "I had a breast augmentation that my husband did correct, and I actually had to convince him to do it. And I had a rhinoplasty, which was so minor my friends didn't even notice. It was something I didn't like about myself. I feel like if you're not hurting anyone, why shouldn't you change it?"
But despite believing that one shouldn't have regrets, she does have some misgivings about those three Playboy shoots.
"It's something I did, but it's something I kind of wish I didn't do," she admits. "At the time I really glamourized it, but it was a really glamourous thing then. But now those pictures are out there for everyone to see, and it's not something I'm proud of."
"It's been a positive thing to open up about, which I didn't think it was going to be," she says. "Women of all different ages are sending me messages of hope and concern, telling me about all these different techniques I didn't know about. It's really nice to see how people can relate."
She's also found solace in her castmates on the show.
"I think right now Karen is one of my favourites and I feel like she really cares about me, which is one of the reasons I opened up to her about my struggles with having a baby," she explains. "During filming, it's definitely me and Karen and Joanna, we're like a group. I really don't take sides when there's conflicts otherwise."
The Real Housewives of Miami is on Bravo on Thursdays at 9 p.m. (EST) — and promises a blow-up with Thomas Kramer, one of Miami's "big personalities," this week.
SEE: Lisa Hochstein's tips for eating healthy and staying fit: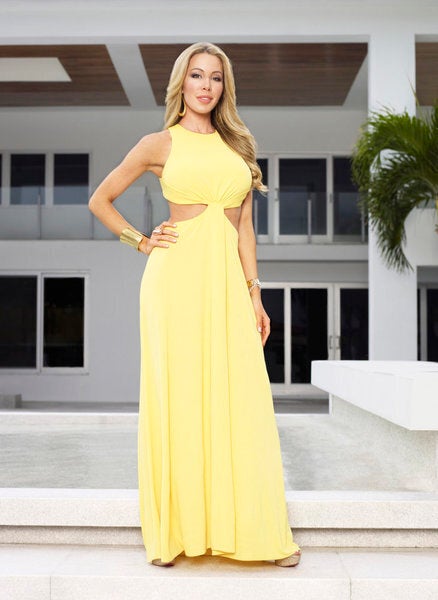 Lisa Hochstein's Fitness And Diet Secrets
"I may look very tiny, but I'm very healthy — I eat as much as I'm supposed to, but I eat in a healthy way. People come up to you and say, 'You need to gain weight', but that would make me unhealthy, and that's not the best way to have a child."
"A lot of people end up eating later, when they're not supposed to," says Lisa Hochstein, Real Housewife of Miami. "I get up whenever my husband gets up — anywhere between 7:30 and 9:30 — and make make protein pancakes: Cottage cheese, oatmeal, cinnamon, Splenda and egg white. You mix that together for a pancake batter and put honey or peanut butter on it."
"I work on my abs and calves every day, because I just feel like that is a smaller muscle group and it never gets too bulky. I feel like it's a woman's trouble area."
"I highly recommend getting a trainer for someone who hasn't worked out before, because it can be so overwhelming. I think it's even a good idea for myself, someone who now knows about exercise, to get a trainer every once in a while, because you can learn so much from people who know new techniques."
"I'm always taking the stairs instead of the elevator - it's all about the little things you do, and all the little things that can make us gain weight and be lazy."
"I always carry a fruit and nut bar, so if i'm on the run, I stick that in my purse with an apple or banana, so I don't indulge at Starbucks with one of their pastries."
"I like to get my workout done in the morning, and then I'll have a protein shake with either banana or peanut butter — I use water instead of milk. Lunch will be a salad with chicken and maybe some brown rice or a baked potato. For snacks in the afternoon, it's a fruit salad, half a sandwich or a whole-wheat wrap with low-fat tuna or turkey breast."
"We're always going out with Lenny's business associates or friends in town, that's our lifestyle, and I want things made the way I want them. I'm probably the most hated person by the waiters and waitresses, but if it's going into my body and I want my meal made with no oil and cooked with water, I should be able to get it that way."
"Everything you like, substitute it for the less fat option — go with the turkey meatball instead of going with the fatty beef one. People know this, they just don't always follow it."
"I always get my drink with no sugar or "skinny," made with Splenda. I love lychee martinis and always try to get those skinny. I love a glass of wine, but you can't do anything to that! I'll have usually one of those with dinner."
"I do a lot in my community with charities — we've raised over $250,000 having these little parties out of our home. Our philosophy is to party with a purpose, and we alternate between different charities like Humane Society, Make A Wish Foundation and Susan B. Komen."