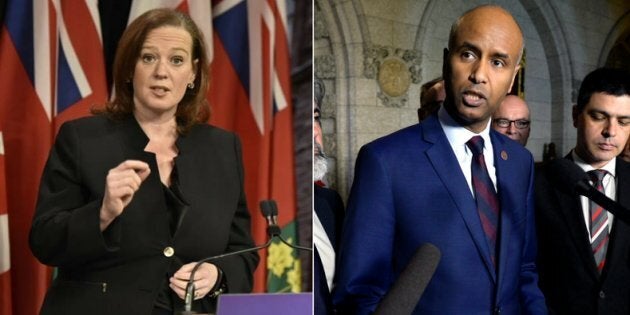 TORONTO — Federal Immigration Minister Ahmed Hussen emerged from an intergovernmental meeting in Winnipeg on Friday pledging to fight the Ontario Tories' "narrative of fear" when it comes to the issue of asylum seekers.
Speaking to reporters, Hussen noted the absence of Lisa MacLeod, the Ontario cabinet minister in charge of immigration, from the lineup of provincial and territorial counterparts behind him.
"The track record of collaboration between Canada and Ontario is being challenged by the new government," he said in reference to the new political dynamic with Ontario Progressive Conservative Premier Doug Ford.
Watch: PM says he explained asylum-seeking system to Doug Ford
The topics discussed at the meeting went beyond asylum seekers, Hussen said, adding the agenda also covered economic and francophone immigration, as well as settlement and integration issues.
At one point in the meeting, a government source said MacLeod walked away from the table after her provincial counterparts piled on Ontario for its recent language surrounding asylum seekers.
The underlying urgency is to find a temporary housing solution in Toronto before Aug. 9 — that's when students return to Centennial College and Humber College, two campuses that opened their empty dormitories to house asylum seekers during the summer, potentially leaving up to 800 newcomers homeless.
Earlier this week, the Ontario government blamed an asylum seeker "mess" on Ottawa and said Toronto needs $72 million to cover unanticipated housing costs to support asylum seekers.
Hussen accused the PC government of "regurgitating" language used by the previous federal government under former prime minister Stephen Harper that, he says, was used to victimize and demonize asylum seekers and newcomers.
The minister challenged the province's classification of the issue as a "crisis," saying the number of migrants crossing irregularly into Canada is relatively low.
"On some days we have only 14 people crossing the border," he said.
Hussen accused the Ontario government of pitting groups of newcomers against each other by irresponsibly hawking a "fake and false queue-jumping narrative which simply doesn't exist." He called it "really unfortunate" and pledged to "fight back against that narrative of fear with fact."
Ontario minister says Ottawa now owes $175 million
MacLeod spoke to reporters immediately after Hussen and explained why she left partway through the immigration forum with her federal, provincial, and territorial ministers counterparts.
She said she had entered the meeting with a "great deal of hope" and shared her own experiences with helping Syrian refugees, emphasizing the need for more integration supports.
MacLeod said she raised concerns about the "exorbitant" cost of housing an influx of asylum seekers, citing conversations she's had with the mayors of Ottawa and Toronto. Both have requested $11 million and $75 million to cover related costs, respectively, she said.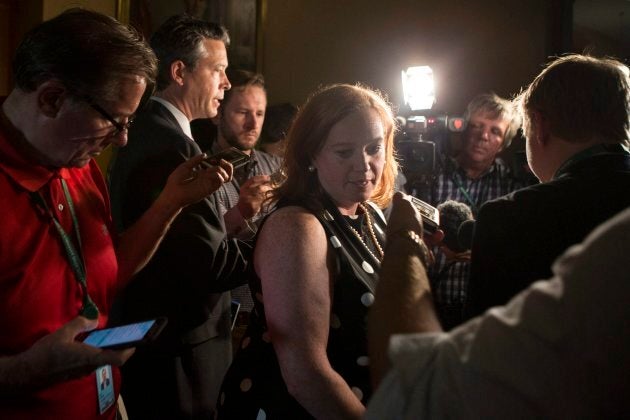 MacLeod offered a recalculated figure for the amount Ottawa owes Ontario, a number which she said amounts to "about $175 million on top of the $3 million that Ontario provided to the Red Cross."
But when Hussen began lauding the immigration system, MacLeod explained that's when she decided to leave.
Hussen earlier likened Ontario's chosen tact on the asylum seekers issue to "fear-mongering," adding that it's "not Canadian" and is "very dangerous."
MacLeod rejected the immigration minister's remarks.
She characterized the minister's criticism as an attempt to call her "un-Canadian," an accusation she said she takes "great offence" to and asked the federal minister to reconsider his language.
"I think maybe the minister should just sit down, have a nice cup of tea, calm down a little bit and maybe phone me, and apologize for calling me un-Canadian," she said.
Hussen did not use the word "un-Canadian" to describe MacLeod in his remarks.
The immigration ministers meeting ended with the provinces and territories signing a joint communique. Saskatchewan and Ontario did not sign the communique, citing an impasse over a request that the federal government pay for all housing, health, and social service supports for asylum seekers.
Irregular border crossers hit one-year low
Mathieu Genest, spokesman for the immigration minister's office, reiterated that the government is committed to ensuring the safety of Canadians as well as the integrity of the immigration system.
"The conservatives continue to make claims to support their campaign of fear, even when those claims are not supported by facts," Genest said.
"We are committed to upholding our international obligations and will continue to call out the conservatives for trying to create fear and division in Canadian communities."
Hussen's office did not directly respond to HuffPost's request to comment on MacLeod's accusation that the immigration minister made "mean-spirited" remarks about her.
There were 1,263 irregular border crossers who entered Canada to claim asylum in June, the lowest monthly number recorded in a year, according to government data.
Last month, the federal government promised Ontario, Quebec, and Manitoba — the three provinces bearing the brunt of processing asylum seekers' claims — an initial $50 million in funding to help with related housing costs.
Of that $50-million fund, $11 million has been earmarked for Ontario. It's an amount MacLeod called "insufficient" to meet the province's needs.
The money is expected to start flowing to provinces at the end of July.