Conservative leadership contender Lisa Raitt says the "negative, irresponsible politics" of rival Kellie Leitch and likely candidate Kevin O'Leary will doom Tory hopes of winning government in 2019.
The veteran Ontario MP blasted both Leitch and O'Leary at a press conference in Ottawa Wednesday. She also announced a new website — StopKevinOLeary.com — targeting the businessman who isn't officially in the race.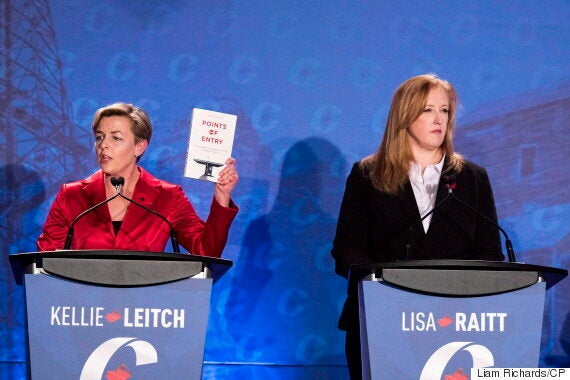 Raitt said both would-be successors to Stephen Harper threaten the party's path to victory in the next election by "embracing elements of Donald Trump's campaign while ignoring others." She warned that her party was at risk of being "hijacked by the loudest voice in the room."
O'Leary, she said, is a TV entertainer with "no filter."
"Canadians will not elect someone who says these kinds of things," she said.
Leitch 'pinning our problems on immigrants'
Raitt accused Leitch of embracing the other half of Trump by "pinning our problems on immigrants" with her plan to screen for so-called anti-Canadian values. Leitch's leadership would destroy all in-roads Tories previously made with new Canadians, Raitt charged.
She said such bluster will ensure Prime Minister Justin Trudeau's Liberals get to govern for a generation.
"Kevin O'Leary and Kellie Leitch are both taking lessons from what we saw in the U.S. election and embracing a style of negative, irresponsible populism," she continued. "Unfortunately for them, we are not Americans and neither of them are president-elect Donald Trump."
When a reporter pointed out that her words were reminiscent of what was said about Trump by both Republicans and Democrats during his unlikely rise to the White House, Raitt said Canadians are "different" and increasingly concerned about sensational antics coming north of the border.
"What happened in the United States happened in the United States and we're going to work with the president-elect. It doesn't mean it's going to happen in Canada and you know what, I'm going to give it a shot," she said. "I'm going to make sure Canadians know that I will stand up to this cheap talk."
Pragmatic and principled Conservatives know Canadian voters won't get behind O'Leary or Leitch, she said.
"If this is the path that is going to be chosen, we are going to be sitting in opposition for a very long time because I firmly believe that the general Canadian populace will not buy this," she said.
'Lisa Raitt drew a line in the sand today'
O'Leary later told The Globe and Mail that Raitt's criticisms were "ridiculous" and "incorrect," but also said it was "fantastic" the leadership race was finally seeing some excitement.
Leitch, meanwhile, released a statement on Facebook defending her call that "every immigrant, refugee and visitor to Canada" receive a face-to-face screening by federal officials.
"Lisa Raitt drew a line in the sand today and showed that she stands with the Liberals and media elites," Leitch said in the post.
Bernier not scared of O'Leary
Rival Maxime Bernier took to Twitter Wednesday with a thinly veiled dig, saying that "unlike other leadership contestants," he isn't scared of O'Leary.
Raitt also challenged Maclean's writer Martin Patriquin for suggesting the anti-O'Leary website made her look fearful of the businessman. She pointed out how other candidates, including Andrew Scheer, Erin O'Toole and Michael Chong, have also criticized him.
Just a day earlier, Scheer called on the unilingual O'Leary to get in the race ahead of a French-language debate in Quebec this month.
"If Kevin wants to run, it's time to fish or cut bait," Scheer said.
Tories will choose their new leader in May. The deadline to register as a candidate is Feb. 24.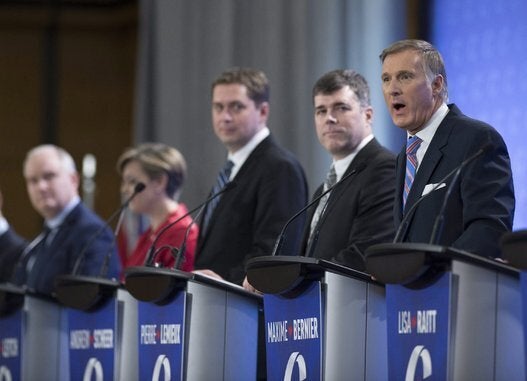 Conservative Leadership Candidates
Popular in the Community