EDMONTON — Conservative leadership contender Lisa Raitt suggested Tuesday that it is time for some candidates to put aside their "arrogance" and pull out of the contest for the sake of the party.
"There are 14 of us. There are seven of us who should be having conversations about what is going to happen, how many ballots will this go. We are getting to the point in time where we have to be very sensical about what we want for the future of this party," she told reporters after the conclusion of the Tories' fourth official debate.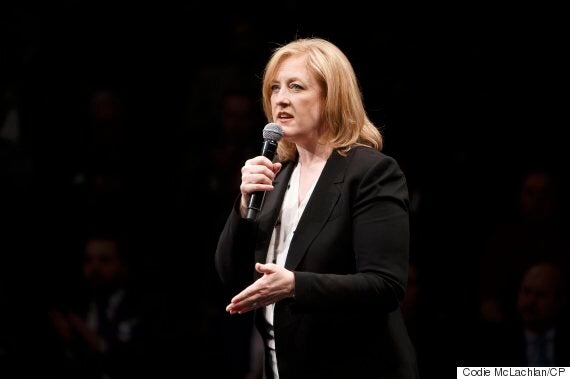 Thirteen candidates took the stage at the Citadel Theatre in Edmonton — although TV personality and businessman Kevin O'Leary refused to participate and held his own event across the street at the Westin hotel.
Raitt, who is no fan of O'Leary, said candidates need to talk about "what we are in this for" and who can realistically lead the Tories to victory in 2019.
"We should be doing things and making decisions for the betterment of this party, period," she said.
"It is time to put aside our arrogance — it could be time to put aside our desire to continuously be on the stage."
Raitt refused to identify the seven candidates she was referring to. "I think they need to self identify," she said.
But, she added: "I am one of them! I am one of them that has to have these serious conversations without a question.
"The party is bigger than any individual standing on this stage — or standing in the Westin across the street…. It is time to put aside our arrogance — it could be time to put aside our desire to continuously be on the stage — and think about what is best for the party, and we are getting very close to the end of this," she said.
Other candidates — the front-runners and the likely also-rans — refused to suggest that others back out or to muse about the possibility of bowing out themselves.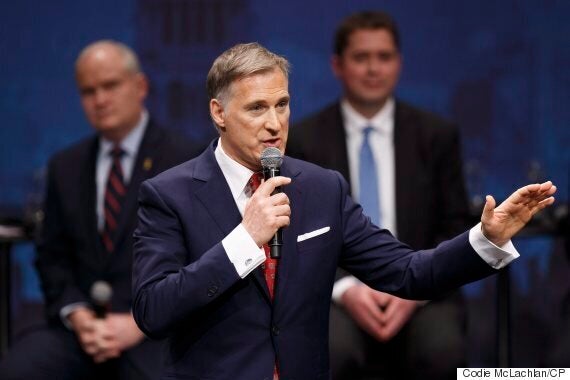 Maxime Bernier said all his colleagues have a right to be in the contest.
Andrew Scheer said he had taken a careful look at his campaign: his fundraising numbers, the endorsements he was receiving from elected officials across the country, and his membership sales.
"If I weren't seeing those numbers, I would probably show respect to my team and say 'Look, it's not happening this time,'" he said. But there is still a lot of time left and it is up to other candidates to decide whether to continue to the end, Scheer added.
Chris Alexander, who is currently ranked ninth in fundraising numbers, argued that the landscape is shifting weekly. "Some of us have been as high as third or fourth place, maybe not there today, it depends on the week. I think a lot can happen," he said.
Alexander suggested that as one of only a handful of bilingual candidates, he shouldn't be shoved out the door.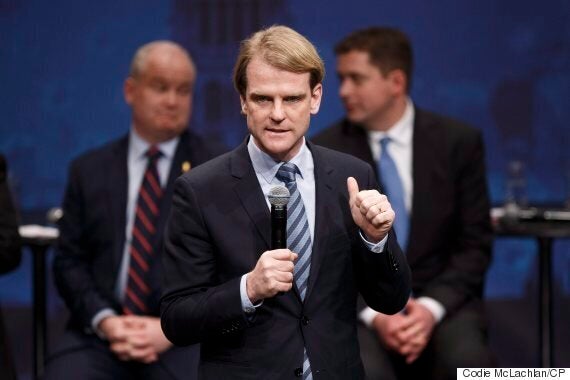 Brad Trost wasn't ready to call for anyone to drop out. "They have a democratic right to present their view to the membership," he told reporters. Moreover, the Saskatchewan MP said, it would be difficult to determine who the top seven are unless there were an accurate, independent analysis of the current party membership. He predicted, for example, that he would be one of the top three candidates in membership sales.
B.C. businessman Rick Peterson, who ranked last in last quarter's fundraising numbers, questioned how the bottom seven would be decided.
His campaign has done an "amazing" job persuading people to join the party and to donate to his team, he said. "I wouldn't be here wasting my time if I didn't think we could win."
Ballot only holds 10 names
Raitt, however, said the number one thing she hears from members is that there are too many people in the race, followed by questions about when contestants will drop off.
She noted the Conservative ballot has a limit on how many names can be included.
The ballot, which will be weighted to ensure that all 338 ridings across the country carry the same weight, only has space for members to rank 10 out of the 14 candidates. The party says the vote tabulating vendor they use maxes out at 10 rankings using the Conservatives' point system.
Conservatives will select their leader through a mail-in ballot. The winner will be announced on May 27.
CORRECTION: A previous version of this story incorrectly stated that five candidates would drop off after the first round of voting. Only one candidate will be dropped off after each round of voting is announced.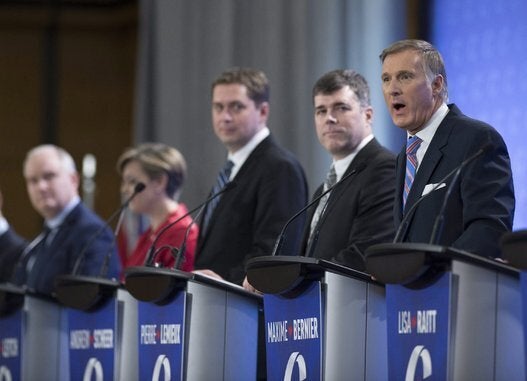 Conservative Leadership Candidates