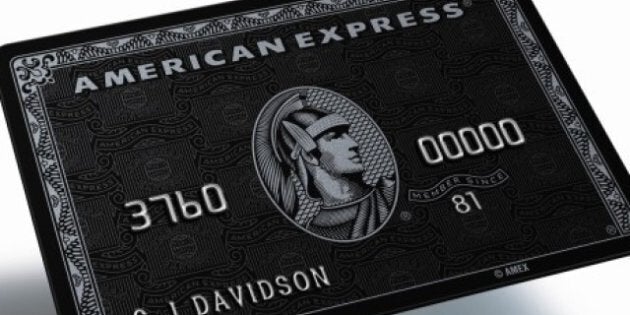 They have makeup artists to help them look beautiful, stylists to help them get dressed and personal chefs and trainers to help them stay in shape. But there's another secret weapon celebs have in their "live the luxe life" arsenal: The Centurion Card.
Also known as the "black card" by American Express, the invite-only charge card comes fully loaded with a wide array of benefits for its lucky customers, from preferred status with airlines, hotels and lounges to personal shoppers and travel agents. The card is even attached to a concierge service -- the staff will help Centurion members with pretty much any request they have. One of the most recent and memorable examples comes from a customer who wanted to give his wife flowers. The only catch was he wanted them to be delivered to her on stage during a Broadway performance of 'Gone With The Wind.' As you can imagine, the staff pulled the feat off (much to the delight of the lucky wife, we're sure).
"The card is ultimately about understanding the customer at a genuine level, anticipating their needs and then going on to delight them in a way they never expected," says Tim Elgar, Director, Charge Portfolio at American Express. "It's reserved for a circle of individuals around the world and we offer it by invitation-only."
He goes on to say there are three things that make this card so appealing to celebs and other high-rollers. "Many have been with American Express, in some cases, for a lifetime. The card was designed to recognize that loyalty. The card is also hand-forged, engraved and embossed in titanium, so clients recognize its uniqueness whenever they pull it out of their wallet."
Wondering how you can become a member of Centurion? Well, it's not easy. Outside of having to be invited to receive a card, there's an annual fee of $2,500 plus a $5,000 initiation charge.
Elgar says the number of Canadians who have been invited to join this elite club is about the same number of Canucks who own their own Aston Martin -- the company does not disclose the number of cardholders they have.
They also don't disclose the celebs who are on the Centurion roster, though gossip websites suggest members include Kanye West, Jay-Z, Beyonce, Britney Spears, Lindsay Lohan, Jerry Seinfeld, Jessica Simpson and Mary-Kate and Ashley Olsen (to name only a few).